Corrosive liquids Level Measurement is important for the chemical industry. SIRD-802 Radar Level Sensor is made of PTFE, suitable for non-contact level measurement of corrosive and acidic liquids.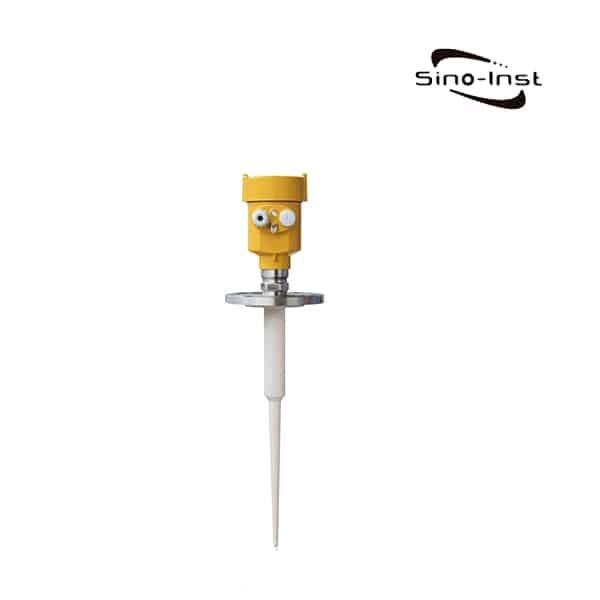 Corrosive liquids include sulfuric acid, nitric acid, hydrochloric acid, and hydroiodic acid. Generally encountered in chemical plants. Petroleum storage tanks, chemical storage tanks, chemical storage tanks. Liquid level measurement in sewage treatment plants, dosing tanks, seaside, docks, etc. For these corrosive media, non-contact radar level gauges are generally used to measure the liquid level.
SIRD-802 Radar Level Sensor for Corrosive Liquids uses PTFE rod antenna. Especially suitable for strong corrosive liquids. Applied to sewage level measurement; volatile acid-base level measurement.
Sino-Inst offers a variety of Radar Level Transmitters for level measurement. If you have any questions, please contact our sales engineers.
Features of SIRD-802 Radar Level Sensor for Corrosive Liquids
Short emission wavelength
Strong concentrated penetration ability
Integrate advanced Ech-Capture signal processing technology
Easy penetration, foam, dust
False echo processing technology
The transmission of microwave signals is not affected by the atmosphere, so it can meet the harsh environment requirements of volatile gases, high temperature, high pressure, steam, vacuum and high dust in the process.
This product is suitable for harsh environments such as high temperature, high pressure, vacuum, steam, high dust and volatile gas, and can continuously measure different material levels.
Specifications of SIRD-802 Radar Level Sensor for Corrosive Liquids
Applicable medium:
liquid, especially suitable for strong corrosive liquid
Application:
Pressure level measurement;
Sewage level measurement;
Volatile acid-base level measurement
Explosion-proof certification:
Exia IIC T6 Ga/Exd IIC T6 Gb
Measuring range:
20m
Antenna:
Rod antenna (PTFE)
Frequency:
6 GHz
Process temperature:
-40~130℃(standard type)/-40~180℃(high temperature type)
Measurement accuracy:
±10mm
Process pressure:
(-0.1~1.6)MPa
Signal output:
(4~20)mA/HART
On-site display:
four LCD programmable
Power supply:
Two-wire system (DC24V)
Four-wire system (DC24V/AC220V)
Repeatability:
± 1mm
Housing:
Aluminum single cavity/aluminum double cavity/plastic/stainless steel single cavity
Process connection:
Flange
SIRD-802 Radar Level Sensor for Corrosive Liquids Applications
6GHz radar level sensor is suitable for liquid, paste, granule and block material level and non-contact measurement. Suitable for changes in temperature, pressure. There is an inert gas and volatile.
The measurement method of microwave pulse, can work normally in the industrial frequency band range. The beam energy is low, can be installed on all kinds of metal, non-metallic container or pipe, no harm to human body and environment.
Power plants: coal piles, raw coal bins, fuel bins, reservoirs, waste gas purification tanks, bin pumps, ash storage, etc.
Oilfield: crude oil or product oil storage tanks, three-phase separators, sedimentation tanks, sewage tanks (pools), drilling mud tanks, etc.
Petrochemical: distillation tower, concentration tank, liquefied gas tank, ammonia tank, steam drum, oil refinery oil depot, asphalt tank, etc.
Chemical industry: distillation tower, raw material and intermediate silo, reaction tank, ammonia tank, toxic liquid tank, solid silo, separator, etc.
Metallurgy: ore silo, ore crusher, raw material silo, auxiliary silo, blast furnace, alumina powder silo, electrolytic cell buffer tank, etc.
Cement: stone silos, raw meal silos, cement silos, coal powder silos, slag storage silos, etc.
Water and water treatment: reservoirs, sewage tanks, water treatment tanks, sedimentation tanks, digestion towers, etc.
Papermaking: raw material warehouse, storage tower, drying drum, etc.
Others: food, pharmaceuticals, environmental protection, shipbuilding, etc.
Radar Level Gauge Quick Installation Guide
Tank installation
A standard installation
The radar antenna cannot tilt to the tank wall.
In order to minimize temperature effect, at the junction of butt joint flange must use the spring washer.
The rod antenna launching point must reach out to install pipe.
The vertical placement of the rod antenna beam direction, don't let the tank wall.
Installation instructions
The recommended position (2), the outer wall of tank wall to install pipe shall meet the following from the tank wall best distance to tank diameter of 1/4 or 1/6, the minimum distance from the installation of tank wall as the measurement range of 1/10.
For example: liquid level of storage tank 10m, and the tank wall install the minimum distance of 1m.
Cannot be installed above the feeding port (4).
Cannot be installed in the central position (3), if installed in the central, yield multiple false echo, clutter echo will lead to real signal loss.
If you can't keep the instrument and the tank wall of the tank wall distance, the medium will adhesion caused by false echo, when debugging instrument should be false echo storage.
The top conical tank level, can be installed at the top of the tank is intermediate, can guarantee the measurement to the conical bottom. 
Tank installation instructions
In the signal beam, should avoid the following installation: Such as: (1) the limit switch, temperature sensor.
Symmetric devices such as (2): vacuum ring, a heating coil , Baffle plate etc.
If the tank (1) (2) interference object, should be guided wave tube measurement.
Featured Level Measurement Devices for Corrosive Liquids
Sino-Inst offers over 10 Radar Level Sensor for Corrosive Liquids level measurement. About 50% of these are Radar level meters, 40% is the tank level sensor.
A wide variety of Radar Level Sensor for Corrosive Liquids are available to you, such as free samples, paid samples.
Sino-Inst is a globally recognized supplier and manufacturer of radar level measurement instrumentation, located in China.
Request a Quote
Corrosive Liquids non-contact Measurement|Radar level sensor
Corrosive liquids Level Measurement is important for the chemical industry. SIRD-802 Radar Level Sensor is made of PTFE, suitable for non-contact level
Product SKU: SIRD-802
Product Brand: Sino-Inst
Product Currency: USD
Product Price: 500
Price Valid Until: 2029-08-19T13:35:36
Product In-Stock: https://schema.org/InStock