Waste Water flow meter,
also called in-line flow meters,
application for water flow rate measurement,
in those wastewater treatment industrial pipes.
Accurate measurement, control,
and reporting are critical in the water and wastewater industry.
SI-3118 Intelligent electromagnetic flowmeter is composed of a sensor and transmitter.
The product is an induction instrument and operates with Faraday law of electromagnetic induction,
for a measurement volume flow of liquid medium with conductive rate ≥50 us/cm.
What are the types of flow meter?
Features of SI-3118 wastewater flow meter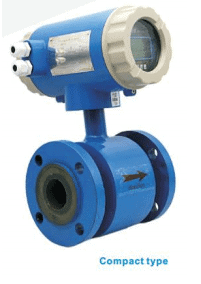 The measurement result will not be affected by the change of density, viscosity, temperature, pressure and conductive rate
Product with good anti-corrosion and abrasion resistance performance
Full digital process, strong anti-interference performance, operating reliably with high accuracy and wide range of flow rate
Super low voltage EMI switch power supply, which could ensure fast response for voltage changes and good resistance on EMI
LCD display content could be shifted between Chinese and English, and other languages (Spanish, Japanese, Korean, French, and so on) could be customized.
Product is manufactured with SMD devices and SMT technology, which provides high-reliability circuits.
With self-checking and diagnosis function.
Specifications of SI-3118 wastewater flow meter
Medium
Domestic water, industrial water, raw water, ground water, urban sewage, industrial wastewater, the processed neutral pulp, pulp slurry, etc
Diameter
DN6~DN2200mm
Accuracy
±0.5%
Medium temperature
<60℃
Nominal pressure
GB 0.6MPa (DN700~DN2000)
GB 1.0MPa (DN200~DN600)
GB 1.6MPa (DN6~DN150)
DIN PN16,PN25,PN40,PN63
JIS10K,20K,40K
ANSI Class150,Class300,Class600, others can be customized

Flow rate
0.3~10m/s
Straight pipe required
Upstream ≥5DN, downstream ≥3DN
Electrode
316L (Suitable for domestic water, industrial water, raw water, underground water, sewage, etc.; not applicable to acid and alkali salt)
Lining material
Chloroprene rubber(CR), polyurethane rubber(PU)
Installation way
Carbon steel flange (standard), Stainless steel flange(optional)
Body material
Carbon steel (standard),Stainless steel(optional)
Power supply
220VAC/24VDC/lithium battery
Signal output
Pulse and 4~20mA; (if use lithium battery, without signal output)
Communication
RS485,GPRS,Hart
Explosion-proof
EXdeibmIICT3-T6
Protection proof
IP65 (compact type); IP67,IP68(suitable for remote type)
Work environment
Ambient temperature:-20~+60℃, Ambient humidity:5%~90%
Power
<20W
Dimensions of SI-3118 wastewater flow meter
Applications of wastewater flowmeters
Brine, Salt Water, and Brackish
Agriculture Sprayers
Irrigation Systems
Commercial Mixing Tanks
Geothermal Heating/Cooling Systems
Commercial Lawn & Garden
Fertilizer Tanks
Golf Courses
Cement Mixers
Public Parks
Exterminators
Aerial Crop Sprayers
Any High Volume Water Mixing Applications

How is Wastewater metered?
The electromagnetic flowmeter was developed in the middle of the 20th-century
and was widely used in industrial production in the 1970s and 1980s.
The operating principle is based on Faraday's law of electromagnetic induction,
that is, the measured medium flows perpendicular to the direction of magnetic lines of force,
thus generating an induced electromotive force,
in a direction perpendicular to the flow of the medium and the lines of magnetic force.
The induced electromotive force is proportional to the measured medium flow,
and the instantaneous flow rate can be obtained by using the flow rate,
and the cross-sectional area of the pipe.
The conductivity in water is one of the prerequisites for the electromagnetic flowmeter to work properly.
The sewage contains a large number of impurities and salt and has a certain conductivity.
Therefore, the electromagnetic flowmeter can be used for sewage measurement.
For pure water, it cannot be measured with an electromagnetic flowmeter.
The advantages of the electromagnetic flowmeter are high precision,
stable measurement, and wide application range.
The electrode and the inner lining can be selected,
according to the medium, and can also be used for measuring work in a bad medium;
the disadvantage is that it is easily interfered by electromagnetic waves,
and the diameter of the pipe is larger.
The more expensive the price,
the larger the diameter of the electromagnetic flowmeter is not easy to disassemble,
and the maintenance is difficult.
Wastewater flow meter calibration
A flow meter's deviation from the standard can be measured in two ways: with a master meter or by weighing mass flow.
Master meters are calibrated to peak accuracy by specified, accredited laboratories.
These labs are ones that are certified by the National Institute of Standards and Technology (NIST).
Subsequently, this means that flow meters,
which are calibrated to master meter accuracy in such a lab will be backed by NIST certification and traceability.
The second method of flow meter calibration involves weighing the amount of fluid that flows through the meter,
during the calibration procedure. This is typically done using a supremely accurate weigh scale,
which must also be approved by NIST.
This method is often regarded as the most accurate way to measure the volume of flow.
Flow meters can also be calibrated in the field, also known as "wet" calibration,
however, this method is frequently scrutinized because it lacks the involvement of national standards.
Additionally, field calibrations are usually not an option in most applications,
because challenging an installed flowmeter with a given volume of water is just not practical.
You may like:
Sino-Instrument offer over 20 wastewater flow meters, with Best Price.
A wide variety of wastewater flow meters options are available to you, such as free samples, paid samples.
About 13% of these are magnetic flow meter, 14% are Insertion Magnetic Flow Meter, 25% are Venturi flow meter,
13% are Handheld ultrasonic flow meter,
and others are Liquid Turbine Flow Meters.
Sino-Instrument is wastewater flow meter suppliers, located in China.
Wastewater flow meter products are most popular in North America, Mid East, and Eastern Europe.
The United States, and India, which export 99%, 1%, and 1% of ultrasonic level transmitter respectively.
You can ensure product safety by selecting from a certified supplier,
with ISO9001, ISO14001 certification.
Request a Quote