Insertion Turbine Flow Meter also called insertion type turbine flow meter.
Turbine flow meters liquids & gases, Insertion flow meters.
SI- LWCB/Q Series Insertion Turbine Flow Meters are designed for accurate,
cost-effective mass flow measurement of steam,
high-temperature liquids and gases.,
including steam, and can be installed without line shutdown.
Insertion turbine flow meters are ideal for use in larger steam lines,
where downsizing the line size to improve flow measurement is not desirable.
In these applications,
the pitch of the turbine rotor is selected to match the expected steam flow velocity range in the pipe.

This optimizes the operating range of the flow meter for the application.
You may like:
Flow Measurement of Nitrogen
Features of Insertion Turbine Flow Meters
SI- LWCB/Q SERIES Insertion Turbine Flowmeters for Liquids and Gas 4"-72" Pipe Diameters
Low cost.
Low pressure drop.
Wide flow turndown ranges for both liquids and gases.
Outstanding accuracy.
Applications from 4″ to 72″ pipe diameters. Specials upon request.
Simple Installation and Commissioning
May be installed or removed from active line without stopping service.
-20 to +400°F standard operating temperature range with Viton Seal.
Insertion for Liquids: Repeatable Flow Range: .25 to 50 FPS Accuracy: ±1%
Insertion for Gas: Repeatable Flow Range: 5 to 250 FPS Accuracy: ±2%
Each SI- LWCB/Q Flow Meter is provided with a 4-20mA analog output for flow rate,
pulse output for totalization and a built-in user interface and display.
The standard loop powered meter also includes HART.
Applications of SI- LWCB/Q Series Insertion Turbine Flowmeters
Precision flow measurement of liquid and gas applications,
in large diameter pipes at a lower cost than using an in-line flow meter.

SI- LWCB/Q Series Insertion Flow Meters are designed to work in pipe sizes,
ranging from ¾" to 72″ in diameter (1″ for copper).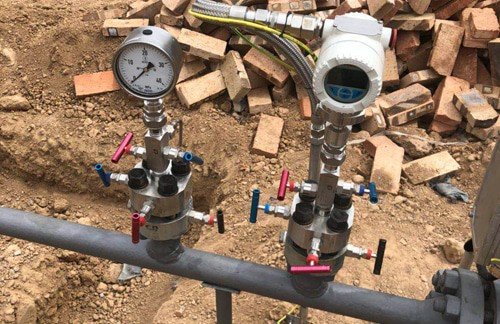 Uses for the F-1000 series turbine flow meters include:

Chilled Water
Hot Water
Condenser Water
Domestic Water
Process Cooling
Steam Condensate and Brine.
Insertion steam flow meter
SI- LWCB/Q Series Insertion Turbine Flow Meters,
can measure the steam.
And, Sino-Instrument also offers:
Natural gas flow meters
Natural Gas Flow Meter Types | Gas Turbine Meter
The turbine meter measures volumetric flow,
based on fluid flowing passed a free-spinning rotor,
with each revolution agreeing with a specific volume of fluid.
Turbine meters are used for measurement of liquids as well as natural gas flow.
Ultrasonic steam flow meter
You may like: Industrial flow meters
Emerson AMS TREX Device Communicator
Sino-Instrument's insertion turbine flow meters provide significant cost,
savings for line sizes from 2 to 80′ without compromising performance.
With high accuracy, wide turndown,
and a unique low-mass rotor design without welded joints,
the insertion turbine flow meter gives you the benefit,
of more than 10 years of practical experience.
Request a Quote
More flow meters: