The SI-3000H Portable Ultrasonic Flowmeter is a widely used time difference ultrasonic flowmeter,
for on-line calibration and inspection of liquid flow in various industrial sites.
With non-contact measurement, high measurement accuracy,
large measurement range, battery power, easy operation,
easy to carry, built-in data logger and so on.
Its compact, lightweight, rechargeable battery and universal power supply design,
allows you to measure your pipe anytime, anywhere,
and is truly a portable ultrasonic flow meter.
Features Of Portable ultrasonic flowmeter:
Slide rail type magnetic sensor, simple and convenient;
Small, lightweight and easy to use;
Portable dual mode flowmeter both TRANSIT TIME and DOPPLER mode without changing sensors;
Positive and negative flow measurement;
SD card function, 2.2 million sets of data storage;
Common Applications:
Cooling and heating fluid measurements
Water and wastewater measurements
Leak detection in piping systems
Monitoring and controlling of HVAC systems
Fuel and oil consumption measurements
Checking other flow meters
Flow and usage audits
Interface detection
Offshore applications
Automated process control
Specifications of SI-3000H Portable Ultrasonic Flowmeter
Item
Description

Flow rate range
±0.01~±12m/s
Accuracy measurement
Level 1

Repeatability

0.2%

Linearity

±1%

Analog output

4~20mA, maximum load 750Ω

SD card capacity

8GB

Maximum storage

512 files

Storage interval

1~60
seconds


Display

seconds
Display

Temperature transmitter, installation ambient temperature
-10 ° C ~ 50 ° C

The sensor measures the medium temperature
-40 ° C ~ 80 ° C (standard)

Relative humidity

0~99%, no condensation

Transmitter protection rating

IP54

Sensor seal design

protection class IP68

Standard cable length

5m

Weight

1kg

Size

200*111*45mm
Dimensions of Ultrasonic Flowmeters (UFM)
Transmitter wiring:
Open the top cover of the transmitter and you can see the wiring ports on the power board,
from left to right, in order:
Downstream sensor interface (Down Stream),
upstream sensor interface (Up Stream), power switch,
4-20mA output interface, charger port, specific wiring,
please refer to the following figure: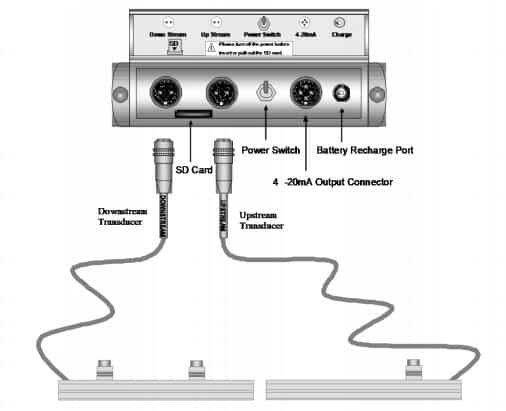 Technical Parameters:
Sino-Instrument Ultrasonic Flowmeters (UFM),
are available in two models:
portable for mobile sampling measurements,
and a fixed for measuring tasks over an extended period of time,
for continuous measurements in fixed installations.

Both units use the proven and highly precise ultrasonic transit time difference method.
By employing the latest digital signal processors,
these robust measurement flowmeters are extremely accurate and drift-free.
Model
Host description
SI-3000H
Name: Portable Ultrasonic Flowmeter / Handheld Ultrasonic Flowmeter
Accuracy: ±1% of the measured value
Repeatability: 0.2%
Flow rate range: 0-±12m/s
With SD card and card reader: massive data storage, maximum storage 128 days of historical data
Output: 4-20mA
Mode of operation: 64*128 dot matrix LCD backlight display
Built-in lithium battery working time: rechargeable lithium battery can work continuously for 16 hours after the battery is full

A
Sensor description
CP
CP type slide rail type magnetic sensor
Installation method: external clip
Measurable pipe diameter range: 25mm-1200mm
Sensor cable length: 3m
Probe housing: PC plastic
Working temperature: 0°C-+80°C
Aluminum alloy rail
More Featured Products:
Request a Quote