Thermal Mass Flow Meter can directly measure gas mass flow or standard volume flow. Including natural gas, coal gas, liquefied gas, flare gas, argon, carbon dioxide and other mixed gas flow measurement.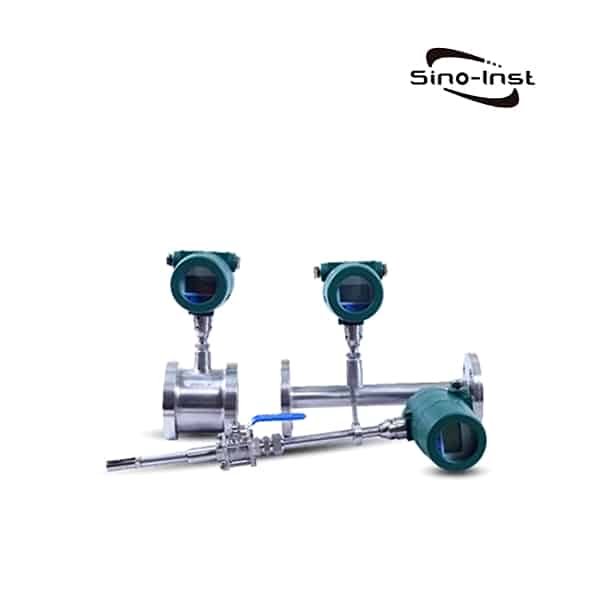 Thermal Mass Flow Meter is a true mass flow meter. No temperature and pressure compensation is required. Thermal gas mass flow meters are designed based on the principle of thermal diffusion. The instrument uses the constant temperature difference method to accurately measure the gas. Hot gas is widely used in compressed air in factories, blast furnace gas measurement in ironworks, and monitoring and measurement of chimney flue exhaust.
Features of Gas Thermal Mass Flow Meter
Thermal meters:
For direct mass measurement of industrial gases, compressed air, and aqueous fluids
A true mass flow meter. No need for temperature and pressure compensation for gas flow measurement. The measurement is convenient and accurate. The gas mass flow or standard volume flow can be obtained.
Wide range ratio. It can measure gas with flow rate as high as 120Nm/s and as low as 0.1Nm/s. It can be used for gas leak detection.
Good seismic performance and long service life. The sensor has no moving parts and pressure sensing parts, and is not affected by vibration on measurement accuracy.
Easy to install and maintain. If site conditions permit, installation and maintenance can be achieved without stopping production. (Need special customization)
Digital design. Integral digital circuit measurement, accurate measurement and convenient maintenance.
Using RS-485 communication or HART communication, factory automation and integration can be realized.
Specifications of Gas Thermal Mass Flow Meter
Description
Specifications
Measuring Medium
Various gases (Except the acetylene)
Pipe Size
DN10~DN4000mm
Velocity
0.1~100 Nm/s
Accuracy
±1~2.5%
Working Temperature
Sensor: -40℃~+220℃
Transmitter: -20℃~+45℃
Working Pressure
Insertion Sensor: medium pressure≤ 1.6MPa
Flanged Sensor: medium pressure≤ 1.6MPa
Special pressure please contact us
Power Supply
Compact type: 24VDC or 220VAC, Power consumption ≤18W
Remote type: 220VAC, Power consumption ≤19W
Response Time
1s
Output
4-20mA (optoelectronic isolation, maximum load 500Ω), Pulse,
RS485 (optoelectronic isolation) and HART
Alarm Output
1-2 line Relay, Normally Open state, 10A/220V/AC or 5A/30V/DC
Sensor Type
Standard Insertion, Hot-tapped Insertion and Flanged
Construction
Compact and Remote
Pipe Material
Carbon steel, stainless steel, plastic, etc
Display
4 lines LCD
Mass flow, Volume flow in standard condition, Flow totalizer, Date and Time, Working time, and Velocity, etc.
Protection Class
IP65
Sensor Housing
Material
Stainless steel (316)
Applications of Thermal Mass Flow Meter
The thermal measuring principle is widespread in the industry, and is being used successfully in many applications with gas flow, for example:
Compressed air (consumption, distribution)
Carbon dioxide (for beverage production and chilling)
Argon (in steel production)
Nitrogen and oxygen (production)
Natural gas (for burners and boiler feed control)
Air and biogas measurement (e.g. in wastewater plants)
What is a Thermal Mass Flow Meter?
A thermal mass flow meter is a precision instrument, that measures gas mass flow and is used in various industries, with a wide range of applications.
Sino-Inst's thermal mass flowmeters, made in China, are suitable for all industrial and test rig applications, that demand quick and precise gas measurement.
The flowmeters indicate the mass flow or normalized volume flow of gases, without any additional pressure and temperature compensation.
They have impressively high accuracy, short response time and a very wide flow range with virtually no loss of accuracy even at the lowest flow rates.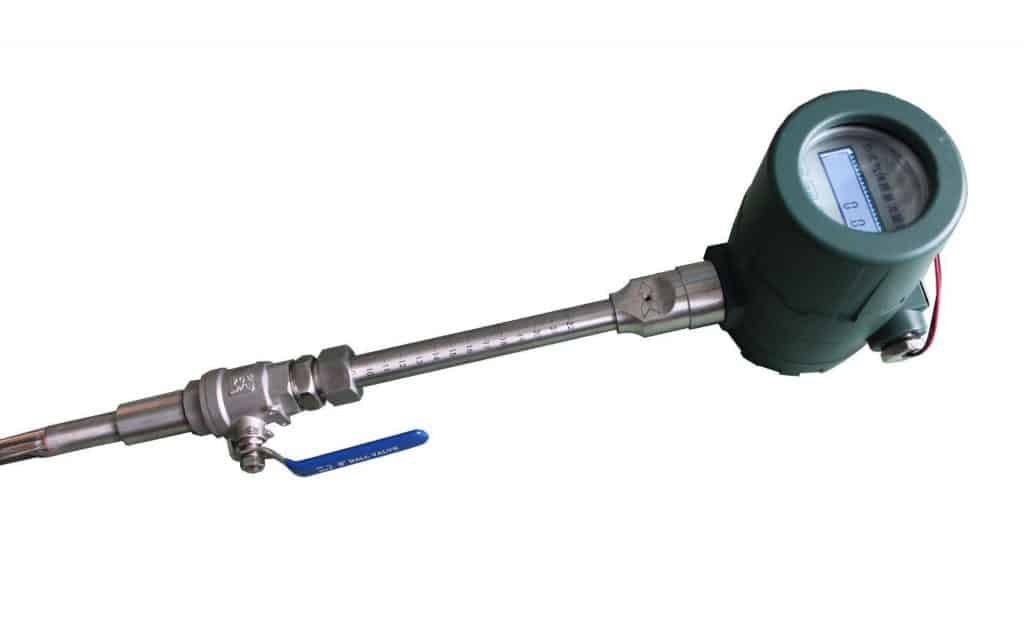 Whenever high turn down or low-pressure losses, are important in gas metering applications, in any industry, thermal mass flowmeters offer a real alternative to traditional measuring techniques, whether for process control, consumption and supply monitoring, detecting leaks or monitoring distribution networks.
Using insertion versions, it is also possible to measure gas flows in very large pipelines or in rectangular ducts.
Thermal Mass Flow Meter Working Principle
This measuring principle is based on the fact that heat is drawn from a heated body when a fluid flows past.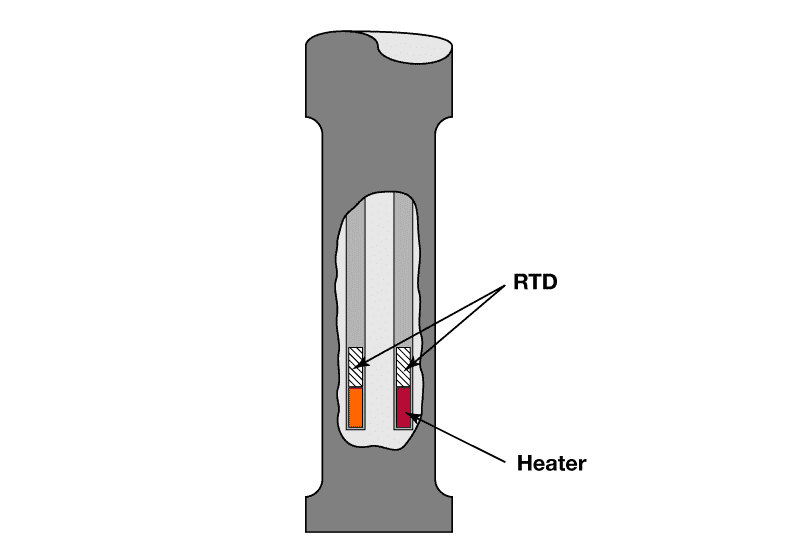 The thermal mass flow meter is a flow meter based on the principle of thermal diffusion.
That is when the fluid flows through the object, the amount of heat loss of the heat-generating object is proportional to the flow rate of the fluid.
Specifically, the flowmeter sensor has two standard RTDs. One for the heat source and one for measuring the temperature of the fluid.
When the fluid passes, the temperature difference between the two is nonlinear with the flow rate.
The meter can convert this relationship into a linear output, that measures the flow signal.
There are two design methods for the flowmeter manufactured, by the principle of thermal diffusion: one is based on the principle of constant temperature difference. The other is based on the principle of constant power.
Based on a common data model:
P / ▷ T = A + B (Q) N.
Among them:
P—dissipated power,
▷T—the temperature difference between the two sensors,
Q—mass flow,
N—exponential coefficient,
A, B is the coefficient related to the thermal performance of the gas.
The principle of constant temperature difference:
▷T remains unchanged, and the dissipated power P and the flow rate Q of the fluid are exponentially increasing.
Constant power principle:
The dissipated power is constant, and the temperature difference ▷T is in a decreasing relationship with the flow rate Q of the fluid.
Know more about How Thermal Mass Flow Meter Technology Works?
Video source: https://www.youtube.com/embed/-VUL0xWfUeY?rel=0
Advantages of Mass Flow Measurement
Advantages:   
Thermal mass flow meter can measure the small flow at low velocity (gas 0.02~2m/s).
The immersion thermal mass flow meter can measure low to medium high flow velocity (gas 2~60m/s).
The plug-in thermal mass flow meter is more suitable for large pipe diameters.  
Thermal mass flow meters have no moving parts.
The heat-distributed meter without shunt pipe has no flow blocking parts, and the pressure loss is very small.
Thermally distributed instruments and immersive instruments with shunt pipes, although there is a flow block in the measuring pipe. But the pressure loss is not large.  
The performance of thermal mass flow meter is relatively reliable.
Compared with deduced mass flow meters, no temperature sensor, pressure sensor and calculation unit are needed. With only flow sensor, the composition is simple and the probability of failure is small.  
Thermal distributed meters are used for diatomic gases close to ideal gases such as H2, N2, O2, CO, and NO. No need to use these gases for special calibration. An instrument calibrated directly with air. Experiments prove that the difference is only about 2%;
For monoatomic gases such as Ar and He, multiply the coefficient by 1.4. For other gases, the specific heat capacity can be converted, but the deviation may be slightly larger. 
The specific heat capacity of a gas changes with pressure and temperature, but small changes near the temperature and pressure used can be regarded as constant.  
Disadvantages:   
The thermal mass flow meter responds slowly.  
Places where the composition of the measured gas changes greatly. Due to changes in cp value and thermal conductivity. The measured value will vary greatly and cause errors.  
For small flow, the meter will bring considerable heat to the gas being measured.  
For thermal distributed thermal mass flow meters. If the measured gas deposits a scale layer on the pipe wall, the measured value will be affected. Must be cleaned regularly.
The thin tube type instrument has the disadvantage of being easy to be blocked, so it cannot be used under normal circumstances.  
The use of pulsating flow will be limited.  
Thermal mass flow meters for liquids are also restricted in the use of viscous liquids.
Sino-Inst offer over 10 Thermal Mass Flow Meters, with Best Price.
A wide variety of Thermal Mass Flow Meters options are available to you, such as free samples, paid samples. All of our flow meters can work with the AMS NEW TREX. About 13% of these are magnetic flow meter. 14% are Insertion Magnetic Flow Meter. 25% are Venturi flow meter. 13% are Handheld ultrasonic flow meter, and others are Liquid Turbine Flow Meters.
Sino-Inst is Thermal Mass Flow Meter suppliers, located in China. Mass flow meter products are most popular in North America, Mid East, and Eastern Europe.
The United States, and India, which export 99%, 1%, and 1% of Thermal Mass Flow Meter respectively.
You can ensure product safety by selecting from a certified supplier, with ISO9001, ISO14001 certification.
Request a Quote
Thermal Mass Flow Meter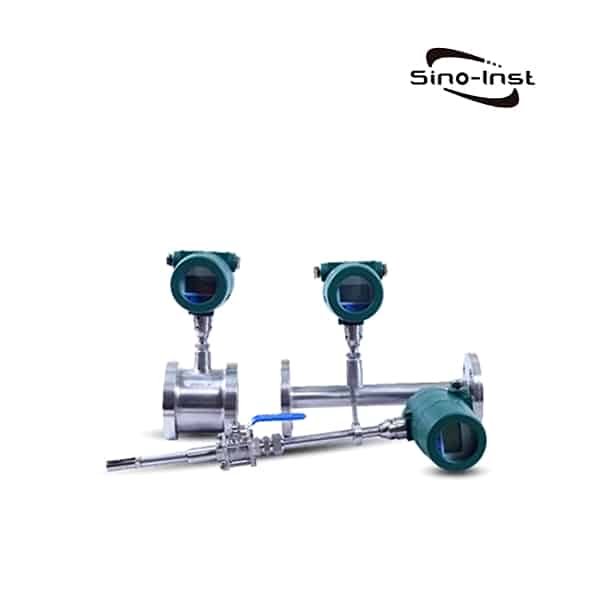 SI-RSL Thermal Mass Flow Meter.made in China,Measuring range: 0-120 Nm / s (20 ° C, 101.33 KPa).Process pressure: 1.6MPa (20MPa), Exd II CT6,IP65.
Product SKU: Gas Thermal Mass Flow Meter
Product Brand: Sino-Inst
Product Currency: USD
Product Price: 600
Price Valid Until: 2039-09-30
Product In-Stock: InStock