Ultrasonic Level Detector, also called ultrasonic level transmitter, or water level indicating transmitter.
ULT-200 ultrasonic level detector, non-contact type level transmitter,
measuring liquid level or solid applications up to 50 ft. / 15 meters,
or flow rates in all types of open channel flow applications.
The transmitter has a single 4-20 mA DC analog output with HART 7 and five (5) relay outputs.
A transducer is fitted to the top of a silo or tank, facing down towards the material being measured.
Also the flow measurement in open channels and weirs is possible,
as the simultaneous measurement of level and flow in a stormwater overflow basin with only 1 sensor.
Up to 6 relays for tendency alarm, flow pulse output or backwater/sludge alarm, 1 or 2 channel version.
Features of ULT-200 Ultrasonic Level Detector
Range to 50 ft. / 15 m
Isolated 4 – 20 mA Output with HART 7
Graphic LCD Display
Integrated Analytical Software
5 Configurable Relays / 8 Amp
Configurable as Open Channel Flow Meter
Pump Cycling and Pump Monitoring
Remote Totalizer Count Outputs
Automatic Variable Gain & Power for Difficult Applications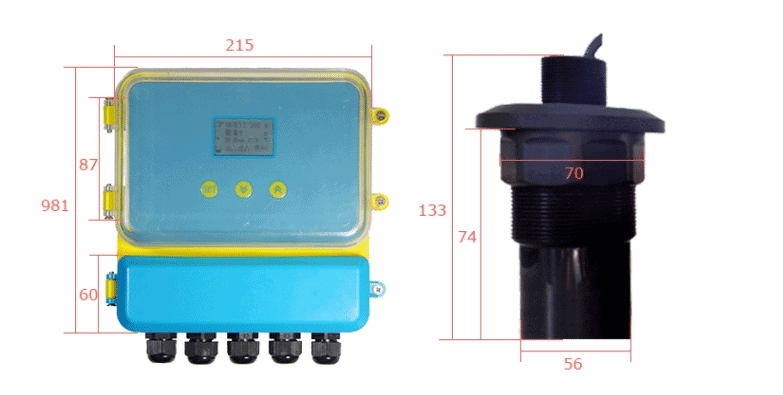 Specifications of ULT-200 Ultrasonic Level Detector
Measuring principle: Ultrasonic
Characteristic / Application
Separated version with Field housing or top-hat rail housing for control cabinet instrumentation, up to 6 relays for limit control, 1 or 2 channel version
Specialties:
Protection Class IP 66 / NEMA 4x
automatic sensor recognition of FDU9x sensors
Supply / Communication:
90 … 253 VAC
10.5 … 32 VDC
up to 2x 4…20mA HART
Profibus DP
Accuracy:
+/- 2mm + 0.17% of measured distance
Applications of Ultrasonic Level Detector
Level measurement of fluids and bulk materials with 1 or 2 sensors for measuring of up to 45m (148ft) and level limit detection.
Pump control, rake control and as an option: additional pump control function.
Calculations: Average, difference, sum
Application flow: Flow measurement in open channels and weirs with 1 or 2 sensors
Flow measurement with backwater or sludge detection
Up to 3 totalizers and 3 counters
Counting or time pulse output for control of external units
Various Liquids Including Water Storage Tanks
Moderate Range Solids Such as Loading & Bagging Hoppers
Mineral Oil
Open Channel Flow Measurement in the following configurations
V-Notch
Flumes
Weirs
How ultrasonic level detectors work?
Ultrasonic level detectors (ULD's) work on the principle of measuring the time delay,
between emitted high-frequency sound and its reflection from a surface.
In many applications, these devices have been used successfully as level detectors.
The transmitter's microprocessor simultaneously fires an electronic pulse,
to the transducer and starts a timer.
The transducer converts this electronic pulse to an acoustic pulse,
which is directed toward the surface of the material being measured.
When the acoustic pulse contacts the surface of the material,
energy is reflected back to the transducer,
which converts this reflected energy back to an electronic pulse.
This pulse is sent back to the microprocessor,
which stops the timer and determines the "time of flight" of the signal.
By combining the speed of sound through air and the "time of flight" of the pulse,
the microprocessor accurately determines the level of the product.
Powerful software removes false echoes from the signal and electronic filters remove ambient noise.
Sino-Instrument offers 20 ultrasonic level detectors products.
About 13% of these are ultrasonic level transducers, 4% are ultrasonic level indicator.
A wide variety of ultrasonic level detector options are available to you, such as free samples, paid samples.
Sino-Instrument is ultrasonic level transmitter suppliers, located in China.
Ultrasonic level detector products are most popular in North America, Mid East, and Eastern Europe.
The United States, and India, which export 99%, 1%, and 1% of ultrasonic level transmitter respectively.
You can ensure product safety by selecting from a certified supplier,
with ISO9001, ISO14001 certification.
Request a Quote