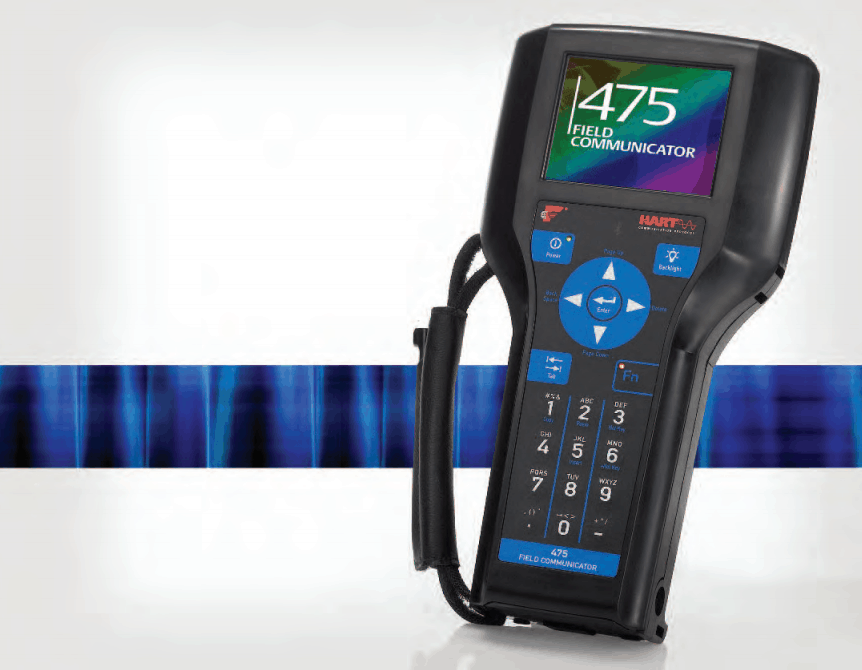 475 Field Communicator, Emerson-Rosemount Hart. A small amount of stock. Original Product.
Rosemount handheld 475 Field Communicator is for debugging any product under the global HART protocol. Such as pressure transmitter. Electromagnetic Flowmeter. Vortex flowmeter. Mass flowmeter. valve. Temperature Transmitter. Regulating valve, positioner.
① Rosemount 475 field communicator is the new standard of a handheld communicator. It is a new generation of communicators developed based on Rosemount 275Hart and 375Hart's more than 20 years of application experience and the further needs of users.
② Following the successful application of the Rosemount 375HART communicator. Emerson Process Management has introduced a new type of Rosemount 475 field communicator. It supports the HART communication protocol. It also supports the Foundation Fieldbus communication protocol. It is versatile, reliable, portable, Intrinsically safe, easy to upgrade, and other features. These features will quickly make the Rosemount 475 handheld communicator the new standard.
③ At present, more than 300 equipment suppliers provide more than 1,000 HART and FF Fieldbus equipment protocols. Rosemount 475 handheld communicator supports Emerson's PlantWeb factory management and control network technology. And it combines 20 years of providing HART users with its instruments and valves. Field experience is required for configuration and maintenance. The powerful Fieldbus branch diagnosis function of Rosemount 475 Handheld Communicator is based on Emerson's extensive experience of thousands of Fieldbus devices worldwide.
Versatility: Rosemount 475 handheld communicator supports all HART® and FOUNDATION Fieldbus devices. In addition, there is plenty of room for your future development;
Users can upgrade on-site: Users can download the latest version of HART and FOUNDATION Fieldbus-related content from the Internet to upgrade the Rosemount 475 handheld communicator on-site.
Safety: Rosemount 475 handheld communicator is the only field operator that meets all intrinsic safety requirements. Including ATEX-compliant, CENELEC, FM, CSA, and FISCO.
Robust and reliability: This is one of the reasons why he is called a "Handheld Communicator". Some work must also be performed on the device. The Rosemount 475 Communicator is specially designed for the harsh working conditions of the factory.
Connect with AMS interface: Rosemount 475 handheld communicator can connect with AMS device management software interface. The configuration data transmission of HART instruments and valves is carried out between the equipment management software and the handheld communicator.
The most commonly used models of Rosemount HART475 Communicator are:
Rosemount Communicator 475HP1ENA9GM9 (basic type)
Rosemount Handheld Communicator 475HP1ENAUGM9 (three-year upgrade)
Rosemount Communicator 475HP1EKL9GM9 (explosion-proof)
Rosemount Communicator 475HP1EKLUGM9 (explosion-proof, three-year upgrade)
Rosemount Handheld Communicator 475FP1EKLUGM9 (HART+FF protocol)
| | |
| --- | --- |
| Model | Product description |
| 475 | Field communicator (1) |
| Numbering |   Protocol |
| H | HART |
| F | FOUNDATION fieldbus |
| Numbering |   battery model |
| P | Rechargeable lithium battery pack |
| Numbering | Power supply/charger |
| 1 | Power supply/charger (0~24VAC, 50/60HZ, American and British European plugs) |
| 9 | Excluding (2) |
| Numbering | Language |
| E | English (standard) |
| D | German |
| J | Japanese |
| R | Russian |
|  Numbering |  certified product |
| KL | FM, CENELEC/ATEX.CSA intrinsically safe (including FISCO) |
| NA | No certification |
| Numbering | Facilitate upgrade (3) |
| U | Convenient upgrade options (including unlimited system card upgrades with a 3-year period) |
| 9 | Excluding |
|  Numbering | Standard mode |
| GM | Graphic enhancement |
| – | Configuration management |
|  Numbering |  Bluetooth |
| T | Bluetooth function |
| 9 | No Bluetooth function |
| Numbering | – |
| A | Spare rechargeable lithium ion (4) |
| S | Standard rubber protective box |
You may like: 475 field communicator manual
Related Products:
Why is magnetic flow meter calibration necessary? The accuracy of the magnetic flowmeter has been calibrated…
Sino-Inst offer all kinds of pressure transducers, DP transmitters, magnetic flow meters, and other automated instruments, which can work with HART.
Sino-Inst offers over Emerson Hart 475 Field Communicator. Currently in stock. Please contact our sales engineer to confirm the price and delivery time.
Wu Peng, born in 1980, is a highly respected and accomplished male engineer with extensive experience in the field of automation. With over 20 years of industry experience, Wu has made significant contributions to both academia and engineering projects.
Throughout his career, Wu Peng has participated in numerous national and international engineering projects. Some of his most notable projects include the development of an intelligent control system for oil refineries, the design of a cutting-edge distributed control system for petrochemical plants, and the optimization of control algorithms for natural gas pipelines.