The Cryogenic Level Sensor is a capacitance-based level transmitter for cryogenic liquid level measurement. Cryogenic Level Sensor is a customized product for liquid level measurement in low temperature environments such as liquid nitrogen, LNG, and liquid ammonia. Also called liquid nitrogen level sensor. This product has no moving parts and is not disturbed by the external environment. It has the advantages of long-term operation, high sensitivity, good linearity, low temperature resistance, etc. The cryogenic level sensor provides a variety of output signals. It is used in LNG liquid natural gas, petroleum, chemical industry, metallurgy, electric power, papermaking, pharmaceutical and other fields.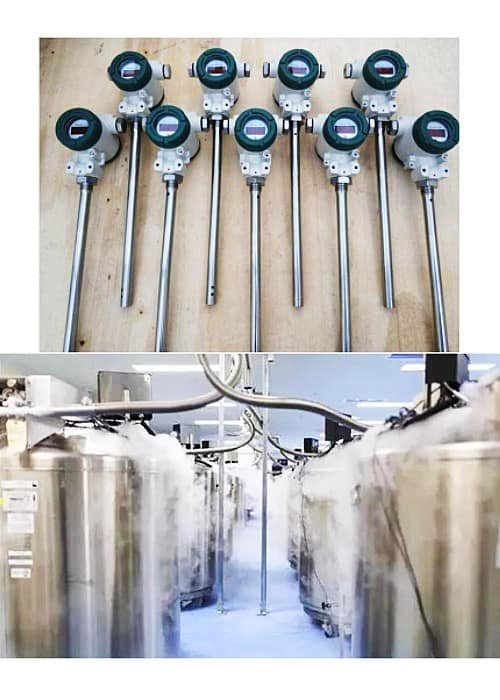 Features of Cryogenic Level Sensor
Working temperature: -196℃-80℃
Working pressure: 0-32MPA
Power supply: 5V 12-24V
Output: RS232 \ RS485 \0-5V\4-20mA
The length of the sensor and the junction box part can be customized according to customer requirements.
Remarks: The picture of this product does not represent the appearance of the product, everything is subject to the actual product
Extended reading: Low temperature Turbine Flowmeter-The Best Liquid Nitrogen Flow Meter
Technical Parameters
| | | | |
| --- | --- | --- | --- |
| No | Item | parameter | Remark |
| 1 | Operating Voltage | DC 10V~30V | custom made |
| 2 | Probe working temperature | -196℃~80℃ | custom made |
| 3 | ambient temperature | -40℃~80℃ | —— |
| 4 | scope of test | custom made | custom made |
| 5 | Pressure range | —— | Special can be customized |
| 6 | Probe diameter | Φ16 | custom made |
| 7 | Installation method | custom-made | Special can be customized |
| 8 | Explosion-proof grade | 304 metal shell | custom made |
| 9 | Precision class | 2.0/3.0 | Customized type is subject to use |
| 10 | Analog output | 0~5V/RS232/RS485 /0-3.3V | Special can be customized |
Extended reading: Nitrogen(N2) Flow Meter Types
Liquid Nitrogen Level Measurement and Control
The intelligent control system of liquid nitrogen tank is based on ultra-low temperature application technology. It adopts the design method from qualitative to quantitative. It integrates the integrated application system of liquid nitrogen monitoring, equipment control, data communication, computer and alarm.
The liquid nitrogen tank intelligent control system uses technological means such as networking, communication, database, cloud storage, etc. to provide users with intelligent solutions that serve the entire life cycle of liquid nitrogen tank control.
Extended Reading:
Laser Level Transmitter is a large-range, high-accuracy explosion-proof level measurement product supplied by Sino-Inst.
The liquid nitrogen tank automatic liquid supply system solution can realize the control, monitoring, monitoring and fault diagnosis of all aspects of the entire liquid nitrogen supply system. Meet the requirements of liquid nitrogen tank intelligent control system for liquid supply system in various fields. Including liquid nitrogen residual monitoring, centralized liquid supply, separate liquid supply, fault diagnosis and alarm and system information integration and other requirements.
The system has powerful monitoring functions, data calculation and analysis and diagnosis capabilities. It can realize mutual communication control between various devices.
Read More About: Monitoring liquid volume solutions
Differential Pressure Measurement for Cryogenic Tanks
The differential pressure transmitter is difficult to measure the liquid level of the medium below -20℃. If it is necessary to measure the liquid level of low-temperature media such as liquid ammonia and liquid nitrogen, indirect measurement of gas isolation can be used.
As shown in the figure, the purpose of measuring the liquid level of low temperature medium is achieved by measuring the gas pressure in the pressure guiding pipe.
Because the liquid in the high-pressure side pressure guiding pipe is in a normal temperature state above the boiling point.
Therefore, the liquid in the pressure guiding tube evaporates into gas until saturated gas is formed in the pressure guiding tube.
The differential pressure transmitter should be installed above the maximum liquid level. The high pressure side is connected to the liquid phase pressure guiding pipe. Not only can the transmitter be in a working environment at room temperature, but also the low-temperature liquid can be fully vaporized.
In order to easily adjust the zero position of the instrument and replace the instrument, a balance valve should be installed between the high and low pressure sides of the differential pressure transmitter.
After the differential pressure transmitter is installed, the zero position should be adjusted, then the gas phase pressure pilot valve PL should be opened, and the zero position should be adjusted again under the working pressure.
Then open the liquid phase pressure pilot valve PH. Wait for a while for the cryogenic liquid to fully vaporize. Then close the balance valve to put the transmitter into operation.
When checking or adjusting zero during use, first open the balance valve to balance the pressure on the high and low pressure sides of the differential pressure transmitter, and then close the liquid phase pressure guide valve to check or adjust the zero position.
If the vaporized gas of the liquid to be tested is dangerous in contact with the air, certain safety measures should be taken during maintenance.
Differential pressure type level transmitter working principle
More Featured Cryogenic Measurement Products
The Most Common Types Of Level Indicators
More Tank Measurement Solutions
What is underwater pressure transducer? Underwater pressure transducer refers to a type of pressure sensor that can be used underwater for a long time. The degree of protection of the underwater pressure sensor…
Frequently
Asked
Questions
Sino-Inst is Manufacturer of Cryogenic Level Sensors for Liquid Nitrogen Tank Level Indicator. We supply more than 10 kinds of liquid nitrogen measure instruments.
Cryogenic Level Sensors are mainly used for level measurement of low temperature liquids.
It can measure even liquids such as Liquid Nitrogen, Liquid Oxygen, etc.
Cryogenic Level Sensors enable stable level measurement. This greatly meets the measurement needs of many applications. Can be used from small to large tanks.
Sino-Inst's Cryogenic Level Sensors, made in China, Having good Quality, With better price. Our level measurement instruments are widely used in China, India, Pakistan, the US, and other countries.
The entire team at Sino-Inst's has received excellent training, so we can ensure that every client's needs are met. For assistance with your product requirements, whether it's a Cryogenic Level Sensor, flow sensor, or other device, give us a call.
Request a Quote
Wu Peng, born in 1980, is a highly respected and accomplished male engineer with extensive experience in the field of automation. With over 20 years of industry experience, Wu has made significant contributions to both academia and engineering projects.
Throughout his career, Wu Peng has participated in numerous national and international engineering projects. Some of his most notable projects include the development of an intelligent control system for oil refineries, the design of a cutting-edge distributed control system for petrochemical plants, and the optimization of control algorithms for natural gas pipelines.