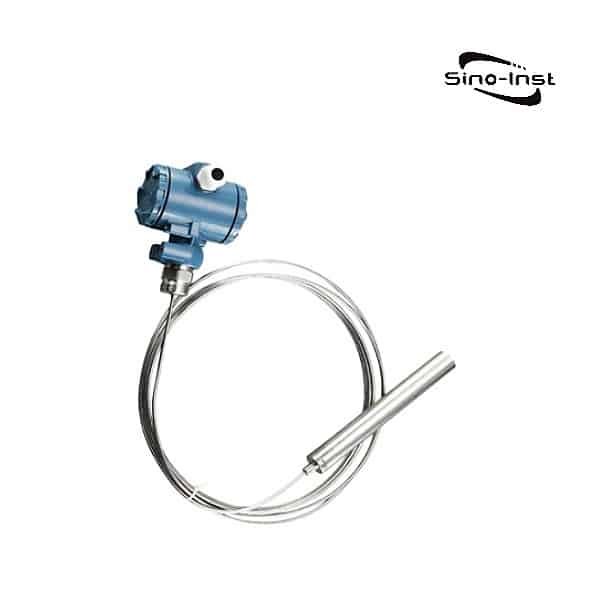 Stainless Steel Level Sensor-Pressure Guided Submersible Level Transmitter (gas pressure type. ) The sensor part and the signal processing circuit are inside the junction box. It is used for high temperature, corrosive liquid, sewage, etc. The gas in the gas collecting cylinder is injected into the liquid Contact with the medium. The pressure is transmitted to the sensor through the air pipe. The direct contact between the sensor and the measured medium is avoided. It is suitable for occasions such as high temperature and strong corrosiveness. It effectively solves the problem of high temperature corrosive liquid and sewage level measurement. It is especially suitable for the measurement of high temperature, corrosive liquid and sewage.
Features of Stainless Steel Level Sensor
Technical Parameters
| | |
| --- | --- |
| 1. Range: |  0-100m (liquid level height/depth); |
| 2. Output signal: |  4-20mA (two-wire system), 0-20mA, 0-5V, 1-5V, RS485; |
| 3. Load capacity: |  800<ERR> |
| 4.Insulation resistance: | greater than 2000M2 (100VDC); |
| 5. Power supply: | 24VDC (9~36DCV); |
| 6. Accuracy class: | 0.5%FS; |
| 7. Long-term stability: | ≤0.2%FS/year; |
| Temperature compensation: | 0-80℃ |
| 9. Medium temperature: |  0~400℃; |
| 10. Ambient temperature:   | normal temperature (0~60℃); |
| Ambient humidity: | ≤90%RH |
| 12. Protection class: |  IP68 |
| 13. Main structural material: | Pressure tube material stainless steel 1Cr18Ni9Ti;The junction box is metal cast aluminum,Gas cylinder material: 304 stainless steel (medium 37mm*200mm);Airway material: 304 stainless steel (medium 4mm); (can be bent at will)304/316 stainless steel pipe optional |
Extended reading: Non contact level measurement
Stainless Steel Level Sensor-Pressure Guided Submersible Level Transmitter Working Principle
The Pressure Guided Submersible Level Transmitter selects the pressure transmitter as the pressure measurement component. The liquid level pressure signal is collected by the gas collecting cylinder and transmitted to the pressure transmitter to convert the pressure signal into the liquid level signal output.
The relationship between pressure transmitter and liquid level is: P=0.0098ρH+Pc
where:
P pressure MPa;
ρ liquid density (g/cm3);
H liquid level depth (m);
Pc liquid surface pressure (normal pressure is 0)
Extended Reading: How many types of level transmitters are there?
Applications
More than just liquid level, monitor your tank volume more effectively!
Our liquid level sensors can output liquid level signals, such as 4-20mA signal, 0-10V signal, RS485 and so on.
However, the liquid level transmitter alone cannot calculate the liquid volume of tanks of different sizes. It's too complicated. A separate recorder is required to calculate it.
Therefore, the digital display volume meter can collect, display and convert the liquid level of various regular and irregular tanks in the industrial field into the corresponding tank volume. It is suitable for monitoring, controlling and collecting various process parameters.
Read more about: Capacitive Level Measurement System
More Featured Level Sensors
More liquid level measurement solutions
The Cryogenic Level Sensor is a capacitance-based level transmitter for cryogenic liquid level measurement. Cryogenic Level Sensor is a customized product for liquid level measurement in low temperature environments such…
Sino-Inst is Manufacturer of Stainless Steel Level Sensors-Pressure Guided Submersible Level Transmitters. We supply more than 40 kinds of Level Transmitters. 40% Hydrostatic Pressure Stainless Steel level meters, 30% radar level transmitters and 30% other types of flowmeters.
Stainless Steel Level Sensors are mainly used for level measurement of various liquids.
It can measure even liquids such as water, seawater, oil, and slurry. Read more about: Submersible Level Transducer Working Principle.
Stainless Steel Level Sensors enable stable level measurement without tank modifications. This greatly meets the measurement needs of many applications. Can be used from small to large tanks.
Sino-Inst's Stainless Steel Level Sensors, made in China, Having good Quality, With better price. Our level measurement instruments are widely used in China, India, Pakistan, the US, and other countries.
The entire team at Sino-Inst's has received excellent training, so we can ensure that every client's needs are met. For assistance with your product requirements, whether it's a Stainless Steel Level Sensors, flow sensor, or other device, give us a call.
Request a Quote
Wu Peng, born in 1980, is a highly respected and accomplished male engineer with extensive experience in the field of automation. With over 20 years of industry experience, Wu has made significant contributions to both academia and engineering projects.
Throughout his career, Wu Peng has participated in numerous national and international engineering projects. Some of his most notable projects include the development of an intelligent control system for oil refineries, the design of a cutting-edge distributed control system for petrochemical plants, and the optimization of control algorithms for natural gas pipelines.