Explosion Proof Pressure transmitter refers to a pressure sensor with explosion-proof or intrinsically safe housing. Suitable for hazardous and explosive areas.
Explosion Proof Pressure transmitter, or explosion-proof pressure transducer, with the explosion-proof enclosure. For applications in hazardous areas. Class I, Division 1. Flameproof ExdIIBT5Gb; Intrinsically safe ExiaIICT4/T5/T6Ga.
SIEP489 has flexible pressure calibration, push-button configuration, and programmable using HART® Communication. All our electronic pressure transducers can be offered with Explosion-proof. Select explosion-proof pressure transmitters with Ex d certification and 4-20mA output signals for installation.
Sino-Inst offers a variety of Explosion-proof pressure sensors for industrial pressure measurement. If you have any questions, please contact our sales engineers.
Features of Explosion Proof Pressure Transmitter
FM approved as "explosion-proof" for class I, div. 1 hazardous areas
Available with EXD approval "flameproof enclosure" for II 2 G Ex d II C
Current or voltage output
Designed for harsh ambient conditions
Low-power version available as an option
Specifications of SIEP489 explosion-proof pressure transmitter:
Standard range
Pressure type
Gauge pressure, absolute pressure, sealing pressure
Pressure range (bar)
1 1.6 2.5 4 6 10 16 25 40 60 100 160 200 250 300 400 500 600 750 1000 1500
Pressure range (psi)
15 30 50 75 100 200 300 500 750 1K 1.5K 3K 5K 10K 12K 15K 25K
Technical Specifications
Accuracy
±0.3 %FS ±0.5 %FS
Long-term stability (1 year)
±0.25 %FS
Response frequency (-3DB)
3.2kHz
Temperature compensation
-20~+85℃
Storage temperature
-40~+125℃
Load Resistance
Voltage output: RL > 100KΩ, current output: RL≤ (supply voltage-9V) / 20mA
Overload pressure
150% FS (Range < 6Bar) 300% FS (Range≥6Bar)
Destruction pressure
200% FS (Range < 6Bar) 500% FS (Range≥6Bar, limit 10000Bar)
Mechanical vibration
±20g
Shock (11mS)
100g
Protection level
IP65
material
17-4PH (Range≥6Bar) 304 or 316L (Range <6Bar)
Electrical connections
Direct lead
Pressure interface
M20X1.5 G1 / 4 NPT1 / 4 (others can be customized)
Explosion-proof grade
Exd II CT6 Gb
| | | | | | | | |
| --- | --- | --- | --- | --- | --- | --- | --- |
| Signal output | 4~20 mA | 0.5 ~ 4.5VDC (proportional output) | 0.5~4.5VDC | 0~5VDC | 0~10VDC | RS485 | RS232 |
| Signal line specifications | 2 Wire | 3 Wire | 3 Wire | 3 Wire | 3 Wire | 4 Wire | 4 Wire |
| Supply voltage | 9~30VDC | 5VDC | 9~30VDC | 9~30VDC | 15~30VDC | 9~30VDC | 9~30VDC |
Read more about: What Is the Difference Between Class 1 Div 1 and Class 1 Div 2 ?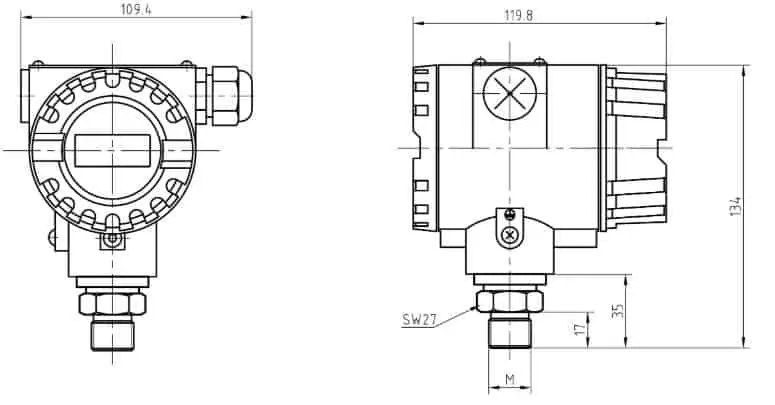 Applications of explosion proof pressure transmitter
Oil & Gas equipment needs a pressure transducer, that is reliable and able to withstand extreme environmental and pressure conditions.
Borehole monitoring
Oil Field Equipment
Refineries and petrochemical industry
Drilling platforms and pipelines
Upstream Oil and Gas Production
Natural Gas Compression and Transfer Control
Alternative Energy
We can provide maintenance, calibration and other services of the same type of products. Such as WIKA, Rosemount pressure transmitter.
Contact us now to see how we can help you with a pressure gauge solution that fits your exact needs.
Know More About Explosion proof pressure transmitter
Explosion-proof pressure transmitters are available in a wide range of specifications,
easy to install and use, safe and explosion-proof.
They can be widely used in petrochemical, electric power, metallurgy, pharmaceutical, food processing, and other industries.
Products comply with the "IEC" standard, and explosion-proof pressure transmitters are internationally renowned.
The company's high-precision, high-stability pressure sensor components,
through high-reliability amplifier circuit and precise temperature compensation,
convert the absolute or gauge pressure of the measured medium into 4~20mA, 0~5VDC, 0~10VDC, and 1~5VDC. Such as standard electrical signals.
High-quality sensors hermetically sealed soldering technology
and a complete assembly process ensures excellent quality and performance.
The product is available in a variety of interface styles.
And a variety of lead styles to best meet customer needs.
And is suitable for use with a variety of measurement and control equipment.
Explosion proof pressure transmitter working principle
The explosion-proof pressure transmitter consists of an integrated intelligent sensor and peripheral circuits.
The sensor part is composed of a pressure sensor, a signal modulation circuit, a dedicated digital processing chip, a temperature sensor, and data memory, and the peripheral electronic circuit part is composed of an LCD display, function keys, and an EMC circuit.
The pressure signal is converted into an electrical signal by the pressure sensor. And the electrical signal is modulated. And sent to a dedicated digital processing chip for data processing.
And then converted into a 4~20 mA output signal corresponding to the pressure signal.
And the HART digital signal is superimposed on the current signal for communication.
Extended reading: How to calibrate HART pressure transmitters
Potentially explosive environment.
Such as flammable gas, dust environment, oil refinery, petrochemical plant, gas station, gas station, etc., explosive gas environment.
Under atmospheric conditions, a mixture of combustible substances in the form of gas, steam or mist, and air. After being ignited in the mixture, the combustion will spread throughout the environment of the unburned mixture.
Such as CH4, C2H2, C2H4, NH3, CO, C2H5OH, and other explosion-proof electrical equipment.
Read more about Steam pressure transmitter-Pressure measure on steam pipeline
Intrinsically safe VS explosion-proof
The explosion-proof of the current pressure transmitter: mainly two forms of isolation explosion-proof and intrinsically safe explosion-proof.
Intrinsically safe explosion-proof:
"i" (Intrinsically safe electrical equipment and related equipment) Intrinsically safe circuits, circuits that cannot ignite the specified explosive gas or steam under the specified test conditions, under the specified test conditions, the electric sparks and thermal effects generated under the specified fault state . Intrinsically safe electrical equipment: All circuits are intrinsically safe electrical equipment.
Example: Intrinsic Safety: Ex ia II BT4
Flameproof:
It refers to the electrical equipment that encloses the components that can ignite the explosive mixture in a shell, and the shell can withstand the explosive pressure of the internal explosive mixture and prevent the explosion of the surrounding explosive mixture.
For example: Flameproof: Ex d II CT6
Ex(ia)ⅡC T6:
| | | |
| --- | --- | --- |
| Sign | Symbol | Meaning |
| Explosion-proof declaration | Ex | Meet certain explosion-proof standards, such as my country's national standards |
| Explosion-proof method | ia | Adopt ia-level intrinsically safe explosion-proof method, can be installed in О area |
| Gas category | Il c | It is allowed to involve IIC explosive gas |
| Temperature group | T6 | The surface temperature of the instrument does not exceed 85℃ |
Ex(ia)ⅡC:
| | | |
| --- | --- | --- |
| Sign | Symbol | Meaning |
| Explosion-proof declaration | Ex | Compliance with European explosion-proof standards |
| Explosion-proof method | ia | Adopt ia-level intrinsically safe explosion-proof method, can be installed in О area |
| Gas category | ll c | It is allowed to involve explosive gas of IIc |
Technical Support
Explosion-proof differential pressure transmitter
Explosion-proof differential pressure transmitter is used to measure the liquid level, flow rate and pressure of liquid, gas or steam under high working pressure environment. Then converted into 4 ~ 20mA DC signal output. Intelligent type can communicate with HART Communicator.
Steam pressure transmitter
High Temperature Pressure Transducer/Transmitter for measuring pressure in hot environments. Liquids or gases up to 850 ° C. Such as steam, food processing & engine monitoring.
Application of high temperature pressure transmitter in steam pipeline.
Water pressure transmitter
Liquid level sensors also called a water pressure sensor, or water pressure transducer. SI-10 liquid pressure sensor uses waterproof device to achieve IP68 waterproof rating. Like: water pipe pressure, oil pressure for pipe or tank.SI-10 liquid pressure sensor is a piezoresistive silicon pressure sensor.
Natural gas pressure transducer
Gas pressure sensor for industrial gas pressure monitoring. Pagoda gas nozzle Φ8. Such SI-503K Pagoda Joint Gas Pressure sensor uses stainless steel as a whole. High-precision strain gage and advanced technology. It has high sensitivity, stable performance and good impact resistance.
Sino-Inst offers over 20 Explosion Proof Pressure Transmitters. A wide variety of Pressure sensors options are available to you. Such as free samples, paid samples.
Sino-Instrument is a globally recognized manufacturer of Pressure sensors, located in China. Sino-Instrument sells through a mature distribution network that reaches all 30 countries worldwide.
Pressure sensors products are most popular in Europe, Southeast Asia, and Mid East. You can ensure product safety by selecting from certified suppliers. With ISO9001, ISO14001 certification.
Request a Quote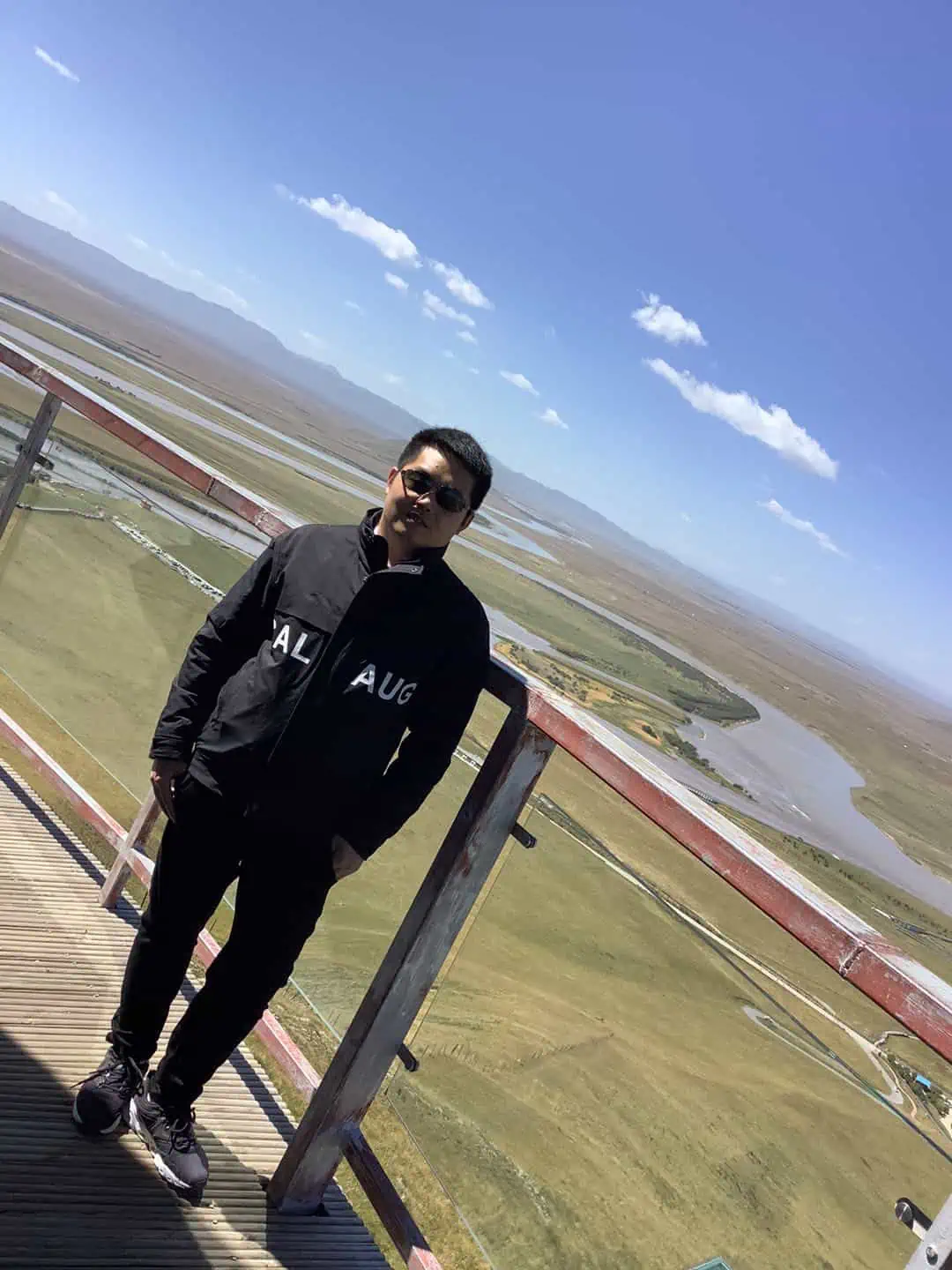 Wu Peng, born in 1980, is a highly respected and accomplished male engineer with extensive experience in the field of automation. With over 20 years of industry experience, Wu has made significant contributions to both academia and engineering projects.
Throughout his career, Wu Peng has participated in numerous national and international engineering projects. Some of his most notable projects include the development of an intelligent control system for oil refineries, the design of a cutting-edge distributed control system for petrochemical plants, and the optimization of control algorithms for natural gas pipelines.