Paperless Recorder is an intelligent Digital chart recorder. Data can be remotely recorded, analyzed, stored, and signal output. LCD color screen, maximum 16 channels.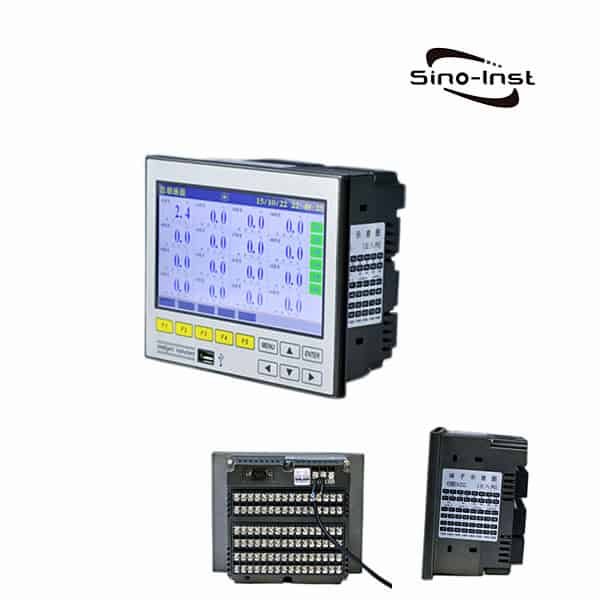 R7100 series color paperless recorder supports 1-16 channels of universal input. R7100 has a powerful display function, real-time curve display, historical curve recall, bar graph display, alarm list display, power-down list display.
Configurable and optional inputs: standard voltage, standard current, thermocouple, thermal resistance, frequency, switch value, pulse, etc. It can be equipped with 6 relay alarm outputs, 6 feed outputs, 4 transmitter outputs, and RS232/485 communication interface is optional. Bluetooth function, GPRS function Ethernet interface, micro printer interface and USB interface.
Sino-Inst offers a variety of Record and Analyze instruments for industrial control. If you have any questions, please contact our sales engineers.
Features of Paperless Recorder R7100
Can support touch function (additional function).
Can support dual communication functions (additional functions).
Can support timing printing function (additional function).
Can support DC power supply (additional function).
It can support the custom editing function of tag and unit (additional function).
Can support Ethernet communication (customized function).
Can support communication collection function (customized function).
Can support feed output function (optional function).
Can support transmission output function (optional function).
Can support alarm output function (optional function).
May support PID control function (optional function).
Can support manual serial port printing function (optional function).
Can support standard serial communication function (optional function).
Can support flow accumulation temperature and pressure compensation function (optional function).
Data recording/dumping backup function (standard function).
Universal analog input (standard function).
Specifications of Paperless Recorder R7100
Display
Screen: 7-inch true color TFT LCD (800 * 480 dot matrix)
Accuracy: Real-time display: ± 0.2% F.S. Remembrance accuracy: ± 0.2% F.S. (Note: The thermocouple should remove the cold junction error)
Processor
Using high-performance ARM Cortex-M3 32-bit RISC core, which can realize multi-channel signal acquisition, recording, display and multi-channel alarm at the same time
Storage module
A large-capacity parallel NAND FLASH memory chip is used to store historical data, and a serial FRAM memory chip is used to store system configuration parameters and other key information
Input function
Input specifications: fully isolated universal input, maximum support 16 analog inputs
Voltage input: 0-5V, 1-5V, 0-20mV, 0-100mV
Current input: 0-10mA, 4-20mA, 0-20mA
Resistance input: Res
Thermal resistance: PT100, Cu50, G53, Cu100, BA1, BA2 (requires three-wire resistance balance, lead resistance <10Ω)
Thermocouple: S, B, K, T, R, E, N, J
Radiation pyrometer: F1, F2
Tungsten rhenium: WRe3-25, WRe5-26
Note: Its input signal (such as digital input (DI), pulse input (PI)) or index number (such as PT1000) need to be indicated when ordering.
Output function
Power distribution output: support up to 3 groups of transmitter isolated power distribution + 24VDC, each group power distribution ≤60mA, support other specifications of isolated power distribution (such as 12VDC, 5VDC power distribution output)
Transmitter output: Support up to 4 channels of standard current [4-20mA, 0-20mA, 0-10mA] Transmitter output, load capacity 750Ω (maximum), easy to display instrument or DCS / PLC acquisition, to achieve long distance signal Transmission
Relay alarm output: support up to 6 relay alarm outputs, contact capacity 1A @ 250VAC / 1A @ 30VDC (maximum contact capacity can be customized), can configure upper and upper limit, upper limit, lower limit, lower and lower limit alarm
Communication printing
Communication interface: provide RS232C and RS485 two communication interfaces for users to choose, support simultaneous use of RS232C and RS485, support simultaneous use of RS232C and RS232C, support Modbus RTU protocol, baud rate —- (1200, 4800, 9600, 19200, 38400, 57600)
Print interface: RS232C directly connected to a mini printer, baud rate 1200
Record function
Recording capacity: 64/128/192 / 248MB (FLASH capacity is optional);
Recording interval: 1 second to 240 seconds, divided into 11 files: 1/2/4/8/12/24/36/60/120/180/240 seconds optional;
Recording time: The length of the recording time is related to the FLASH memory capacity, input points, and recording interval
Data transfer
Data backup and transfer: Support USB 1.1, 2.0 USB flash drive, support 1G to 32G U disk for data transfer, strong compatibility, compatible with most U disks on the market (recommended to use industrial version USB flash drive)
Power supply
Power supply: 100 ~ 240VAC (rated power supply voltage 220VAC), 50 / 60HZ AC power supply, support 24VDC (18VDC-36VDC) DC power supply (DC power supply must be specified when ordering)
Protective function
Power-off protection: Built-in memory protection parameters and historical data, permanently saved after power off Clock protection: integrated hardware clock, can also run accurately after power off
Error accuracy
Thermocouple cold junction compensation error: ± 2 ℃
Clock error: ± 2 seconds / day
Working environment [Forbidden to work in flammable and corrosive environment]
Working temperature: 0 ~ 50 ℃ (avoid direct sunlight)
Relative humidity: 0 ~ 85% R.H (no condensation)
Altitude: <2000m (except special specifications)
Transportation and storage environment
Transportation and storage temperature: -20 ~ 60 ℃ (avoid direct sunlight)
Transportation and storage humidity: 5 ~ 95% R.H (no condensation)
Net weight
Net weight: ≤1.5Kg
Note:
The technical indicators are the general indicators of this series of instruments. Please refer to the actual product for function configuration.
If the technical indicators are inconsistent with the physical instrument, please refer to the physical object.
Paperless Recorder R7100 Dimensions
R7100 paperless recorder can only match a variety of sensors. Support temperature sensors, humidity sensors, pressure sensors, current and voltage transmitters, liquid level sensors, flow meters, etc.
Read more about: What is a Paperless Recorder?
Paperless recorder working principle
A recorder is an instrument that converts the process of one or more variables over time or another variable into recognizable and readable signals. It can save the recorded signal changes for analysis and processing. The biggest feature of the recorder is that it can automatically record the slow change process and transient level change process of periodic or non-periodic multi-channel signals.
According to the types of input and output signals, recorders can be divided into analog-digital, digital-analog, analog-analog, digital-digital and other forms. Their main circuit varies according to the output form.
When the output is a digital signal, its main circuit is a memory circuit that can store digital information. It can send digital signals to tape drives, punchers or other equipment at any time. Or observe the analog waveform with an oscilloscope after proper conversion, such as digital memory and waveform memory.
When the output is an analog signal, the main circuit of the recorder is an analog amplifier drive circuit without storage function. The signal must be recorded on paper, photosensitive film, or tape immediately using appropriate recording devices and methods. The information can be saved for further analysis and processing. Such as various pen recorders, light recorders, plotters, tape recorders, etc.
You may like:
Sino-Inst offers over 10 Paperless Recorders for Industrial data recording and analysis. Paperless Recorder HS Code: 9031809090.
It is widely used in hydropower, tap water, petroleum, chemical, machinery, hydraulic and other industries to measure, display and control the pressure of fluid media on site.
A wide variety of Paperless Recorders are available to you, such as free samples, paid samples.
Sino-Inst is a globally recognized supplier and manufacturer of Paperless Recorders, located in China.
Request a Quote