Insertion Magnetic Flow Meter,
also called insertion electromagnetic flow-meter,
is an insertion type flow meter.
An insertion flow meter is defined as a meter,
that measures flow at a strategic point in a pipe,
then uses that measurement to determine the average flow through the pipe.
The terms "insertion meter" and "flow sensor" are used interchangeably.
Flow Sensors rely on the same physical laws as do full bore flowmeters – electromagnetism,
ultrasound, Bernoulli's phenomena, heat transfer,
and linear momentum.
The difference is in the packaging.
SI-3121 Insertion electromagnetic flow meter is composed of insertion electromagnetic sensor,
and electromagnetic flow converter, used to measure the conductive liquid,
that electrical conductivity is greater than 5 us/cm,
it is used to measure the water, sewage, acid, alkali and another medium.
Suitable for measuring the large pipe of diameter DN300~DN3000mm.
Installation can be divided into an online installation type of the cut-off valve,
and water control installation type without stop valves.
What are the types of flow meter?
Features of Insertion Magnetic Flow Meter SI-3121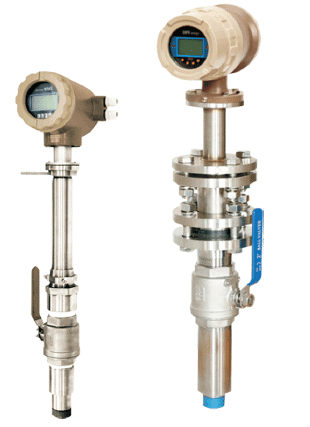 Simple structure, no moving parts, long service life.
Don't need lining, don't need the ground ring, small volume, lightweight, convenient installation.
Insertion electromagnetic flowmeter with stop valves can realize the installation, dis-assembly,
easy maintenance and maintenance when continuous streams.
Flow measurement is only related to insert depth, so with the feature of wide commonality, strong interchangeability.
A model can be applied to all kinds of pipe flow measurement requirements
Specifications of insertion electromagnetic flowmeter
| | | | |
| --- | --- | --- | --- |
| Medium | Water, sewage water, acid, alkali etc. | | |
| Diameter | Dn300~DN3000mm | | |
| Accuracy | ±2.5% | | |
| Temp. range | -20~+150℃ | | |
| Pressure | 1.6 MPa | | |
| Flow rate | 0.5~6m/s | | |
| Straight pipe required | Up stream≥5DN, down stream≥3DN | | |
| Electrode | 316L,Hastelloy C(HC), Titanium(Ti), Tantalum(Ta),Platinum(Pt) | | |
| Installation way | Without a ball valve or with a ball valve | | |
| Body material | Stainless steel | | |
| Power supply | 220VAC/24VDC/Lithium battery | | |
| Signal output | Pulse output, 4~20mA | | |
| Communication | RS485,Hart, GPRS etc. | | |
| Explosion proof | No | | |
| Protection class | IP65(compact type), IP68(remote type) | | |
| Working environment | Temp. Range: -20~+60℃, humidity: 5%~90% | | |
Flow rate
Q=πD²×V×0.0036÷4
Applications of Insertion Magnetic Flow Meter
Potable Water
Water Distribution
Pumping Stations
Filter Balancing and Backwash
Reclaim Water
Treated Water
Irrigation Water
Cooling Water
Raw Water
Order Guide
Know more about Insertion Magnetic Flow Meter
Insertion magnetic flow meter principle
All MAG Meters operate under the same fundamental principle of classical physics (Faraday's Law of Electromagnetic Induction):
E = CONSTANT x B x D x V
The law states that the magnitude of the voltage (E) induced in a conductive medium,
moving through a magnetic field is directly proportional to the strength of the magnetic field (B), the path length between the probes (D),
and the velocity of the medium (V).
In principle and implementation,
it is possible to fix all parameters except velocity.
Thus a MAG Meter responds only to "velocity"
and is extremely insensitive to changes in fluid conditions (density, viscosity, etc.)
and application constraints (pressure, temperature, and mechanical vibrations, as well as fluid pulsation).

The operation of a MAG Meter is completely analogous to an electrical generator.
A voltage is induced in a conductor that is moving at right angles through a magnetic field.
The faster the conductor moves, the more voltage is generated.
Advantages of Magnetic Flowmeters
Electromagnetic (MAG) flowmeters have been widely used in industry for over 50 years,
and for good reason, the advantages of MAG meters are irrefutable.
High reliability – no moving parts
No scheduled maintenance
Good accuracy: 0.5% to 2.0% of reading
Very wide range: up to 100:1
No pressure drop
The wide selection of materials
The wide selection of fluids metered
Typical Installation of Insertion Magnetic Flow Meter
Easy To Install
Place saddle and ball valve
Hot tap
Insert meter and set the depth
Tighten clamp
Provide electrical Ground connection on plastic pipes
More Wastewater Flow Meters
Sino-Instrument offers all kinds of flow meters, which can work for the wastewater.
The SI-3000H Portable Ultrasonic Flowmeter is a widely used time difference ultrasonic flowmeter,
for on-line calibration and inspection of liquid flow in various industrial sites.
A Smart Measurement magnetic flow meter does not contain any moving parts,
rotating gears or turbines, or bearings
Sino-Instrument industrial Vortex Flow Meter includes spectral signal processing (SSP),
to provide enhanced vibration immunity and optimum,
stable flow measurements.
Turbine flow meters are cost-effective and offer reliable measurement,
with minimal flow meter maintenance required.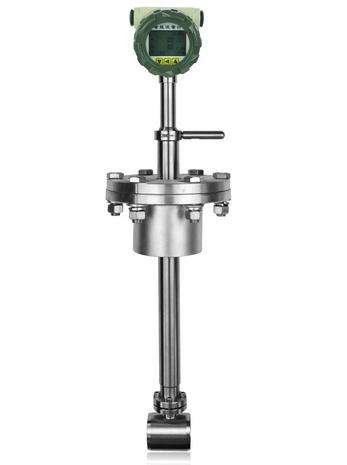 The Sino-Instrument Insertion Vortex Flow Meter measures the volumetric,
or mass flow rate of steam, gases, steam in piping conduits, or liquids over a large flow range.
You may like:
Sino-Instrument offers 10 Insertion Magnetic Flow Meters.
These are wireless flange Insertion Magnetic Flow Meters,
pressure transmitter with display, and water pressure transmitter.
A wide variety of Industrial flow meters options are available to you,
such as free samples, paid samples.
Sino-Instrument is Industrial flow Transmitter suppliers,
located in China.
The top applying countries are China (Mainland),
Hong Kong, and the United States, which supply 96%, 2%,
and 1% of wireless pressure transmitter respectively.
Insertion Magnetic Flow Meter products are most popular in North America,
Domestic Market, and South America.
You can ensure product safety by selecting from certified suppliers,
with ISO9001, and ISO14001 certification.
Request a Quote