Clamp on Ultrasonic Flow Meter is a wall-mounted ultrasonic flow meter using TGA time difference technology. TGA is an algorithm for measuring process time with higher speed and accuracy.
Clamp on Ultrasonic Flow Meter ( Model: 3000S) is composed of a host and an external clamp sensor. The flow measurement of various liquids can be completed by simply sticking the external clamp sensor on the surface of the pipeline. Compared with the traditional flowmeter, it does not need to cut off the pipe and flow, the installation is convenient and quick, and it truly realizes the lossless installation. Compared with the common TDC algorithm of other manufacturers, TGA measurement technology is an algorithm for measuring process time with higher speed and higher accuracy.
Clamp on Ultrasonic Flow Meter Reference price: USD 870.00/pc
Sino-Inst offers a variety of Ultrasonic flow meters for flow measurement. If you have any questions, please contact our sales engineers.
Features of Clamp on Ultrasonic Flow Meter
Compared with other conventional flowmeters, the LRF-3000S ultrasonic flowmeter has the following characteristics in addition to the flexibility of on-site installation, high response speed and better measurement capability under low flow rates:
Use an independent high-performance FPGA chip with 400,000 gate arrays. The measurement rate can be greater than 300 times per second. Compared with other brands, it has a great improvement in the resistance to air bubbles in the measurement pipe diameter. It can withstand continuous bubbles for up to 5 seconds.
Increased signal strength. It has greater penetrating power to various scales, rust in the pipe and the inner lining of the pipe.
4-line LED display. Easy to operate.
The sensor adopts our unique manufacturing process and matching technology. The zero point range can be controlled within 0.03m/s. The static time difference between each pair of sensors is less than 2 nanoseconds. This effectively guarantees the authenticity of the measured time difference.
Specifications of Clamp on Ultrasonic Flow Meter
Performance specification
Flow range
0 ~ ±12m /s (0~ 40ft /s)
Accuracy
1.0% of measured value
Repeatability
0.20%
Pipe Size
DN25~DN1200mm
Function Specification
Outputs
Analog output: 4~20mA, max load 750Ω.
Pulse output: 0~10KHz
Power Supply
10 ~ 36VDC or 10~24VAC
Keypad
16 keys(4X4) touch keys
Display
240*128, 4-line LCD display
Temperature
Transmitter: -14℉~140℉(-20℃~60℃)
Transducer:-40℉~176℉(-40℃~80℃,TT01 ,Standard)
Transducer:-40℉~266℉(-40℃~130℃,TT03 ,High Temp)
Physical specification
Transmitter
PC+ABS, IP65
Transducer
Encapsulated design,IP68
Double-shielded transducer cable
Standard/maximum cable length:30ft/1000ft(9m/300m)
Packaging
20*22*23.5cm, 3.0kg
External clamp sensor:
The signal cable and sensor are manufactured in one piece without wiring;
Hidden tube tie design, more stable and beautiful after installation;
A pair of sensors can achieve DN25-DN1200mm measurement to meet the use of a larger range of pipe diameters;
Protection grade IP68, can work underwater without water ingress.
Clamp on Ultrasonic Flow Meter Working Principle
Clamp on Ultrasonic Flow Meter adopts the measurement principle of time difference method. It uses the ultrasonic wave emitted by the sensor to propagate in the flowing fluid. The sound wave propagation speed in the downstream direction will increase, and the backward direction will decrease. In the same propagation distance, there will be different transmission times. According to the difference between the transmission time and the measured The relationship between fluid velocity measures the fluid velocity.
The flow rate of the fluid is different in different positions in the tube. The flow rate in the center of the tube is faster than the flow rate near the wall of the tube. The flow velocity distribution of the fluid in the pipeline can be represented by the flow velocity cross-sectional distribution diagram.
By setting the flowmeter and considering the cross-sectional distribution of the flow velocity, the average flow velocity can be calculated. Then the volume flow of the fluid can be obtained according to the cross-sectional area of the pipe.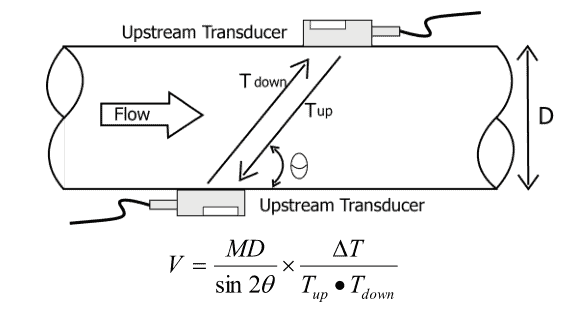 Notes:
V measure fluid velocity
M ultrasonic reflection times
D pipe diameter
θ The angle between the ultrasonic signal and the fluid
T up The time when the downstream sensor transmits the signal to the upstream
T down Time from upstream sensor to downstream
ΔT = T up – T down
Guess You'll Like: Ultrasonic flow meters types & technical guide
Clamp on water flow meter
Clamp on water flow meter means to measure the water flow rate by clamping the ultrasonic flowmeter sensor outside the pipe. The sensor is non-invasive. Of course, according to the actual requirements of the measurement, it can be fixed or portable.
So, why are we willing to use Clamp on ultrasonic flowmeter to measure the flow rate of water?
There are many types of flow meters for measuring water. Common ones are: V cone flowmeter, electromagnetic flowmeter, metal rotor flowmeter, vortex flowmeter, liquid turbine flowmeter, ultrasonic open channel flowmeter, ultrasonic flowmeter, etc.
There are many types of flow meters for measuring water. Common ones are: V cone flowmeter, electromagnetic flowmeter, metal rotor flowmeter, vortex flowmeter, liquid turbine flowmeter, ultrasonic open channel flowmeter, ultrasonic flowmeter, etc.
Advantages of Clamp on water flow meter for water measurement:
External clamp installation, without damaging the pipeline. easy and convenient.
It is convenient to measure ultra-small and ultra-large pipes. As small as Φ9.5. As large as DN6000.
Electromagnetic flowmeter is used to measure the volume flow of conductive liquid with conductivity greater than 5μS/cm. Then other water flow with conductivity less than 5μS/cm can be measured with ultrasonic clamp on water flow meter. For example, ultrapure water.
For pure water, drinking water, etc., it is necessary to keep clean and hygienic. If contact flow meters such as turbine flow meters and orifice flow meters are used, the material must be strictly required. At least 316SS material is required. Then the cost of the contact flowmeter will be very high.
Read more about: Non-invasive Ultrasonic Tank Level Sensor Working Principle
Portable clamp-on ultrasonic flow meter
The portable ultrasonic flowmeter uses a non-invasive sensor to measure liquid flow. The installation process is extremely simple. There is no need to destroy the pipeline during the measurement process and no need to stop production. The sensor is not in contact with the measured medium. Battery powered, small size, light weight and easy to carry. Realize the real sense of mobile flow measurement, online detection, is a real sense of portable ultrasonic flowmeter.
Handheld Ultrasonic Flow Meter has been successfully applied to measurement work in various industries. The measuring range is 20-6000mm (0.5-20 inches). A non-contact measurement method is adopted. Flexible operation and easy to carry. Conductive or non-conductive, corrosive or non-corrosive liquids can be measured. Various fluids: water, pure water, sewage, sea water, chemical fluids, river water, fuel Oil etc. can be measured.
Sino-Inst, Manufacuturer for Clamp on Ultrasonic Flow Meter. It can measure a single sound-conducting liquid medium of DN 25—1200mm. It can measure even liquids such as water, sea water, oil, and slurry.
Sino-Inst's Clamp on Ultrasonic Flow Meter, made in China, Having good Quality, With better price. Our flow measurement instruments are widely used in China, India, Pakistan, US, and other countries.
Request a Quote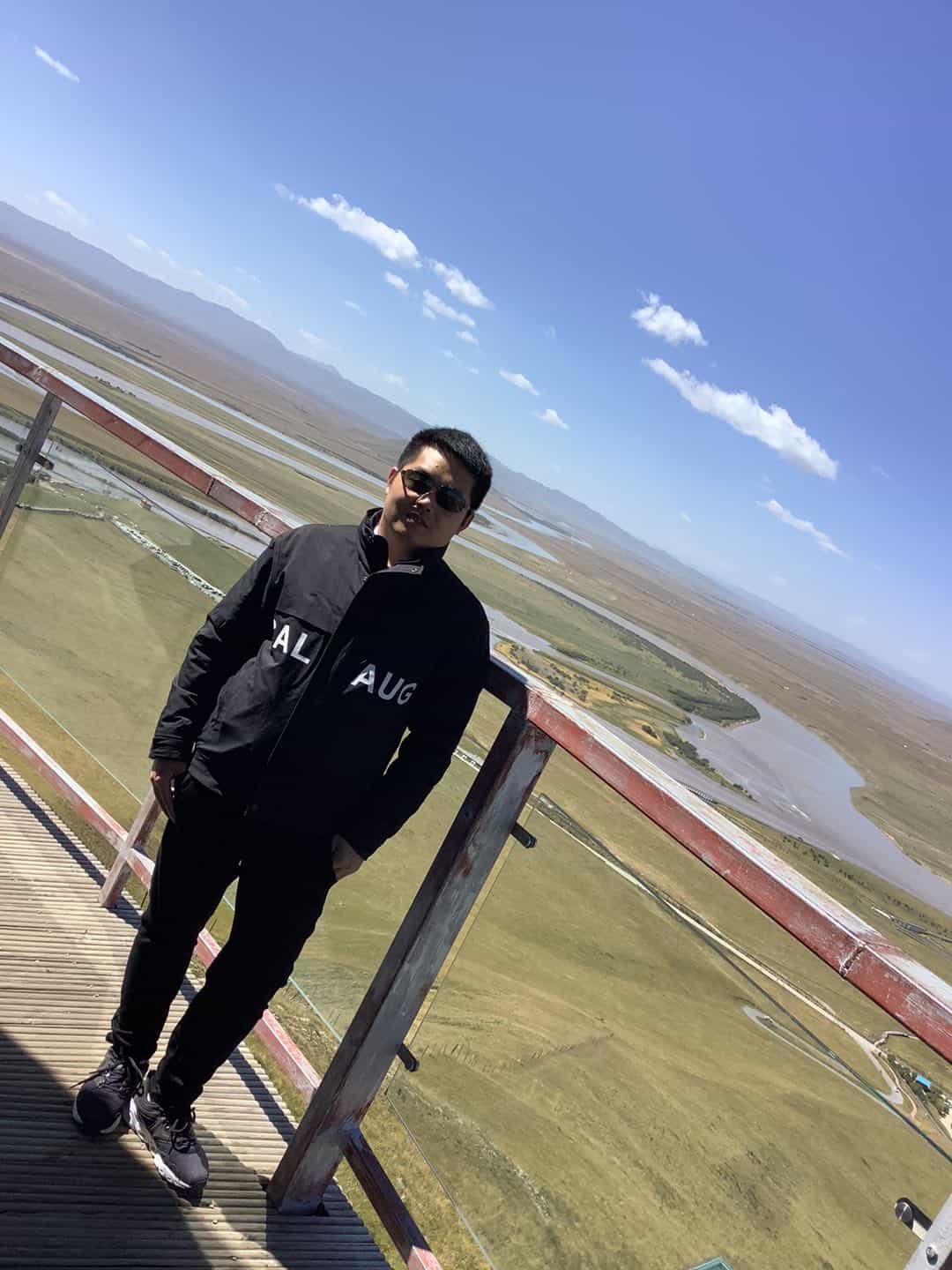 Wu Peng, born in 1980, is a highly respected and accomplished male engineer with extensive experience in the field of automation. With over 20 years of industry experience, Wu has made significant contributions to both academia and engineering projects.
Throughout his career, Wu Peng has participated in numerous national and international engineering projects. Some of his most notable projects include the development of an intelligent control system for oil refineries, the design of a cutting-edge distributed control system for petrochemical plants, and the optimization of control algorithms for natural gas pipelines.