Handheld ultrasonic flow meter realizes the non-contact measurement of liquid flow. Also often referred to as Portable Clamp-On Ultrasonic Flow Meter for Liquids.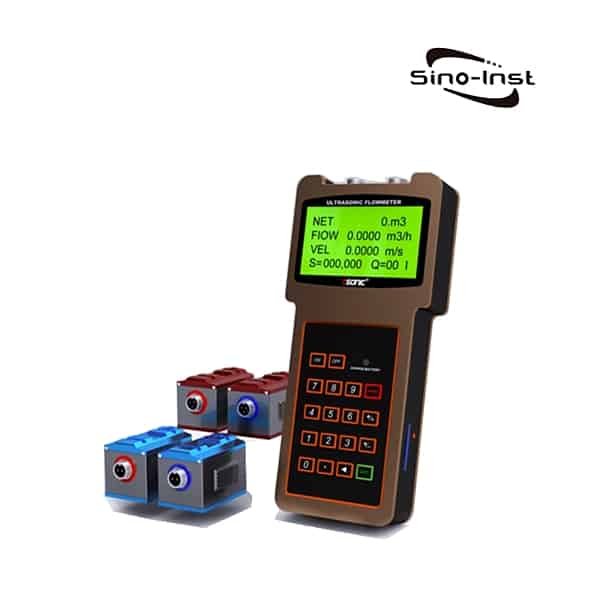 Handheld Ultrasonic Flow Meter ( Model:2000H) has been successfully applied to measurement work in various industries. The measuring range is 20-6000mm (0.5-20 inches). A non-contact measurement method is adopted. Flexible operation and easy to carry. Conductive or non-conductive, corrosive or non-corrosive liquids can be measured. Various fluids: water, pure water, sewage, sea water, chemical fluids, river water, fuel Oil etc. can be measured.
Handheld Ultrasonic Flow Meter Reference price: USD 470.00/pc
Sino-Inst offers a variety of Ultrasonic flow meters for flow measurement. If you have any questions, please contact our sales engineers.
Features of Handheld Ultrasonic Flow Meter
High precision measurement

Measurement accuracy is better than ±1%, linearity is 0.5%, repeatability is 0.2%

Small size and light weight

Volume: 210 × 90 × 30mm, the host weight is only 0.5kg

Non-contact measurement

The magnetic flow ultrasonic sensor is adsorbed on the outer wall of the pipe to complete the flow measurement.

Large measuring range

Measurement of pipe flow from DN20 to DN2000 with different types of sensors

Charger

Built-in large-capacity nickel-metal hydride rechargeable battery to support continuous operation of the flowmeter for more than 12 hoursLarge screen

LCD display

It can display cumulative flow, instantaneous flow, flow rate, working status, etc. at the same time.

Built-in data logger

Built-in data logger with a space of 24K bytes and can store 2000 lines of measurement data.
Specifications of Handheld Ultrasonic Flow Meter
Items
Performance

and

Parameter
Main

Unit
Principle
transit-time

ultrasonic

flowmeter
Accuracy
Accuracy

:over

1%-2%;


Repeatability:

over

0.2%
Display
4

line

x

16

character

LCD

with

backlight
Dimension
200*93*33cm:




390g
Operation
Support

16

key

light

touch

keyboard


and

the

Simulation

keyboard

software
Data

interface
Insulate

RS232

serial

interface,


upgrade

the

flew

meter

software

by

computer,


support

the

MODBUS,

etc.

Signal

Output
1

way

OCT

output
Special

Cable
Twisted-pair

cable

;
Select

the

RS232

communication.;
Generally,

the

standard

is

5m*2,


optional

10m*2

Pipe

Condition
Pipe

Material
Steel,

Stainless

steel,

Cast

iron,

Copper,


Cement

pipe,

PVC,

Aluminum,


Glass,

steel

product,

liner

is

allowed.
Pipe

Diameter
DN

15—6000mm
Straight

length

pipe
Transducer

installation

should

be

satisfied:


upstream10D,

downstream

5D,


30D

from

the

pump.
Measuring

Medium
Type

of

Liquid
Water

;

Ultra-pure

liquids;


Solvents

and

other

liquids

Temperature
Standard

Transducer:

-30–90

℃

;


High-temperature

transducer:

-40–160

℃

Turbidity
under

10000ppm

and

less

bubble

Flow

rate
0–±10m/s
Flow

Direction
Measuring

two

(plus-minis)
direction

of

flow

rate

Working

Environment
Temperature
Main

Unit:

-20–60

℃


Flow

transducer:

-40–160

℃

;


Temperature

transducer:

according

to

the

customer's

demands.
Humidity
Main

Unit:

85%

RH
Power

Supply
AC

110V-240V
Optional Transducer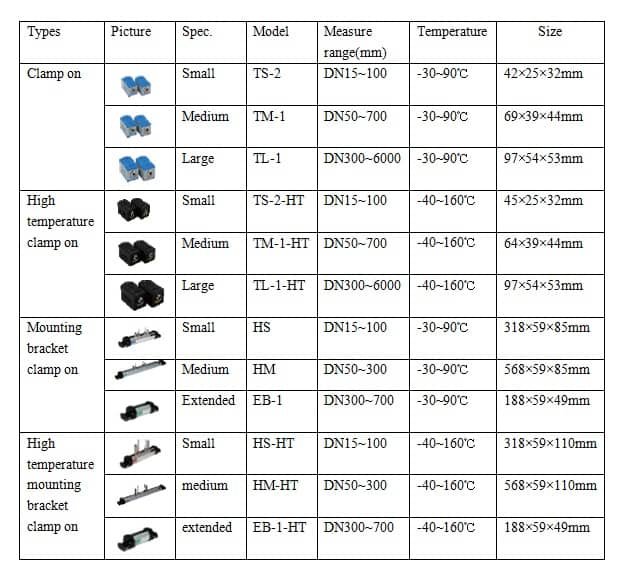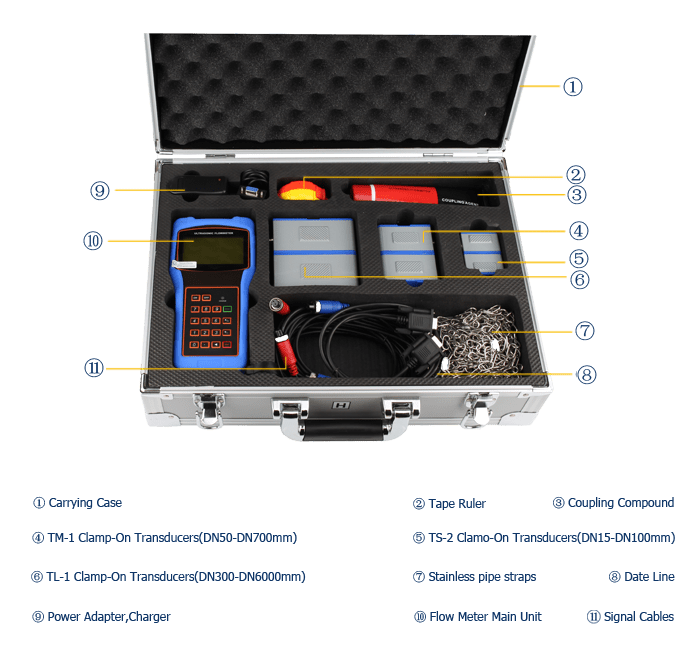 Guess You'll Like: Ultrasonic flow meters types & technical guide
Featured Clamp-on ultrasonic flow meters
Handheld Ultrasonic Flow Meter is a commonly used clamp-on ultrasonic flow meter.
Clamp-on ultrasonic flow meter mainly refers to the installation form of the ultrasonic sensor. The sensor clamp is fixed outside the pipe.
Clamp-on ultrasonic flow meters can be handheld, wall-mounted, and portable with printing functions depending on the host. You can select different hosts according to your measurement needs.
Typical Applications of Handheld Ultrasonic Flow Meter
The handheld ultrasonic flow meter is mainly used for flow measurement of industrial pipeline fluids, and is widely used in environmental protection, petrochemical, metallurgy, paper-making, food, pharmaceutical and other industries.
The SI-2000H ultrasonic flow meter is ideal for flow testing during test and balance.
It is also useful for temporary flow monitoring, in existing systems to establish baseline demand data.
Water (hot water, cooling water, potable water, seawater, etc.)
Petroleum products
Chemicals, including alcohol, acids, etc
Beverage, food, and pharmaceutical processors
Secondary sewage, waste treatment, etc.
Power plants, Metallurgy, and miming applications
Pipeline leak detection, inspection, tracking, and collection
Of course, if you are allowed to install a pipe segment flowmeter in your measurement pipeline, you may consider the use of an electromagnetic flowmeter. Electromagnetic flowmeters will provide more accurate measurements.
For example, if you need to measure the wastewater flow of a 2-inch pipe, then you can refer to: Magnetic Flow Meters Guides.
Handheld Ultrasonic Flow Meter Installation
Handheld Clamp on Transducers
Install the clamp on transducer (with magnet) on the pipe, can finish the flow measurement. No pressure drop, no need cut off pipe.
Several types transducers for selection, measuring pipe size from DN25-DN6000mm.
Several types transducers for selection.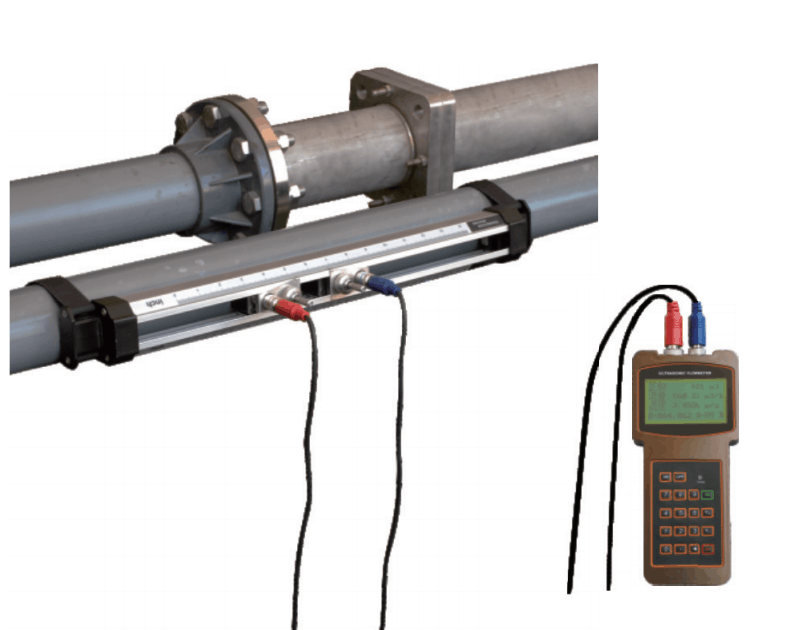 Clamp on Mounting Bracket Transducers
Bracket transdcuer can simplify the ultrasonic flow meter installation process. Shorten installation time and improve installation accuracy.
Install the clamp on bracket transducer (with magnet) on the pipe. Can finish the flow measurement. No pressure drop, no need cut off pipe.
Several types bracket transducers for selection, measuring pipe sizing from DN25-DN700mm.
Several types bracket transducers for selection, measuring temperature range -30℃ to 160℃.
Portable ultrasonic flow meter for water
Ultrasonic flowmeter is especially suitable for measuring large-diameter liquid pipelines because of its measuring principle. It has a large number of applications in urban water supply and sewage treatment industries. And the measurement results are very good.
Water is often used as circulating water in industrial production. That is, the water that can be recycled as the carrier of heat in the production process of the enterprise. The beginning is a circulating pool with a cooling system, and the end is the heat exchange equipment of the production workshop.
There are many types and quantities of heat exchange equipment in biochemical companies, so the circulating water pipelines are complicated. If a flow meter is installed on each circulating water pipeline, it will be a considerable expense.
Therefore, most production companies do not install flow meters for circulating water pipes in the initial stage of design to reduce investment costs. However, in order to grasp the operating efficiency of all heat exchange equipment in the production process, it is necessary to detect the flow rate of the circulation in the pipeline. .
An ultrasonic flowmeter can be used as a standard meter to transmit the value. It not only protects water resources rationally and scientifically, but also quantifies the paid use of water resources to a great extent. At the same time, it also protects the interests of both parties who use the water and reduces the cost of enterprise inspection. This makes periodic verification of large-caliber water flow meters a reality.
Handheld ultrasonic flow meter manual:
More Featured Liquid Flow Meters
Related Blogs
What is Clamp on Water Flow Meter? Clamp on Water Flow Meter is also known as the clamp-on ultrasonic flowmeter. Using an ultrasonic flowmeter to measure water flow rate is a great choice. Clamp on Water Flow Meter measures liquid
Read More
Sino-Inst, Manufacuturer for Handheld Ultrasonic Flow Meters. It can measure a single sound-conducting liquid medium of DN 15—6000mm. It can measure even liquids such as water, sea water, oil, and slurry.
Sino-Inst's Handheld Ultrasonic Flow Meters, made in China, Having good Quality, With better price. Our flow measurement instruments are widely used in China, India, Pakistan, US, and other countries.
Request a Quote
Handheld ultrasonic flow meter|Clamp on-Portable|Sino-Inst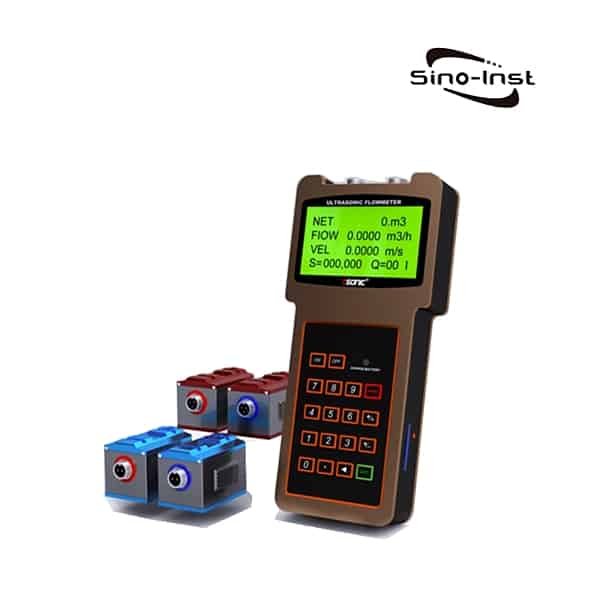 Portable Ultrasonic Flow Meter is a handheld ultrasonic flow meter. The clamp-on sensor is used to measure liquid flow in industrial pipelines.
Product SKU: Handheld Ultrasonic Flow Meter
Product Brand: Sino-Inst
Product Currency: USD
Product Price: 420
Price Valid Until: 2029-07-10
Product In-Stock: InStock