Non contact water level sensor refers to the radar water level sensor. Not the Gravity Non-contact Liquid Level Sensor. Radar Non Contact Water Level Sensor is suitable for water level monitoring of lakes, rivers, reservoirs, open channels, and tidal water levels.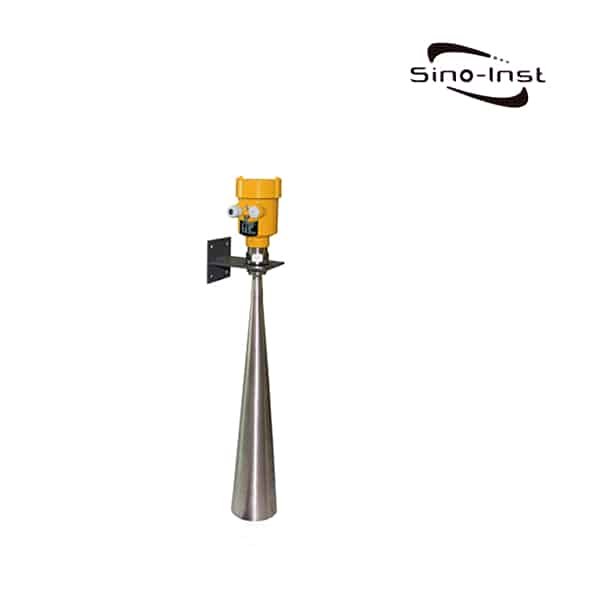 Radar Non Contact Water Level Sensor adopts non-contact measurement method and does not touch the water body. It is not affected by water quality, sediment and floating objects. The RS-485/RS-232/4-20mA interface can realize data long-distance wired transmission or docking with SCADA hydrological telemetry system. The measuring distance can be up to 70 meters.
The superiority of the radar water level gauge measurement principle makes it suitable for the following working environments: water level monitoring such as lakes, rivers, reservoirs, etc. Ditches with a large number of floating objects and sediments, and places where a lot of water plants are produced. Solar energy Power supply, remote field work and areas prone to flash floods.
Sino-Inst offers a variety of Radar Level Transmitters for level measurement. If you have any questions, please contact our sales engineers.
Features of SIRD-909 Radar Non Contact Water Level Sensor
High measurement accuracy and wide range;
The minimum blind area is 0.4 meters;
quick response;
No mechanical rotating parts. There are no problems such as silt blockage, water weeds, and debris entanglement;
The analog output can be adjusted arbitrarily;
With digital filtering and echo recognition functions;
Rugged and stable sensors are suitable for harsh industrial occasions;
Mature industrial process control pulse radar ranging technology, extremely stable.
Specifications of SIRD-909 Radar Non Contact Water Level Sensor
| | |
| --- | --- |
| Application: | Rivers, lakes, shallows |
| Measuring Range: | 70 meters |
| Process Connection: | Thread G1½ʺ A / bracket / flange |
| Process Temperature: | -40~100℃ |
| Process Pressure: | Atmospheric |
| Accuracy: | ±10mm |
| Protection Grade: | IP67/IP65 |
| Frequency Range: | 26GHz |
| Supply: | DC (6-24V) / four wire (6 ~ 24V DC) DC 24V / two wire (24V DC) |
| Signal Output: | RS485/Modbus protocol 4~20mA/Hart two wires |
| On-site display: | Optional |
| Housing: | Aluminum/plastic |
Radar Non Contact Water Level Sensor for water level monitoring installation
Radar Non Contact Water Level Sensor is a high-precision non-contact water level measuring instrument, no logging is required. It is easy to install and can directly measure the water level of natural rivers.
Radar Non Contact Water Level Sensor field comparison test application test, analyze the accumulated measurement data and comparison test results. In order to expand the test results, provide a basis for the selection of water level gauges, and at the same time improve the water level measurement and reporting conditions of the hydrological station on the upper reaches of the Yellow River.
Let me introduce to you the installation diagram of Radar Non Contact Water Level Sensor.
Preparation and inspection before installation;
Please pay attention to the following matters to ensure that the meter can be installed correctly;
Please reserve enough space for installation;
Please avoid installation situations with strong vibration;
Please see the installation diagram description and installation location of the radar water level gauge below: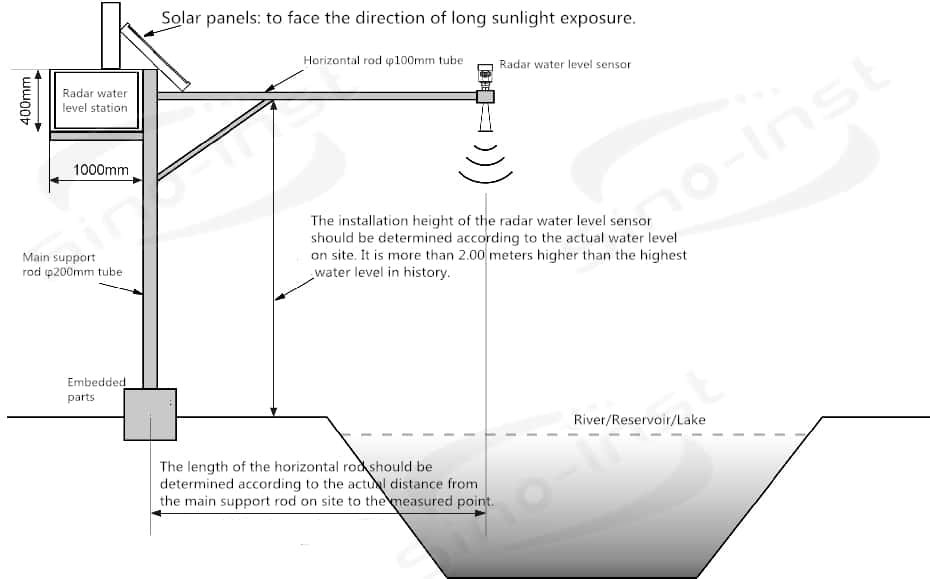 When a radar antenna emits microwave pulses, it has a certain emission angle.
There should be no obstacles from the lower edge of the antenna to the surface of the measured medium, and in the area radiated by the microwave beam.
Therefore, shielding facilities should be avoided as much as possible during installation, and "false echo learning" must be carried out when necessary.
Also pay attention when installing the instrument: the highest liquid level must not enter the measurement blind zone. The meter must be connected to the ground, and lightning protection measures should be added. Outdoor shading and rainproof measures should be taken.
Non Contact Liquid Level Sensor
HS-2000 External Mounted Ultrasonic Tank Level Sensor- (referred to as "external level gauge"). It adopts advanced signal processing technology and high-speed signal processing chip. It breaks through the influence of container wall thickness. Realizes the height of the liquid level in the closed container True non-contact measurement.
The ultrasonic liquid level sensor (probe) is installed directly under the outer wall (bottom) of the container under test. Calibrate the outer wall of the probe. There is no need to open holes for the container to be tested, easy to install, and does not affect production. It can accurately measure the level of various toxic substances, strong acids, strong alkalis and various pure liquids in high-pressure airtight containers.
The HS-2000 External Mounted Ultrasonic Tank Level Sensor has no special requirements for the material of the liquid medium and the container. The explosion-proof design is adopted to meet the explosion-proof requirements.
Portable ultrasonic liquid level indicator is best choice for tanks or pipes level measurement. It is designed to measure the presence or absence of liquid at a certain height position in a tank or in pipelines. Non-contact ultrasonic detection technology.
SI-ML works perfect for detection of dangerous toxic or corrosive liquids. Under ordinary conditions, the maximum wall thickness of measurable containers is 30mm. The product is suitable for the detection of various types of liquids. Liquids are non-crystalline or other particulate matter. For example CO2 Tank. Thanks to non-contact detection technology, this level indicator is ideal for detecting hazardous toxic or corrosive liquids.
Radar level transmitters use radar technology to perform non-contact continuous level measurement. The radar level indicator converts the level into an electrical signal. The level signal output can then be utilised by other instrumentation to monitor or control. Liquids and solids are commonly measured with this measuring technique. Like: Fly ash silo. Radar level sensors are divided into: Pulsed radar technology and frequency modulated continuous wave (FMCW) radar level sensors.
Sino-Inst produces 120GHz FMCW radar level sensor, 26GHz radar level meter, 6GHz level meter
More Water Level Sensors
Sino-Inst offers a variety of water level sensors for a wide range of conditions. Our sensors are ideally suited for monitoring water levels in streams, dams and reservoirs. Our water level sensor products include:
Submersible Pressure Transducers
Radar Level Sensors
Magnetostrictive Level Sensors
Pressure Transducers
Ultrasonic water level sensor
Sino-Inst offers over 10 Radar Non Contact Water Level Sensors for level measurement. About 50% of these are Radar level meters, 40% is the tank level sensor.
A wide variety of Radar Non Contact Water Level Sensor for level measurement options are available to you, such as free samples, paid samples.
Sino-Inst is a globally recognized supplier and manufacturer of radar level measurement instrumentation, located in China.
Request a Quote
70 meters|Radar Non Contact Water Level Sensor|Water Conservancy-River Water Level Monitoring
Non contact water level sensor refers to the radar water level sensor. Not the Gravity Non-contact Liquid Level Sensor. Radar Non Contact Water Level Sensor
Product SKU: SIRD-909
Product Brand: Sino-Inst
Product Currency: USD
Product Price: 550
Price Valid Until: 2029-08-13T12:21:43
Product In-Stock: https://schema.org/InStock