Magnetic Float Level Switches & Sensors with Magnetic Reed Switches for Continuous Level Measurement.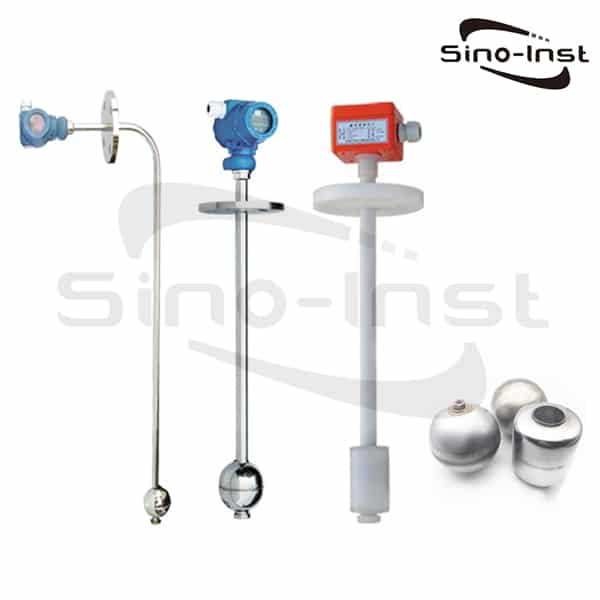 Magnetic Float Level Sensor works with Reed Switch, is a continuous level sensor. SI-U04 Magnetic Float Level Sensor-Reed operatess on a direct, simple principle. As the magnetic float rises and falls as liquid levels change. The magnetic field generated from the inside of the float drives the sealed reed switch installed in the stem. The stem is made of non-magnetic metal or strong engineering plastic. Magnetic Float Level Sensor gets the liquid level signal, transfers it into digital current signal and switching signal. Generally speaking, there are two structures of magnetic floats. Besides, the Magnetic Float Level Sensor supports multiple mounting methods. Such as top-mounted, side-mounted. So SI-U04 Magnetic Float Level Sensor can be applied to a variety of tank level measurements.
Please feel free to contact us for Technical Support, or Request a quote for float level sensors (customization available).
Features of Magnetic Float Level Sensor
Simple structure, stable and reliable, good repeatability;
Realize the connection measurement of the liquid level
Not affected by the physical and chemical state of the measured medium. Such as: the effects of conductivity, dielectric constant, foam, pressure, temperature, evaporation, boiling, and bubbles;
Use different materials, which can be used in various strong and weak corrosion, flammable and explosive, toxic, strong radioactive, and foul media environments;
Liquid level measurement or interface measurement of two different density media;
Explosion-proof structure design, suitable for use in explosive environments.
Two-wire 4-20mA current output, with 0.56 "LED digital display, convenient for long-distance observation at night.
Applications of Magnetic Float Level Sensor
Industries:
Marine (commercial ships)
Petrochemical
Food/beverage
Water/wastewater
Chemical and textile industry
Dyeing and finishing
Level control in shipping industry
Applications:
Liquid level measurement in hostile environments
For use in many toxic and corrosive chemicals
Tanks where up to three switch points are needed
Situations where vertical space is limited]
Boilers and Process Vessels
Control of industrial processes and dosing tanks
Any liquids including water, oil, and chemicals:
Diesel or Lube Oils
Vegetable Oils
Water, Wastewater
Acids
Caustics
Fuels
Specifications of SI-U04 Magnetic Float Level Sensor-Reed Switch
| | |
| --- | --- |
| Measuring range | 200~6000mm(>6M customize) |
| Resolution factor | 10mm,5mm,20mm |
| signal output | 4~20mA(two-line)2000/m(1/2″,3/8″) |
| Loading resistance | 500Ω |
| Transmitting | >1000m |
| Working power supply | 16~30VDC |
| Density | ≥0.5g/cm3 |
| Pressure | PN2.5~PN160(×0.1MPa)(Max pressure PN320) |
| Operating temperature | -40 ~ 80 °C, ≤120 °C, ≤150 °C |
| Float ball diameter | Φ30~Φ120(depending on pressure and density) |
| Flange installation | DN40~DN150/RF/PL(HG/T20592~2009) customize2" thread(downward install)1/2" thread (upward install, resistance signal output) 3/8" thread(upward install, resistance signal output) |
| Installation angle | ≤±25° |
| Electrical connection | M20×1.5 female thread three-lines screening cable |
| IP grade | IP65 |
| Explosion-proof grade | Exia II CT6Ga,EXd IICT6Gb |
Extended reading: Food grade flow meters for Food & Beverage industry
Operation Principle of Magnetic Float Level Sensor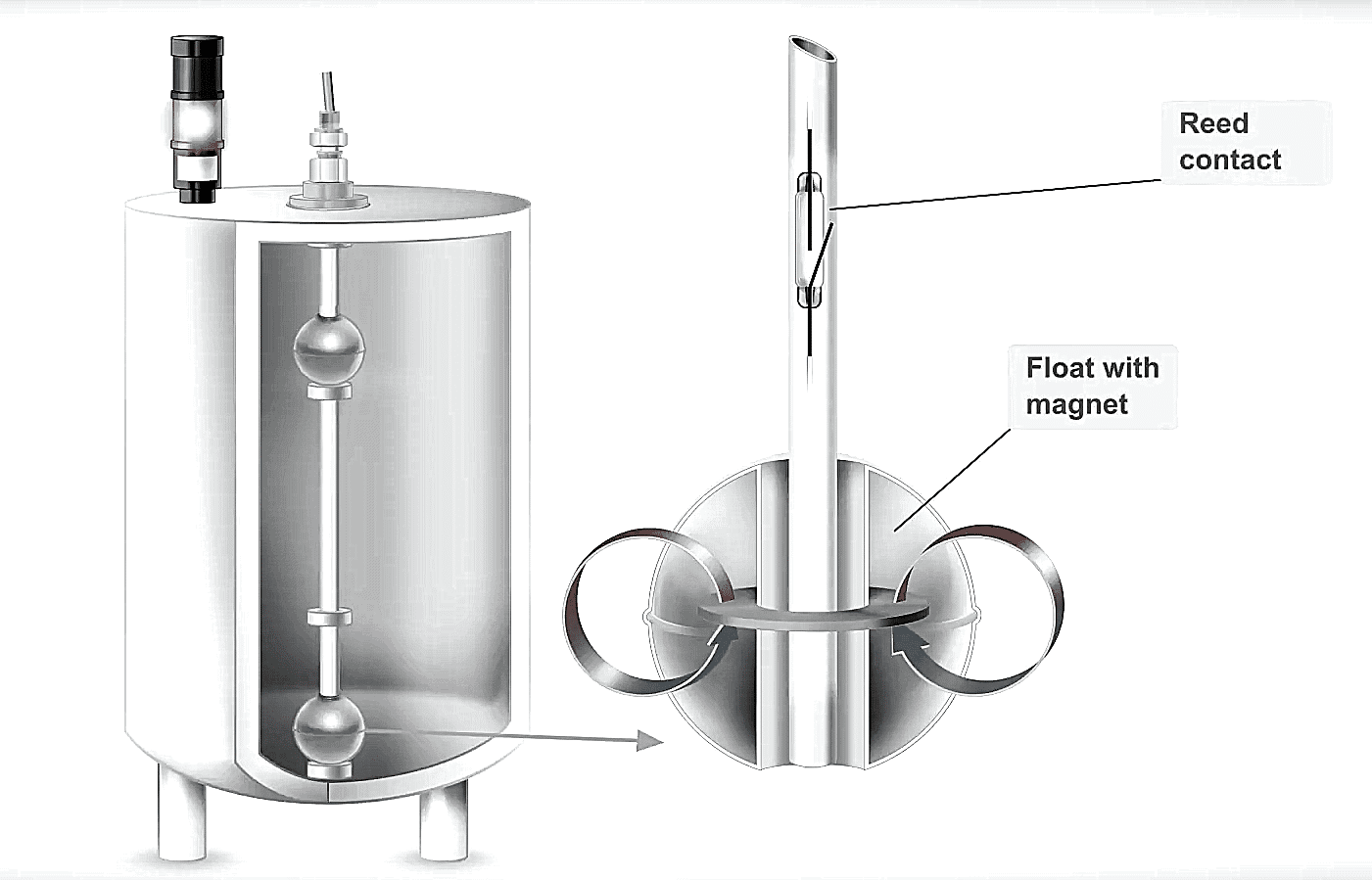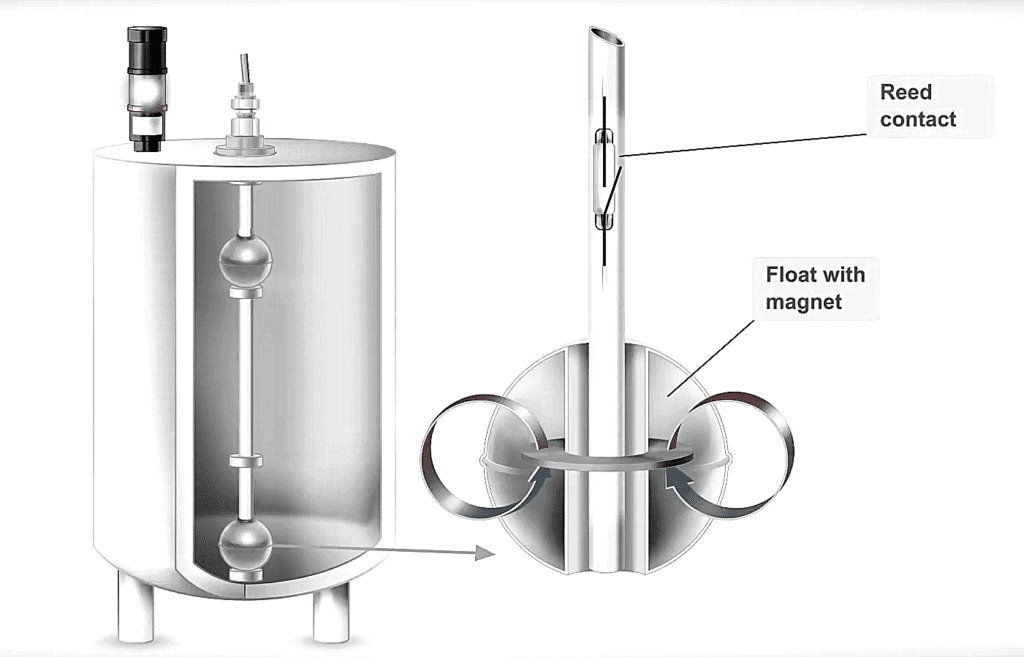 Magnetic Float Level Sensor is composed of a reed switch, a precision resistor and a single-chip microcomputer circuit. When the magnetic force line of the magnetic float acts on a certain position of the liquid level gauge, the reed switch in that position is closed. The magnetic float follows the level change of the liquid level (interface). Linear 4 ~ 20 mADC signal output and relay contact output. Realize the detection, transmission and alarm control of the liquid (boundary) surface position signal.
The magnetic float level sensor uses imported high-quality sensing elements and signal conversion devices, which has excellent long-term stability and reliability.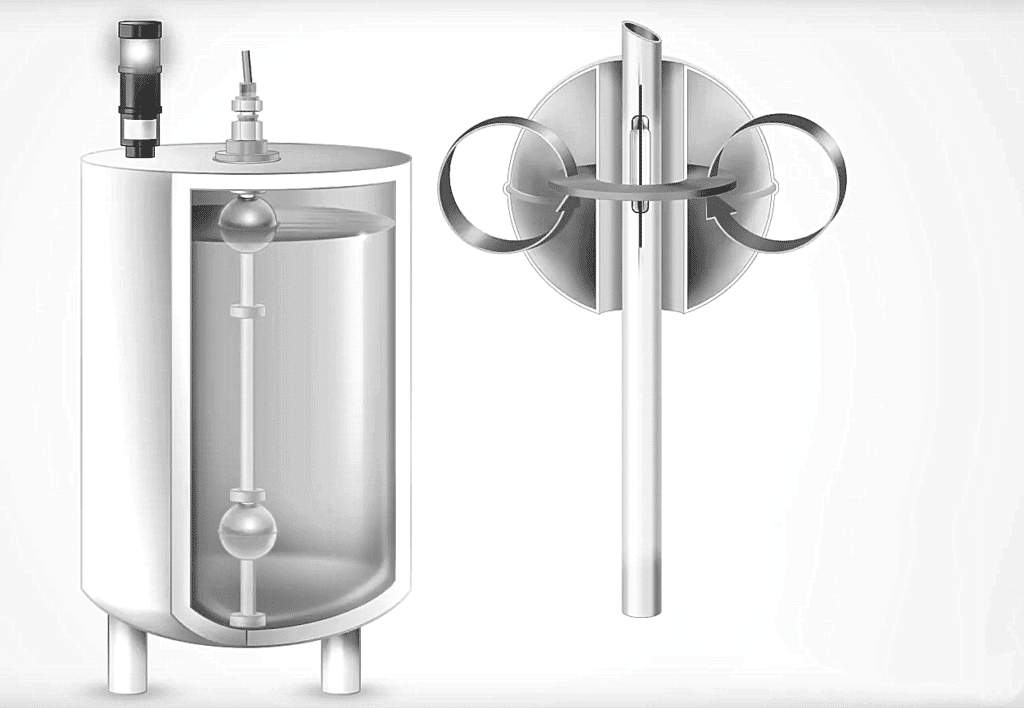 Types of Magnetic Float
Magnetic floating ball (column type)
1.фmm (321, 316L stainless steel)
2.ф40mm (4 fluorine on stainless steel)
3.ф50mm (PVC, PP)
Note: The specification is the diameter of the floating ball, and the length depends on the density of the medium.
Magnetic floating ball (through the core)
ф76 × ф21 × 76
ф51 × ф15 × 51
ф28 × ф10 × 28
ф63 × ф25 × L (mm) is made of PVC and PP. L is determined by the density of the medium, and the diameter can be made according to user requirements.
Other types of Continuous magnetic float level switches
Q&A
Float level sensors are continuous level sensors featuring a magnetic float that rises and falls as liquid levels change. The movement of the float creates a magnetic field that actuates a hermetically sealed reed switch located in the stem of the level sensor, triggering the switch to open or close.
Float level sensor is composed of float, plunger and so on. The float level sensor is installed on the top of the container through the connection flange. The float floats on the liquid surface according to the principle of discharging the liquid volume phase and so on. When the liquid level of the container changes, the float also moves up and down. Due to the magnetic effect, the reed of the ball level sensor is magnetically attracted to change the position of the liquid level into an electrical signal. The actual position of the liquid is displayed digitally by a display instrument. The floating ball level gauge achieves long-range detection and control of the liquid level.
A magnetic float switch is a magnet fixed in a floating ball in the middle. Put the magnetic float on a stainless steel rod. Place a magnetic element (usually a reed switch) inside a rusty steel rod. When the levitation ball moves on a stainless steel rod, the magnetic elements will attract and break.
The purpose of a float switch is to open or close a circuit as the level of a liquid rises or falls. Most float switches are "normally closed," meaning the two wires coming from the top of the switch complete a circuit when the float is at its low point, resting on its bottom clip or stop (for example, when a tank is dry).
Most float switches utilize a magnetic reed switch to open or close the circuit. The reed is encased in a glass tube, which is cemented into a plastic or stainless steel stem with epoxy. The illustration to the left demonstrates how a magnet can be used to open or close a circuit by moving it closer to or farther away from a reed switch. When the magnet comes close to the two contacts, they draw together and touch, allowing current to pass through. When the magnet is moved away, the contacts demagnetize and separate, breaking the circuit.
In a float switch, the magnetic reed switch is hermetically sealed in a stem, most often made from plastic or stainless steel. The float encases a sealed magnet, which moves up and down the length of the stem as a fluid level rises and falls.
As the magnet passes by the contacts in the encased reed switch, they draw together and complete a circuit between the two lead wires, as shown in the cutaway to the left.
The operation shown can usually be reversed by removing the bottom clip from the switch, inverting the float and replacing the clip. When this change is made, the switch circuit will be open when the float is resting on the bottom clip and closed when the float rises.
Properly used, float switches can deliver millions of on/off cycles, for years of dependable operation. Failures are normally due to overloading, frequently caused by spiking voltage.
Liquid level switch, also known as water level switch, liquid level sensor. Liquid level switch is used to control the liquid level switch. It is mainly divided into contact type and non-contact type. Capacitive liquid level switches are commonly used in non-contact switches, and contact float type liquid level switches are most widely used. Electrode level switches, electronic level switches, and capacitive level switches can also be implemented using contact methods.
Technical Support
Magnetic float level sensor manufacturer
The float level sensor is a fully customized product. Different measurement needs will cause price changes. So before determining the price of the float level sensor, we need to confirm:
1. Junction box style
Connection method
Probe diameter
Float distance
Probe length
Material selection
Sino-Instrument is float level sensor manufacturer. On the premise of ensuring product quality, we offer you the best price.

Sino-Instrument offers over 10 level transmitters for level measurement.
About 50% of these are liquid level meters, 40% is the tank level sensor.
A wide variety of level meters options are available to you,
such as free samples, paid samples.
Sino-Instrument is a globally recognized supplier and manufacturer of level measurement instrumentation, located in China.
Request a Quote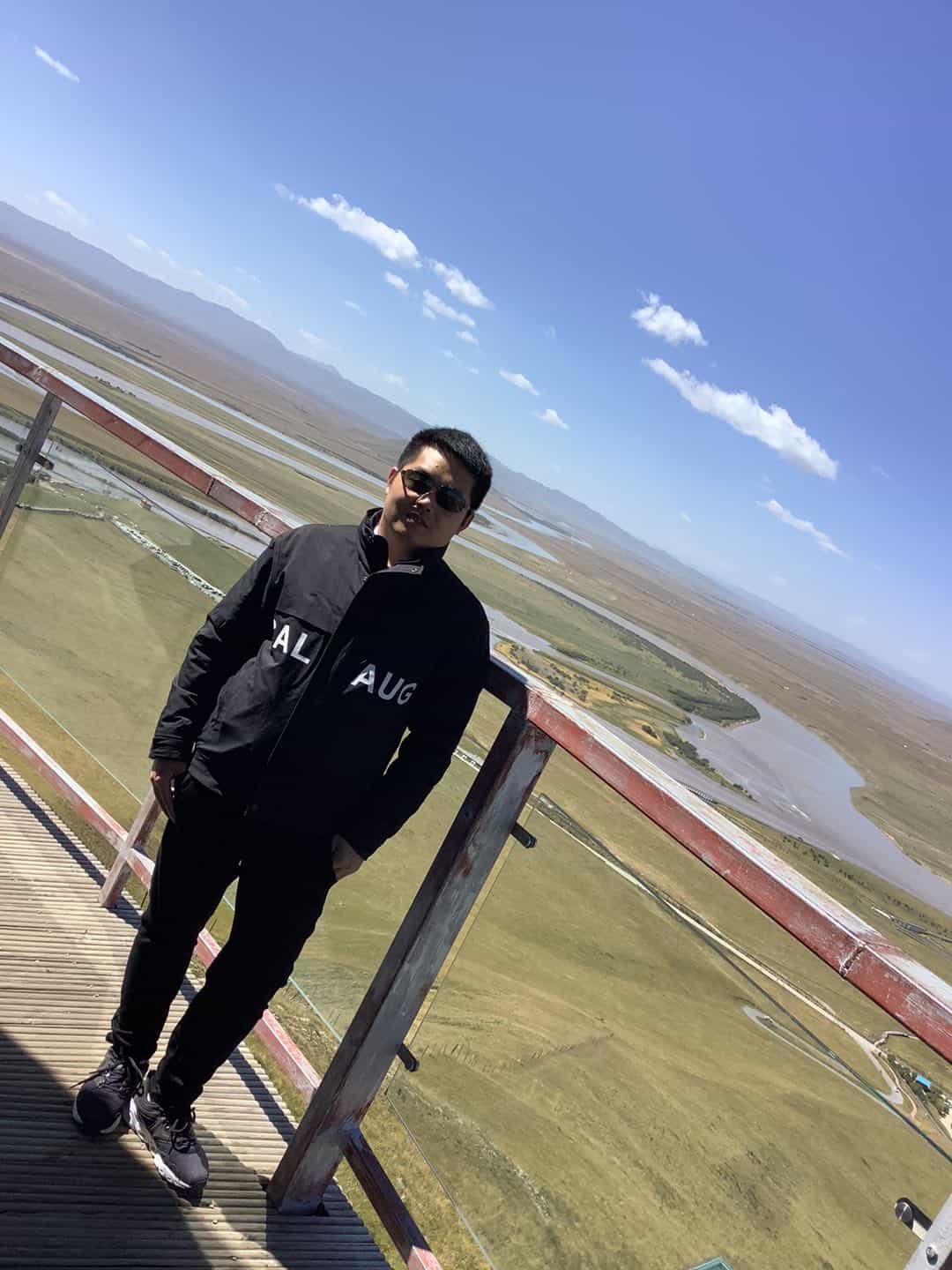 Wu Peng, born in 1980, is a highly respected and accomplished male engineer with extensive experience in the field of automation. With over 20 years of industry experience, Wu has made significant contributions to both academia and engineering projects.
Throughout his career, Wu Peng has participated in numerous national and international engineering projects. Some of his most notable projects include the development of an intelligent control system for oil refineries, the design of a cutting-edge distributed control system for petrochemical plants, and the optimization of control algorithms for natural gas pipelines.