Industrial Pressure Transmitter, are precision engineered to fit most industrial pressure measurement applications.
Sino-Instrument can offer industrial pressure transmitters with the display, 4-20ma output,
which can work as a natural gas pressure transducer,
water pressure transmitter, wastewater pressure transducer.
The SI-390 series industrial pressure transmitter has a piezo-resistive ceramic pressure sensor,
giving it excellent media compatibility.
Every device is temperature compensated,
calibrated and supplied with a traceable serial number and calibration certificate.
The electronics incorporate a microprocessor-based amplifier,
which means there are no adjusting pots,
and therefore the electronics are very stable,
especially in high vibration / shock applications.
Features of SI-390 Industrial Pressure Transmitter
The Series 682 Industrial Pressure Transmitter is designed to withstand environmental effects,
such as shock, vibration, temperature, and EMI/RFI.
The electronics and capacitive sensor are packaged in a welded stainless steel housing
and meets NEMA 4 (IP65) protection ratings.
Piezoresistive sensor and thin-film sensor technology
Standard ranges available from stock
4-20 mA 2-wire output signal, others available
Highly resistant to pressure spikes and vibration
Stainless steel case and wetted parts
Can be assembled to diaphragm seals for special applications
Specifications of SI-390 Industrial Pressure Transmitter
Measuring medium: various liquids, gases or vapors compatible with 316L stainless steel
Measuring range: -0.1kPa ~ 0 ~ 0.01kPa ~ 100MPa
Overload: 1.5 times full scale pressure or 110 MPa (minimum value)
Pressure type: gauge pressure, absolute pressure, sealed reference pressure
Power supply: 15~30VDC 15~28 VDC 15~28 VDC
Output signal: 4~20mADC 0~10/20 mADC 0/1~5/10VDC
Transmission method: two-wire system; three-wire system; three-wire system:
Accuracy: Typical: ±0.25% FS Maximum: ±0.5% FS

(including nonlinearity, hysteresis, and repeatability)

Long-term stability: Typical: ±0.1%FS Maximum: ±0.2%FS
Zero temperature coefficient: 0.03% FS / ° C (≤ 100kPa) 0.02% FS / ° C (> 100kPa)
Full temperature coefficient: 0.03% FS / ° C (≤ 100kPa) 0.02% FS / ° C (> 100kPa)
Working temperature: -30~ 80°C
Storage temperature: -40~100°C
Load resistance: ≤ (U-15) / 0.02Ω
Electrical connection: cable connection, aviation hoe, Hessmann components
Housing material: stainless steel 1Cr18Ni9Ti
Process interface: M12×1 N20×1.5 or G 1/4 external thread
Protection level: IP65
Explosion-proof mark: ExiaIICT6 (intrinsic safety explosion-proof type)
Drawings of SI-390 Industrial Pressure Transmitter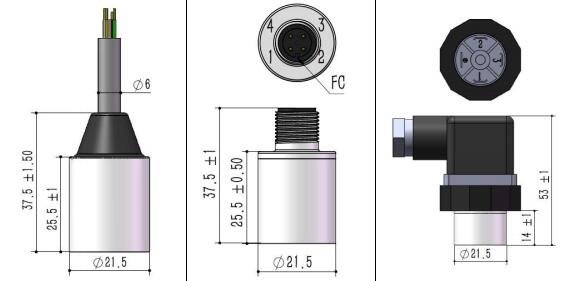 Working Principle of SI-390 Industrial Pressure Transmitter
Piezoresistive pressure transmitter,
the sensor signal is converted into standard signal output after the signal processing circuit,
the product has been strictly screened by long-term aging and stability assessment,
and the performance is stable and reliable.
It is used in open-air sites where the environment is harsh,
and it is required to be able to observe the pressure display on site,
and need zero-point migration and range adjustment.
It is suitable for process control and pressure measurement in petroleum,
chemical, metallurgy, electric power, light industry, textile,
building materials, hydrogeology, food, medicine, environmental control,
and other industries.
This transmitter is very reliable and economical.
It uses a programmable KELLER-ASIC microchip called a "programmable resistor."
The "Programmable Resistor" chip allows the transmitter to be installed and calibrated,
with automated test equipment to improve product quality and reduce costs.
The transmitter uses a 6SC series of bellows,
and the piezoresistive silicon pressure sensor is housed in an oil-filled capsule.
The dielectric pressure is isolated by a stainless steel diaphragm,
and transmitted to the wafer through the oil-filled liquid.
The sealed gauge has a TAB (automatically glued with insulation tape) sensor,
that floats freely in the oil to ensure stability and durability.

The "programmable resistor" line has a programmable resistor network,
that adjusts the zero/gain and temperature coefficients.
All SI-390 series transmitters undergo pressure and temperature cycle compensation test procedures.
At the end of the compensation test, various parameters are automatically calibrated,
and adjusted by computer-controlled test equipment.
Then the final inspection is carried out,
and the result of the inspection is.
The adjustment position is correct and the requirements are met.
It is delivered at this time.
Applications of SI-390 Industrial Pressure Transmitter
These devices are used for process control in such sectors as the petrochemical,
chemical and HVAC industries.
They enable measurements to be transmitted to a control center.

The compact, rugged design makes these instruments suitable for applications,
including hydraulics and pneumatics, vacuum, test equipment,
liquid level measurement, press control, compressor control, pump protection,
and numerous other processing and control operations.
A wide range of electrical connection and process connection options
are available to meet almost any requirement.
Hydraulics and pneumatics
Test equipment
Pump and compressor control
Liquid level measurement
Off-road equipment
Compressor control
Industrial engines
Industrial refrigeration
How to choose the right industrial pressure transducer?
Pressure transmitters are pressure sensors whose electronics can generate measurement signals.
The signal can be remotely transmitted via cables, buses or radio frequency.
Consider the unit's measurement range and maximum pressure capacity,
it's precision, its operational environment (temperatures, vibrations, etc.),
the nature of the measured medium and the type of output signal.
1. In order to ensure the stable operation of the product,

it is recommended to consider the actual pressure value,
and the range of possible migration when selecting the measurement range.
The maximum pressure should be within the measurement range,
and the company will complete the migration before leaving the factory.

2. The product is installed vertically on the field pressure interface, and the display level is facing the observer.
3. For transmitters with zero pressure and negative pressure, please indicate the range of the range in the order.
4. Intrinsically safe explosion-proof products are limited to products with a pointer head.
5. Qiping diaphragm type transmitter measurement range is 0 ~ 70kPa … 35MPa.
6. When M3 is selected, the ambient temperature range of the transmitter is -20~60°C;

when M4 is selected, the ambient temperature range of the transmitter is -30~70°C.
Want to know more about pressure transmitter?
This video gives you the answers to your basic questions about pressure and pressure transmitters.
Sino-Instrument offers 10 Industrial Pressure Transmitter products.
These are wireless pressure transmitters,
pressure transmitter with display, and water pressure transmitter.
A wide variety of Industrial Pressure Transmitter options are available to you,
such as free samples, paid samples.
Sino-Instrument is Industrial Pressure Transmitter suppliers,
located in China.
The top applying countries are China (Mainland),
Hong Kong, and the United States, which supply 96%, 2%,
and 1% of wireless pressure transmitter respectively.
Industrial Pressure Transmitter products are most popular in North America,
Domestic Market, and South America.
You can ensure product safety by selecting from certified suppliers,
with ISO9001, and ISO14001 certification.
Request a Quote
More Related Industrial Pressure Sensors
Summary
Author Rating
Brand Name
Product Name
SI-390 Industrial Pressure Transmitter
Price
Product Availability