High Temperature Pressure Sensor for pressure measurement of high temperature gas or liquid. Such as steam pressure. High temperature up to 800 ℃.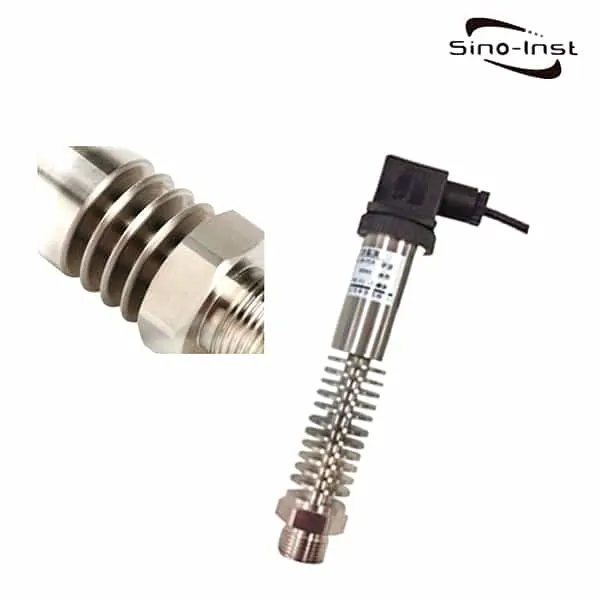 High Temperature Pressure Sensors from Sino-Inst operate beyond standard 85°C to 125°C ranges, withstanding temperatures up to 800°C. These pressure sensor high temperature devices offer stable and repeatable output in various industries like test and measurement and downhole tool operations.
Engineers can easily calibrate these sensors due to their accurate performance over a wide temperature range. Choose between millivolt and amplified designs to find the ideal High Temperature Pressure Sensor for your needs, ensuring precise measurements and optimized efficiency in demanding conditions.
Sino-Inst is a manufacturer of high temperature pressure sensors in China. Committed to the manufacture, sales and engineering support of high temperature pressure sensors.
Features of High Temperature Pressure Sensor
High temperature -40 ℃ ~ 200 ℃; -40 ℃ ~ 400 ℃; -40 ℃ ~ 600 ℃; -40 ℃ ~ 800 ℃
Stainless steel integrated structure can adapt to harsh environments
Small size, high accuracy, high cost performance, high stability
-100KP ~ 0 ~ 100MPA
Various standard signal output options, convenient for user debugging
Lightning protection, electromagnetic / radio frequency interference resistance
Wide power supply range (5 ~ 40V)
With zero point, full scale adjustable
SS304 stainless steel housing structure
Extended Reading: What is a MEMS pressure sensor?
Specifications of High Temperature Pressure Sensor
Range: -100KPa ~ 0 ~ 100MPa optional
Accuracy: ± 0.5% FS (composite error including non-linear repeatability hysteresis)
Output signal: 4 ~ 20mADC (two-wire system), 0 ~ 10mADC, 0 ~ 20mADC, 0.5 ~ 4.5VDC, 0 ~ 5VDC, 1 ~ 5VDC, 0 ~ 10VDC (three wire system)
Power supply voltage: 5 ~ 40VDC (two-wire system), 15 ~ 40VDC (three-wire system)
Medium temperature: -40 ℃ ~ 200 ℃ -40 ℃ ~ 400 ℃ -40 ℃ ~ 600 ℃ -40 ℃ ~ 800 ℃
Ambient temperature: -30 ℃ ~ 105 ℃
Pressure connection: M20 * 1.5 M22 * 1.5 M16 * 1.5 M11 * 1 NPT1 / 4 NTP1 / 2 NTP3 / 8 G1 / 8 G1 / 2 G1 / 4 G3 / 8,1 / 2-20UNF, etc. Other threads can be according to customer requirements design
Zero temperature drift: ≤ ± 0.02% FS ℃
Range temperature drift: ≤ ± 0.02% FS ℃
Compensation temperature: 0 ~ 80 ℃
Safety overload: 150% FS ℃
Ultimate overload: 200% FS ℃
Response time: 5 mS (up to 90% FS)
Vibration effect: The frequency is 10 ~ 100KHZ, the acceleration is 10g, all the effects are less than ± 0.1% FS
Test medium: Various liquids and gases compatible with 17-4PH stainless steel
Housing material: 304 or 316 stainless steel
Electrical connection: Hessman 3009 connector

Read more about: What is a pressure sensor and how it works?
Applications of High Temperature Pressure Sensor
High Temperature Pressure Sensor is used in industrial fields such as water plants, oil refineries, sewage treatment plants, building materials, light industry, machinery, etc. to achieve the measurement of liquid, gas and vapor pressure.
Application examples:
Industrial field process pressure detection
Laboratory pressure calibration system
Nautical and shipbuilding
Aviation and aircraft manufacturing.
Air separation equipment and thermal power units
Extended reading: High Pressure Flow Meters for Liquids-Steam-Gas
Cooling Element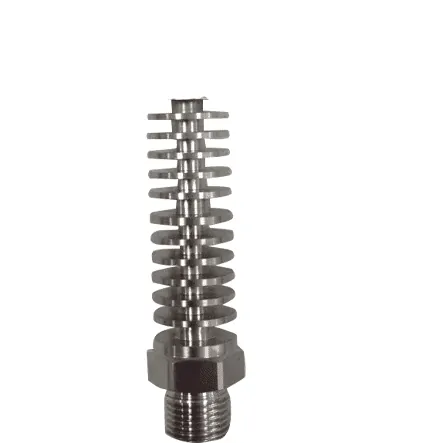 Can pressure transmitters measure high temperature media?
Customers often have such a question. So can pressure transmitters really measure high temperature media? The answer is yes.Of course, the pressure transmitter cannot directly contact the high-temperature medium. Prolonged contact with high-temperature media can easily damage the pressure sensor. Usually when measuring high temperature media, the pressure transmitter will be equipped with a stainless steel heat sink device. Avoid direct contact between the medium and the transmitter. A condensing tube can also be added on the basis of the heat sink to reduce the damage to the transmitter caused by excessive temperature.
Read more about: What is industrial pressure transmitter?
High temperature-resistant pressure transmitters use Hessman connectors to keep the signal stable, the circuit design is constantly optimized, and the anti-interference ability is strong. The heat sink and core are fully combined to work normally at high temperatures.
High temperature-resistant pressure transmitter:
Adding stainless steel heat sink on the basis of standard type and industrial type is high temperature type product, divided into standard high temperature type and industrial high temperature type. 4 ~ 20mA output, voltage 0 ~ 5V / 1 ~ 5/0 ~ 10V, etc.
Standard high temperature type, all stainless steel structure, small size and easy installation. High temperature industrial type, cast aluminum housing, terminal output and simple wiring. When the current output is required, a digital display meter can be optionally provided.
Standard high temperature type, high temperature industrial type, optional intrinsically safe explosion-proof box isolation and explosion-proof.
The computer compensation technology is adopted, and the temperature drift is small. ± 0.01% FS / ℃ integrated circuit, high precision, strong anti-interference ability.
Applied in petroleum, chemical, steel, light industry, machinery and equipment, energy constant pressure variable frequency water supply and other industries pressure detection. When the temperature is quite high, a condenser tube or a condenser is still used.
Add-on High Temperature Adapter
Add-on High-Temperature Adapter can also be called a pressure buffer tube. The role is to cool the measured medium and smooth the pressure fluctuations. When the pressure of the liquid, steam, and condensable gas whose temperature is higher than 60 ℃ is detected, the source port of the pressure sensor installed locally shall have a ring-shaped condensation ring or a U-shaped condensation bend.
Add-on High-Temperature Adapter is mainly used in a high-temperature environments with permeable or saturated steam. Avoid direct contact with high-temperature fluid inside the pressure sensor.
Read more about: Steam pressure transmitter-Pressure measure on steam pipeline
pressure sensor for steam
Pressure transmitters are used for steam metering and pipeline monitoring.
The temperature in the steam pipeline is generally relatively high. The low is more than one hundred degrees Celsius, and the high is two to three hundred degrees Celsius.
The start and stop of the valve will also cause the pressure in the pipeline to fluctuate.
Today we are going to talk to you about what to pay attention to when measuring the pressure of steam pipes?
Frequently
Asked
Questions
Related Blogs
What Is Static Water Pressure? Definition of Static Water Pressure: Static Water Pressure refers to the pressure on water when it is stationary or moving in a straight line at…
Sino-Inst offers high temperature Pressure Sensors/Transducers. A wide variety of high temperature Pressure sensors options are available to you. Such as free samples, paid samples. Sino-Instrument is a globally recognized manufacturer of high temperature Pressure sensors, located in China. Sino-Inst sells through a mature distribution network that reaches all 30 countries worldwide. Pressure sensors products are most popular in Europe, Southeast Asia, and Mid East. You can ensure product safety by selecting from certified suppliers. With ISO9001, ISO14001 certification.
Request a Quote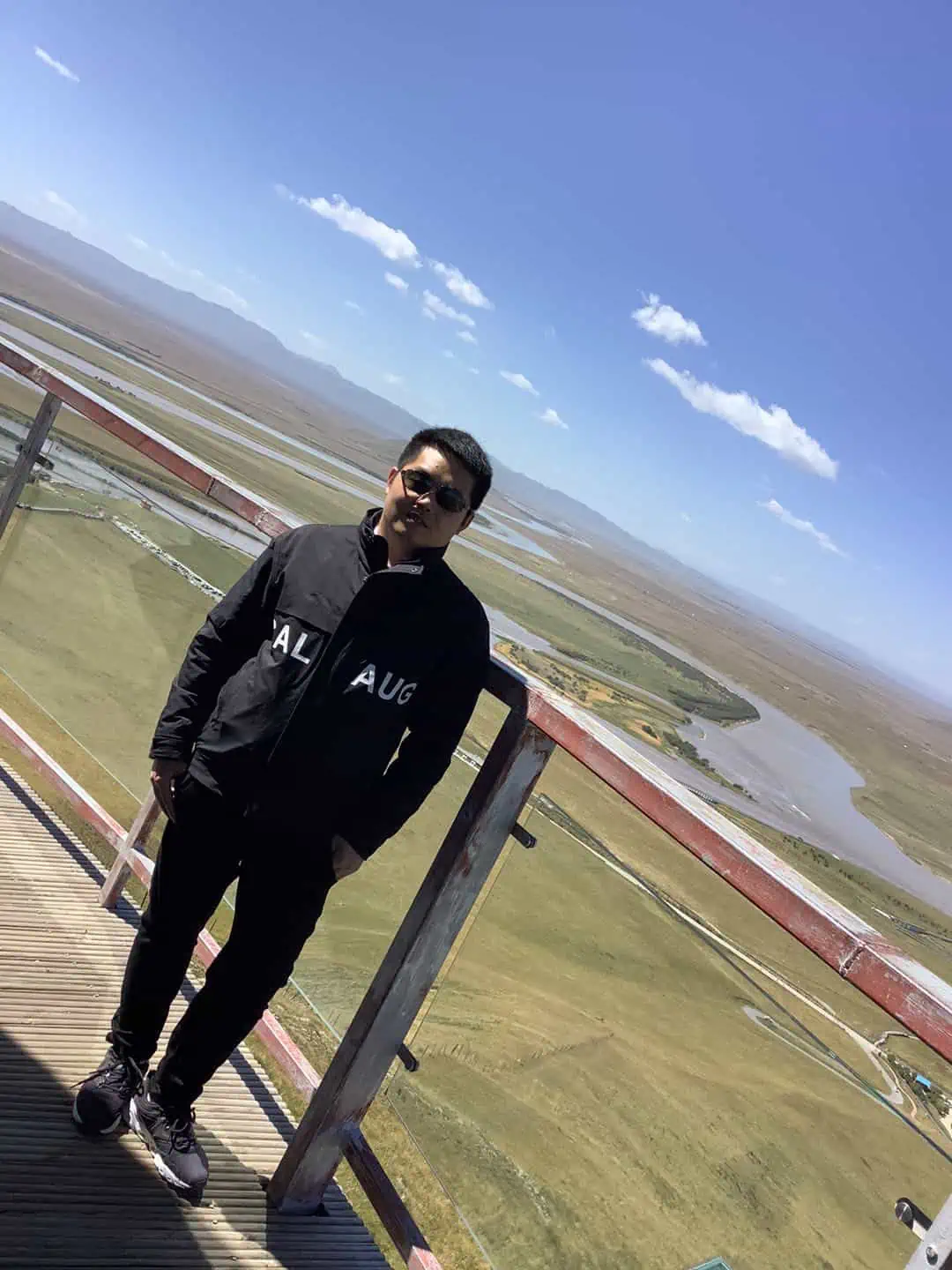 Wu Peng, born in 1980, is a highly respected and accomplished male engineer with extensive experience in the field of automation. With over 20 years of industry experience, Wu has made significant contributions to both academia and engineering projects.
Throughout his career, Wu Peng has participated in numerous national and international engineering projects. Some of his most notable projects include the development of an intelligent control system for oil refineries, the design of a cutting-edge distributed control system for petrochemical plants, and the optimization of control algorithms for natural gas pipelines.