Insertion Vortex Flow Meter is mainly used for flow measurement of gas, liquid, and steam fluid in large-diameter pipelines.
Insertion Vortex Flow Meter is used on large-size pipes. Reduce piping installation to save costs. The insertion vortex flowmeter is mainly used for large-caliber gas, liquid and vapor medium fluids. When measuring volume flow, it is hardly affected by fluid density, pressure, temperature and viscosity. With plug-in structure, there is no need to cut pipes and drill welded flanges. Just plug it in, easy to install. Greatly save labor costs and product costs.
Insertion Vortex flow meter reference price: USD 500-1500/pc.
Sino-Inst offers a variety of Vortex flow meters for flow measurement. If you have any questions, please contact our sales engineers.
Features of Insertion Vortex Flow Meter
It is suitable for the measurement of large-diameter pipelines (DN150~DN2000), and is used in occasions that require less precision;
Easy installation, no need to cut pipes. Greatly save labor costs and product costs;
It has a very unique medium versatility. It can be used for flow measurement and control of most steam, gas and liquid;
Simple structure, no holes and gaps design. No wear, dirt, no moving parts, low failure rate. Has high stability and reliability;
The vortex flowmeter uses the latest signal processing technology, and the entire system analyzes the measured signal. Then eliminate external interference and medium disturbance. Therefore, stable measurement can be achieved even in harsh process conditions;
The piezoelectric element of the vortex flowmeter is embedded in the probe body. No contact with the medium, no filler inside. Low pressure loss and long service life;
The vortex flowmeter originally forms a signal. Its output frequency has a linear relationship with flow rate. There is no zero drift problem;
Adopt advanced digital signal processing technology. Low lower limit and excellent vibration resistance.
Specifications of Insertion Vortex Flow Meter
Measuring medium
Superheated/saturated steam, liquid and gas
Measuring range
See the flow range table of the plug-in vortex flowmeter for details
Diameter
Plug-in: DN150~DN2000
Connection method
Pipe opening with connecting flange
Flange standard GB9119-2000 1.6, 2.0, 2.5, 4.0 (MPa)
structure
Integrated type, split type, diving type
Probe body insertion rod
304 (standard supply), 316L (other material supply agreement)
Medium temperature (℃)
(-40~80)℃, (-40~250)℃, (-40~350)℃
Environment temperature (℃)
(-30~+65)℃ Atmospheric pressure: 86kPa~106kPa
Nominal pressure
Liquid 1.6MPa, 2.0MPa, 2.5MPa, 4.0MPa
Gas and steam 1.6MPa, 2.5MPa
Accuracy
2.50%
Velocity range (m/s)
Liquid: 0.5~5, Gas: 6~500, Steam: 7~60
Output signal
1: No local display frequency signal: high level ≥5V low level 1V, square wave, pulse duty ratio: 1:1
2: Standard current signal; (4-20) mA standard current signal proportional to the flow
3: Local display instantaneous flow, cumulative flowmeter. Simultaneously output the proportional (4-20) mA standard current signal and pulse frequency signal or (4-20) mA+HART
Power supply
Voltage pulse type: DC12V or DC24V
Standard current output, local display: DC24V
Battery powered local display lithium battery: 3.6V
Ambient temperature
Ambient temperature (-40~+55) ℃,
relative humidity 5~90 ​​(%),
atmospheric pressure: 86kPa~106kPa
Protection level
IP65 is used for indoor and outdoor installation,
IP68 can be used for diving installation
Explosion-proof grade
Intrinsically safe Ex ia ⅡC T6 Ga
display
LCD display instantaneous flow, cumulative flow, vortex frequency
Cable interface
M20×1.5 (internal thread, recommended); 1/2NPT (internal thread)
Insertion vortex flow meter installation
1.Continuous flow dismountable sensor
①The mounting seat is welded well. First install the ball valve on the mounting seat, tighten and seal with bolts;
②Open the ball valve. Insert the vortex probe into the ball valve. Then tighten the lifting mechanism and the ball valve with bolts. Pay attention to sealing;
③Before leaving the factory. The insertion depth of the measuring head has been adjusted. Do not adjust or disassemble the measuring head at will. Otherwise, it may cause leakage or affect measurement accuracy.
2. Dismountable sensor after the current is cut off
Because the insertion depth of the sensor is designed according to the user's measuring pipe diameter. So only pay attention to the installation direction when installing. Fasten it with bolts.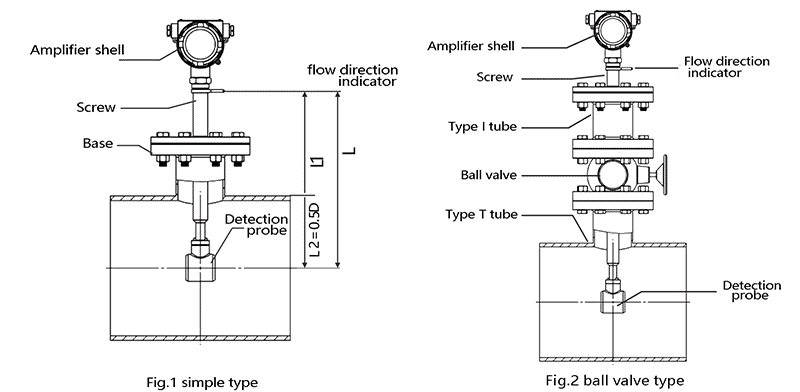 Guess you like: Insertion Magnetic Flow Meter-Large diameter online install
Vortex Steam Flow Meter
The vortex steam flow meter concentrates temperature and pressure compensation in the vortex flowmeter. Automatically detect the temperature and pressure of the medium in the pipeline, and the density automatically participates in the calculation. It can display the instantaneous mass flow and cumulative mass flow of the medium. It can also display the temperature and pressure of the medium. It can measure liquid, general gas, saturated steam, superheated steam, etc.
Vortex steam flow meter reference price: USD 200-1500/pc.
You may like:
Sino-Instt offer over 10 Insertion Vortex Shedding flow meters, with Best Price.
A wide variety of industrial Vortex shedding flow meters options are available to you, such as free samples, paid samples. All of our flow meters can wokrk with the AMS NEW TREX.
About 13% of these are magnetic flow meter, 14% are Insertion Magnetic Flow Meter, 25% are Venturi flow meter, 13% are Handheld ultrasonic flow meter, and others are Liquid Turbine Flow Meters.
Sino-Inst is Insertion Vortex shedding flow meter suppliers, located in China. Vortex shedding flow meter products are most popular in North America, Mid East, and Eastern Europe.
Request a Quote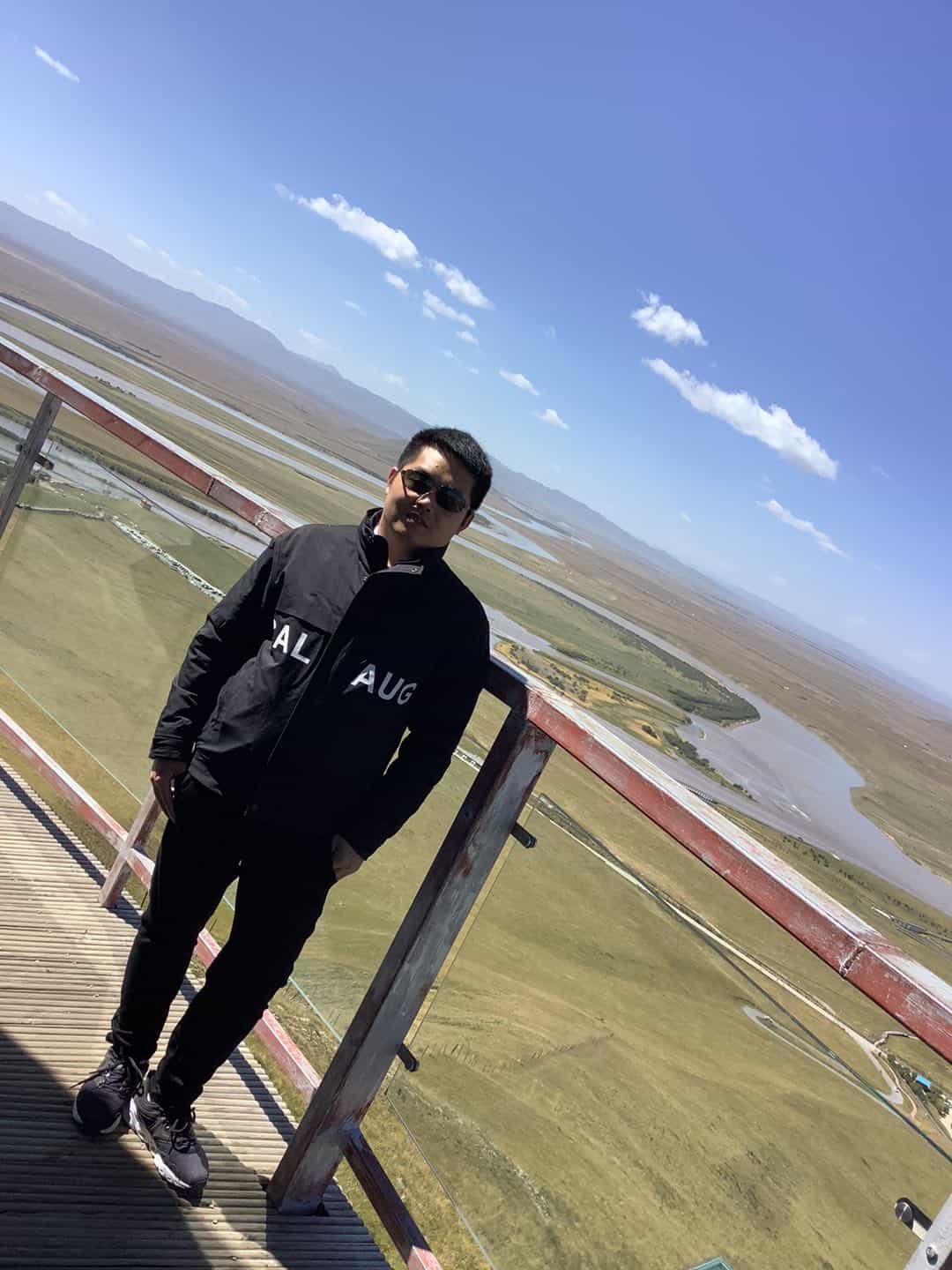 Wu Peng, born in 1980, is a highly respected and accomplished male engineer with extensive experience in the field of automation. With over 20 years of industry experience, Wu has made significant contributions to both academia and engineering projects.
Throughout his career, Wu Peng has participated in numerous national and international engineering projects. Some of his most notable projects include the development of an intelligent control system for oil refineries, the design of a cutting-edge distributed control system for petrochemical plants, and the optimization of control algorithms for natural gas pipelines.