The Diaphragm pressure gauge type MPE is used to measure gases and liquids.
The MPE diaphragm pressure gauge application spans from 10 mbar to 60 bar.
The measuring element consists of one circular diaphragm,
clamped between a pair of flanges.
The positive or negative pressure,
acting on these diaphragms causes deformation of the measuring element.
The magnitude of the deformation is proportional to the pressure to be measured,
and it is coupled to the pointer mechanism.
You may like: Diaphragm Seal Pressure/ Differential Pressure Transmitters
Features of the diaphragm pressure gauge
Specifications of SI-D100 Diaphragm pressure gauge
Pressure gauges compliant with EN 837-3
Display ranges

0…10 mbar to 0…40 bar (unfilled)
0…60 mbar to 0…60 bar (filled)
Nominal size

100 mm
160 mm
Mechanical design
Stainless steel case with bayonet ring
Connections at bottom
the enlarged channel opening
in case of PTFE lining,
optional open flange
Stainless steel

EN 837-3 accuracy

Class 1.6
Class 2.5 (with protecting foil)
Maximum pressure load
Static load
Dynamic load
Overload
100 % of full scale values
90 % of full scale values
Up to 5-times, max. 40bar
Connection threads and materials ofSI-D100 Diaphragm pressure gauge
Type 316L pressure gauges with stainless steel connection
are available with a stainless steel diaphragm (40 to 250 mbar)
or a Duratherm diaphragm (0.4 to 40 bar).
In addition, they can optionally be produced with PTFE lining.
Options of SI-D100 Diaphragm pressure gauge
Inlet port orifice up to Ø 10 mm
Hygienic connection,

e.g. according to DIN 11851, DN 25 to DN 50,
with or without lateral cleaning valve

Other connection flanges according to former DIN standards
Special installation or connection orientation
Special scales such as dual ranges, fine-division (with knife-edge pointer) Stationary red pointer on the dial, or with external adjustment)
Maximum indicating pointer, external adjustment
Window acryl glass or polycarbonate (only for display ranges ≥ 0…100 mbar)
Micro-adjustable pointer, mechanism aluminum
Diaphragm with protection foil:

PTFE (> 40 mbar, vacuum tight), sealing PTFE;
Fine-silver (> 160 mbar, vacuum tight), sealing FPM;
Tantalum (> 160 mbar, vacuum tight upon request), sealing PFTE, others upon request

Up to 10-times overload protection, but max. 40 bar (600 psi) for measuring flange Ø 100 mm (3.94") max. 2.5 bar (40 psi) for measuring flange Ø 160 mm (6.3")
Other filling fluid, silicone oil for temp. down to -40 °C (flange sealing PTFE)
Version for temperatures > 100 °C
Electrical accessories
Diaphragm pressure gauge working principle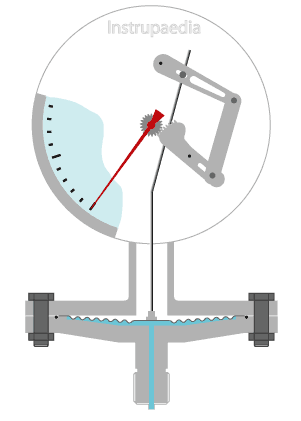 A diaphragm pressure gauge is a device,
that uses a diaphragm with a known pressure to measure pressure in a fluid.
It has many different uses,
such as monitoring the pressure of a canister of gas, measuring atmospheric pressure,
or recording the strength of the vacuum in a vacuum pump.

The diaphragm pressure gauge consists of a circular membrane,
made from sheet metal of precise dimensions, which can either be flat or corrugated.

The diaphragm is mechanically connected to the transmission mechanism,
which will amplify the small deflections of the diaphragm,
and transfer them to the pointer.

The animation below shows the pressure gauge working principle.
You can see the movement of the diaphragm and the functioning of the transmission mechanism.
The process pressure is applied to the lower side of the diaphragm,
while the upper side is at atmospheric pressure.
The differential pressure arising across the diaphragm
lifts up the diaphragm and puts the pointer in motion.
The deflection of the diaphragm is very small (+/- 1 mm),
making it necessary to use a high-ratio multiplying movement,
to rotate the pointer along the full length of the scale.
The actuation of such a high-ratio transmission mechanism is possible,
because diaphragm deflection is able to generate large forces.
Applications of the diaphragm pressure gauge
Pressure gauges with horizontal diaphragm
allow to find suitable versions for even difficult kinds of media,
such as aggressive, contaminated or viscous media.
The stainless steel bayonet ring case is designed for applications,
where a rust-resistant,
sealed case of high chemical resistance is required
(dirty damp, or corrosive atmosphere).
For measuring points with increased overload
With liquid-filled case suitability for high dynamic pressure loads and vibrations (model 433.50)
For gaseous, liquid and aggressive media, also in aggressive environments
With the open connecting flange option also for contaminated and viscous media
Process industry:

Chemical, petrochemical, power plants, mining,
on-/offshore, environmental technology,
machine building and general plant construction
Sino-Instrument offers over 50 Diaphragm pressure gauge products.

About 50% of these are Diaphragm pressure gauge, 40% are Differential Pressure Gauge, and 40% are Diaphragm Seal Pressure transmitters.

A wide variety of Diaphragm pressure gauge options are available to you, such as free samples, paid samples.

Sino-Instrument is a globally recognized supplier and manufacturer of
Diaphragm pressure gauge, located in China.

The top supplying country is China (Mainland), which supply 100% of
Diaphragm pressure gauge respectively.

Sino-Instrument sells through a mature distribution network that reaches all 50 states and 30 countries worldwide.
Diaphragm pressure gauge products are most popular in Domestic Market, Southeast Asia, and Mid East.

You can ensure product safety by selecting from certified suppliers, with ISO9001, ISO14001 certification.
Request a Quote
Summary
Author Rating
Brand Name
Product Name
SI-D100 Diaphragm pressure gauge
Price
Product Availability