Insertion Flow Meter inserts pipe. The ultrasonic sensor is in direct contact with the liquid to be measured. Improved measurement accuracy and operational stability.
Insertion Flow Meter ( Model:2000S) solves the problem of signal attenuation when ultrasonic Clamp on flow meter works for a long time and the problem of fouling on the inner surface of the pipe without receiving the signal. It can be installed without stopping production. It can be applied to various pipes such as steel pipe, cast iron, FRP, PVC and cement pipe.
Insertion Flow Meter Reference price: USD 470.00/pc
Sino-Inst offers a variety of Ultrasonic flow meters for flow measurement. If you have any questions, please contact our sales engineers.
Features Of Ultrasonic Insertion Flow Meterw Meter
Insertion Flow Meterw Meter is a product that combines the advantages of clamp on sensor and pipe segment sensor. Its characteristics are:
It solves the problem of weak signal and abnormal measurement when the inner wall of the pipeline is scaled or corroded. It can also be installed on the cement pipeline;
The special hole-opening tool used can make the sensor be installed under pressure without stopping production. No pressure loss. Ensure normal and stable operation of production. There is no need to stop water for future maintenance. Really maintenance-free;
The ultrasonic emitting crystal of the sensor is in direct contact with the liquid to be measured. The measurement accuracy and the stability of the machine are improved;
Compared with electromagnetic flowmeter, it is economical, reliable and accurate to use on large diameter.
Optional transducer
Types
Spec.
Model
Measurement Range
Temperature
Dimension
Insertion
Standard
TC-1
DN80~DN6000
-30~160℃
190×80×55mm

Length

en

TC-2
DN80~DN6000
-30~160℃
335×80×55mm
Optional Host
According to different installation condition, there are many models separated ultrasonic flowmeter for selection: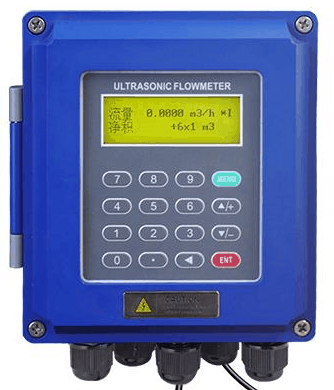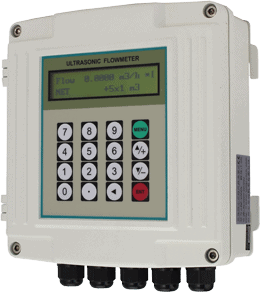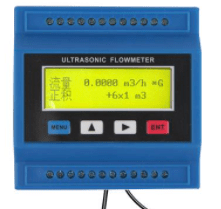 Specifications of Ultrasonic Insertion Flow Meterw Meter
Item
Performance and Parameter
Convertor
Principle
transit-time ultrasonic flowmeter
Accuracy
Flow: over 1%-2%(battery-powered supply over ±2% ),Heat: over ±2%,Repeatability: over 0.2%
Display
2×20 character LCD with backlight, support the language of Chinese, English and Italy Convertor dimension:170*180*56cm
Operation
Support 16 key light touch keyboard and the Simulation keyboard software
Signal Output
1 way 4~ 20mA output, electric resistance 0~ 1K,accuracy0. 1%
1 way OCT pulse output( Pulse width 6 ~ 1 0 0 0 ms,default is 2 0 0 ms)
1 way Relay output
Signal Input
3 way 4~ 20mA input, accuracy 0. 1%,acquisition signal such as temperature, press and liquid level
Connect the temperature transducer Pt100, can finish the heat/energy measurement
Data interface
Insulate RS485 serial interface, upgrade the flow meter software by computer, support the MODBUS, METER-BUS etc.
Other Function
Automatically remember the previous flow/energy data of 512 days, 128 months and 10 years
Automatically remember the previous flow/energy data of 512 days working condition and check it
Automatically remember the previous 32 times power on/off time and flow rate
Special Cable
Twisted-pair cable, generally, the length under 50 meters; Select the RS485 communication. The transmission distance can over 1000m.
Pipe Condition
Pipe Material
Steel, Stainless steel, Cast iron, Copper, Cement pipe, PVC, Aluminum, Glass steel product, liner is allowed.
Pipe Diameter
32mm—6000mm
Straight length pipe
Transducer installation should be satisfied: upstream10D, downstream 5D, 30D from the pump.
Measuring Medium
Type of Liquid
Water (hot water, chilled water, city water, sea water, waste water, etc.); Sewage with small particle content; Oil (crude oil, lubricating oil, diesel oil, fuel oil, etc.); Chemicals (alcohol, acids, etc.); Plant effluent; Beverage, liquid food; Ultra-pure liquids; Solvents and other liquids
Temperature
Standard Transducer: -30–90℃; High-temperature transducer: -30–160℃
Turbidity
No more than 10000ppm and less bubble
Flow rate
0–±12 m/s
Working Environment
Temperature
Main Unit: -20–60℃
Flow transducer: -40–160℃;
Temperature transducer: according to the customer's demands.
Humidity
Main Unit: 85% RH; Flow Transducer: Ip67
Power Supply
DC 24V or AC 85-264V
Power Consumption
1.5W
More about: Sewage Flow Meter Selection
More Featured Insertion type Flow Meters
Insertion Magnetic Flow Meter
Insertion Magnetic Flow Meter adopts pressure tapping and installation technology. Insertion electromagnetic flow meter is composed of insertion electromagnetic sensor, and electromagnetic flow converter.
Installation can be divided into an online installation type of the cut-off valve, and water control installation type without stop valves. The Insertion Magnetic Flow Meter is suitable for measuring the volume flow of various conductive liquids in the pipeline. It can also be used to measure corrosive conductive liquids such as acid, alkali and salt.
Turbine Insertion Flow Meter
Insertion Turbine Flow Meter is designed for accurate, cost-effective flow measurement of large pipes. Insertion Turbine Flow Meter utilizes electronic turbine rotation sensing system and unique low-quality turbine design. It provides process flow measurement for steam, gas and high temperature liquid Reliable solution. Of course, according to different application environments, different versions of plug-in flow meters can be provided, such as fixed, adjustable, bidirectional and high pressure.
Insertion Vortex Flow Meter
Insertion Vortex Flow Meter is used on large-size pipes. Reduce piping installation to save costs. The insertion vortex flowmeter is mainly used for large-caliber gas, liquid and vapor medium fluids. When measuring volume flow, it is hardly affected by fluid density, pressure, temperature and viscosity. With plug-in structure, there is no need to cut pipes and drill welded flanges. Just plug it in, easy to install. Greatly save labor costs and product costs.
Sino-Inst, Manufacuturer for Ultrasonic Insertion Flow Meters. It can measure a single sound-conducting liquid medium of DN32—6000mm. It can measure even liquids such as water, sea water, oil, and slurry.
Sino-Inst's Ultrasonic Insertion Flow Meter, made in China, Having good Quality, With better price. Our flow measurement instruments are widely used in China, India, Pakistan, US, and other countries.
Request a Quote
Ultrasonic Insertion Flow Meter |DN80-6000| Sino-Inst
Insertion Flow Meter inserts pipe. The ultrasonic sensor is in direct contact with the liquid to be measured. Improved measurement accuracy and operational
Product SKU: Ultrasonic Insertion Flow Meter
Product Brand: Sino-Inst
Product Currency: USD
Product Price: 470
Price Valid Until: 2029-09-15T18:36:05
Product In-Stock: https://schema.org/InStock