Magnetostrictive level sensor ( magneto resistive level sensor ),
also called Magnetostrictive level gauge, or Magnetostrictive level transmitter.
Magnetostrictive level sensor,
is the best choice for water level measurement, diesel tank level,
and fuel tank level measurement.
SI-2116 Magnetostrictive level sensor can be intrinsically safe and explosion-proof.
Magnetostrictive level sensor, measures the liquid level, just like guided wave radar, ultrasonic level detectors,
with Longer life and better accuracy than Hydrostatic level transmitters.
Features of SI-2116 Magnetostrictive level sensor
SI-2116, Magnetostrictive float level transmitter could provide a fast, reliable, accurate and continuous level signal at real-time.
The product could with one or multiple floats and output of floats on absolute position be analog or digital signals.
There is a normal probe, flexible probe, anticorrosive probe and other probe options for the product,
which could meet requirements of various industries with volatile, corrosive and other harsh environments.
Since float level transmitter provides multi-level detection function,
it has a great advantage in multi-level applications including chemical reactors, tanks, oil depots, fuel tanks, etc.
Specifications of SI-2116 Magnetostrictive level sensor
Specification
Range
50-6000mm
Output
0-20mA (Min./Max. load: 0/500Ω)
4-20mA (Min./Max. load: 0/500Ω)
±10V (Min. load>5KΩ)
0-5V (Min. load>5KΩ)
0-10V (Min. load>5KΩ)
Input
24V DC (-15/ +20%)
Current
<60mA (vary according to different range)
Pole protection
Max. -30 VDC
Overpressure protection
Max. 36 VDC
Insulation
500V (Between ground and housing)
Resolution
16 bit D/A
Nonlinearity error
<±0.05%F.S (Min. ±80um)
Repeatability accuracy
<±0.02%F.S (Min. ±2.5um)
Refresh interval
0.5ms (Range<0.5m)
1.0ms (0.5m<Range<1m)
2.0ms (1m<Range<2m)
3.0ms (1m<Range<2m)
Probe/ flange material
304L stainless steel
Operating Temp. range
-40~+75℃
Operating humidity/ condensation
90%/ No condensation
Temperature coefficient:
±0.007%F.S/ ℃
Ingress protection:
IP67
Pressure endurance:
35Mpa (continuous)/ 70Mpa (peak)
Installation
Screw installation. M18x1.5 or customized size
Connector
Waterproof or six-pin aviation plug
Applications of SI-2116 Magnetostrictive level gauge
Robust stainless steel fully sealed structure
Absolute position output
Non-contact measurement, permanent wear-proof
Low consumption design ensures low-temperature drift of the system
Installations of SI-2116 Magnetostrictive level sensor
Wiring Information

The dimension of SI-2116 Magnetostrictive level sensor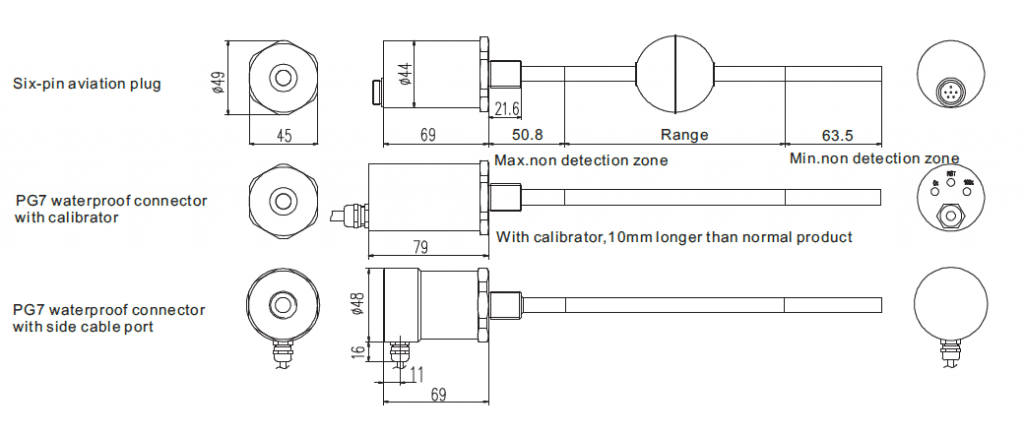 Note: The product is suitable for long time usage of water and corrosion applications. Customized NDZ could be 40mm
at top and 45mm at the bottom.
Order Guide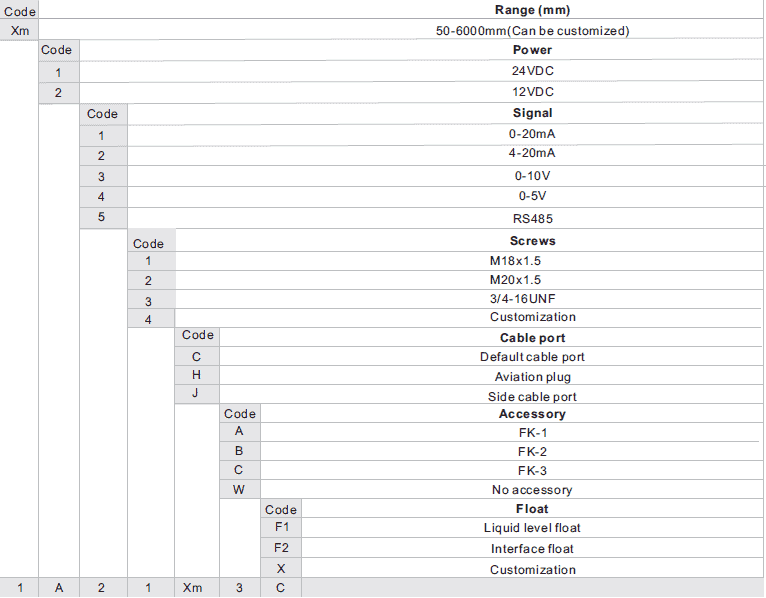 New: SI-LT Magnetostrictive level transmitter with Local Digital Display
What is magnetostrictive transducer?
Level sensors with a magnetostrictive,
high-resolution measuring principle are used for continuous level measurement of liquids,
and are based on determining the position of a magnetic float,
following the magnetostrictive measuring principle.
The sensors are mounted on the outside of a bypass level indicator.
A magnetostriction transducer is a device,
that is used to convert mechanical energy into magnetic energy and vice versa.
Such a device can be used as a sensor and also for actuation,
as the transducer characteristics is very high due to the bi-directional coupling,
between mechanical and magnetic states of the material.
---
Special features
Continuous level measurement on the outside of the bypass
2-wire technology 4 … 20 mA
Measured value output via digital interface and a selectable measured value as analogue signal
Case from stainless steel (display from glass)
Magnetostrictive level measuring instrument with high resolution
Applications
Sensor for continuous level measurement of liquids in bypass level indicators
Chemical and petrochemical industries, offshore
Shipbuilding, machine building
Power generating equipment, power plants
Pharmaceutical, food, water treatment, environmental engineering industries.
How does A Magnetostrictive Sensor work?
The magnetostrictive level/boundary transmitter is designed using a physical phenomenon,
the principle of magnetostriction.
The specific working principle is as follows:
a fine magnetostrictive wire is installed in a non-magnetic sensing tube,
and a magnetic pressure sensor is connected at one end of the magnetostrictive wire,
and the piezoelectric magnetic sensor sends 10 current pulse signals every second.
The magnetostrictive wire is clocked,
and the current pulse is transmitted downward along the magnetostrictive wire,
to generate a downward moving circular magnetic field,
that interacts with the magnetic field of the magnetic float,
to create a magnetostrictive line.
Torsion stress wave, which is transmitted from the position of the float,
along the magnetostrictive line to the upper,
and lower ends at a known speed,
knowing that the piezomagnetic sensor receives the torsional stress wave signal.
Through the timing circuit, the time interval between the initial current pulse wave,
and the return torsional stress wave can be known, and the position of the float can be determined according to the time interval.
Since the float always floats on the liquid surface, the liquid level can be accurately determined position.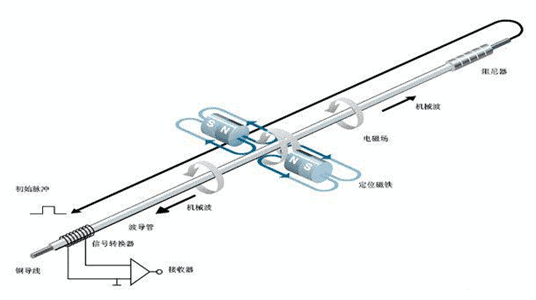 In the refined oil distribution industry of PetroChina and Sinopec,
the measurement of the amount of oil in the tank is mostly carried out by manual climbing and measuring.
Use a metric steel tape with a weight or a scale with a scale to measure the reading manually, manually check the table,
and finally get the oil data.
This measurement method is not only labor-intensive but also has insecure factors and cannot guarantee accuracy.
The magnetostrictive level gauge solves the above problems well.
and can provide measurement accuracy up to the millimeter level,
and is widely used in various fields.
You may like: SI-100 Magnetostrictive Level Transmitter
Many people may confuse the float level sensor with the magnetostrictive level sensor. Because they look alike. But the actual working principle is different.
Sino-Instrument offers magnetostrictive level sensor products.
About 21% of these are sensors.
A wide variety of magnetostrictive level sensor options are available to you, such as analog sensor, digital sensor.
You can also choose from intrinsically safe and explosion-proof.
There are over 12 magnetostrictive level sensors w can supply.
Magnetostrictive level sensor products are most popular in North America, Eastern Asia, and Africa.
You can ensure product safety by selecting from certified suppliers, including with ISO9001 certification.
Customers choose us because our products have the best price, the best Cost-effective, and the best service.
Request a Quote
Summary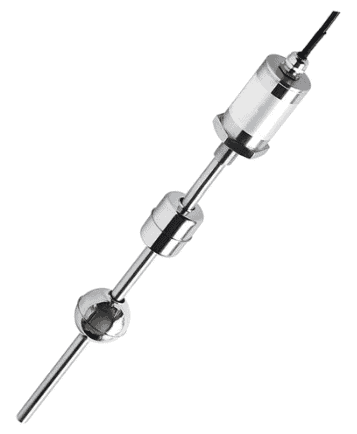 Author Rating
Brand Name
Product Name
SI-2116 Magnetostrictive level sensor
Price
Product Availability