Multi level float switch is also called multi point level switch. Support 1-4 liquid level measurement switch point customization.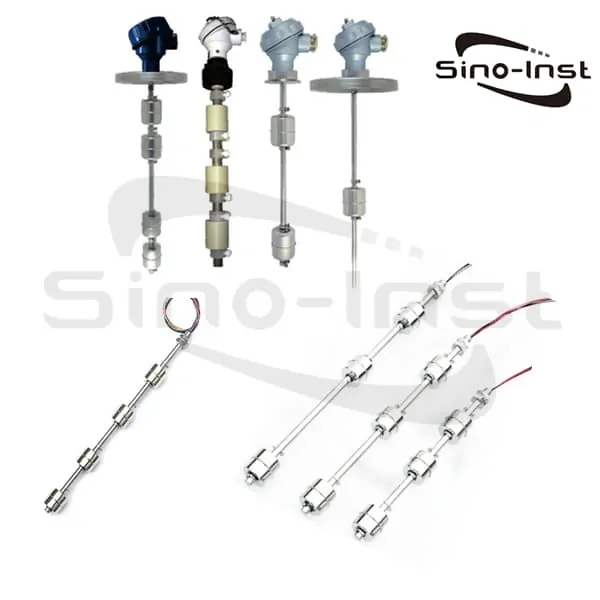 Multi level float switch is a custom multi point float level sensor & switch. These versatile level switches are available in many materials. Like: Stainless Steel, Brass & Buna, PVC, Polypropylene or PTFE and can be ordered with an integrated temperature sensor. Use these multi-level float switches with a tank level alarm or liquid level control relay for a turnkey solution. Explosion-proof available.
Call us now to talk with a sales engineer or fill out our easy to use request for quote form by following the steps below.
Features of SI-U02 Multi Level Float Switch
Can be used for multi-point control. The position of the control switch can be customized according to user needs.
No power is required to use the reed switch, and the life of the contact can reach 2 million times.
All the switch outlets are in the same junction box, and the external construction wiring cost is low.
Compared with other types of liquid level switches with multiple switch control points, the RF unit has the lowest unit price.
The protection level of the junction box is above IP-65.
It is made of PP and SUS316 metal, so regardless of acid and alkali liquid, solvent or various fuels, there are suitable products for use.
The magnetic reed switch is completely isolated from the wires and liquid. So it can be used safely on high temperature and high voltage equipment.
Connecting rod type float level switch set, suitable for high temperature and high pressure occasions.
60VA dry contact reed switch, can choose normally open or normally closed by floating ball installation position.
316 SS float, conduit and mounting interface, suitable for harsh environment.
American standard (NEMA 4X) polypropylene housing with rotatable base for electrical centering adjustment.
Customizable catheter length and switch set point size.
Specifications of SI-U02 Multi Level Float Switch
PP and PVDF materials are suitable for strong acid and alkali places; SUS304 / 316 metal materials are suitable for high temperature and high pressure tank
The most complete specifications of the junction box, including plastic, aluminum alloy, stainless steel explosion-proof type, protection level IP-65 or higher
Contact capacity 50W / 250VAC SPST or 40W / 250VAC SPDT
Connection flanges have JIS, DIN, ANSI specifications; teeth have NPT, PF, BSP and other specifications
Multi-point control, easy installation and cost saving
Length: 7.6Cm to 2.4m
Accuracy: ± 3mm
Repeatability: ± 1mm
Specific gravity: minimum 0.55
Installation position: vertical installation ± 30 degrees
Switch set point: 1-5 (factory setting)
Contact type: SPST reed
Contact capacity: 240VAC / VDC @ 60VA
Electric shock output: normally open
Working temperature: -40 degrees to 200 degrees
Ambient temperature: -40 degrees to 60 degrees
Installation height: 13.2Cm
Pressure: 13.8bar
Protection level: IP65
Housing material: PP.UL94VO
Terminal strip: 12 posts, socket
Electrical interface: 1/2 "NPT
Installation interface: 2 "NPT
Grade: Universal
Certification: CE
Special specifications can be customized according to customer needs
Extended reading: Ultrasonic Level Switch-External Mounted
SI-U02 Multi Level Float Switch Types
In order to adapt to different measuring liquids, customers can choose different wetted materials.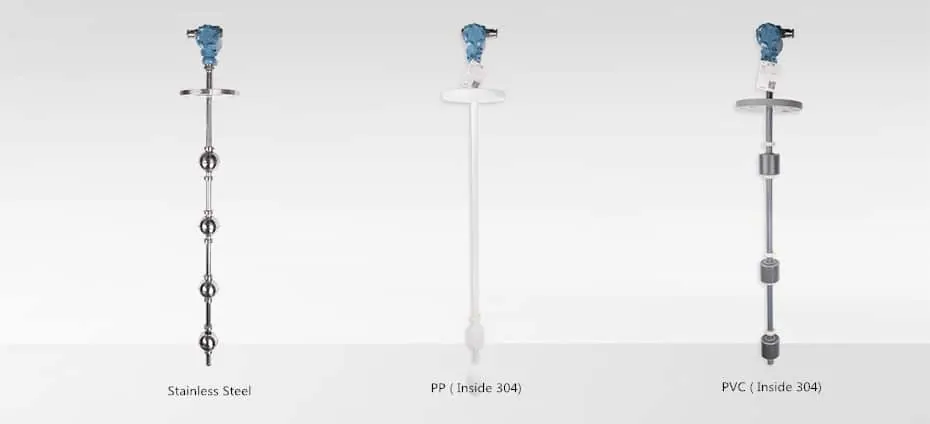 | | | | |
| --- | --- | --- | --- |
| Types | Wetted material | Operating temperature | Working pressure |
| Standard type | Stainless steel 1Cr18Ni9Ti, 304SS, 316L | -30 ~ 120 ℃ | ≤2.5MPa |
| Anticorrosive | Polypropylene PP | -30 ~ 80 ℃ | ≤0.4MPa |
| Corrosion-resistant | Teflon PTFE/PVC | -30 ~ 160 ℃ | ≤1.0MPa |
How does a float level switch work ?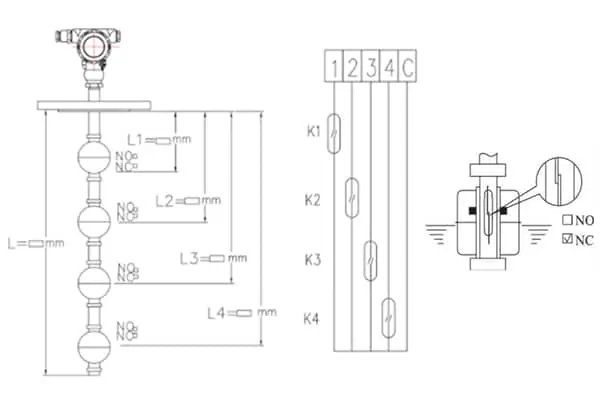 The Multi-Point Liquid Level Float Switch operates magnetically, without mechanical connections. And it is simple and reliable.
When the floating ball switch measures the floating medium of the test medium, the float moves the main body. And at the same time, the magnet on the other end of the float will control the magnet on the switch operating lever.
Set one or more reed switches in a closed metal or plastic tube. And then pass the tube through one or more, hollow and floating ring with ring magnet inside. And use the fixed ring to control the floating ball and the magnetic spring.
The switch is in the relevant position, which makes the float float up and down within a certain range. The magnet in the float is used to attract the contacts of the reed switch, which generates the opening and closing action.
More about: Float level sensor working principle
Applications of Multi-Point Liquid Level Float Switch
The Multi-Point Liquid Level Float Switch is suitable for:Control the pump operation to maintain the liquid level. Control the automatic loading and unloading of the tank. Control the liquid level or supply signals. Such as oil tanks, automatic cleaning systems, hydraulic tanks, low-pressure boilers, sewage treatment systems.
Shipbuilding Industry
Generator Facilities
Petrochemical Industry
Food/Beverage Industry
Waste Water/Water Purified Facilities
Electronic Industry
Dyeing and Finishing Industry
Chemical Industry
Rubber/ Plastic Industry
Hydraulic.
SI-U02 Multi Level Float Switch Dimension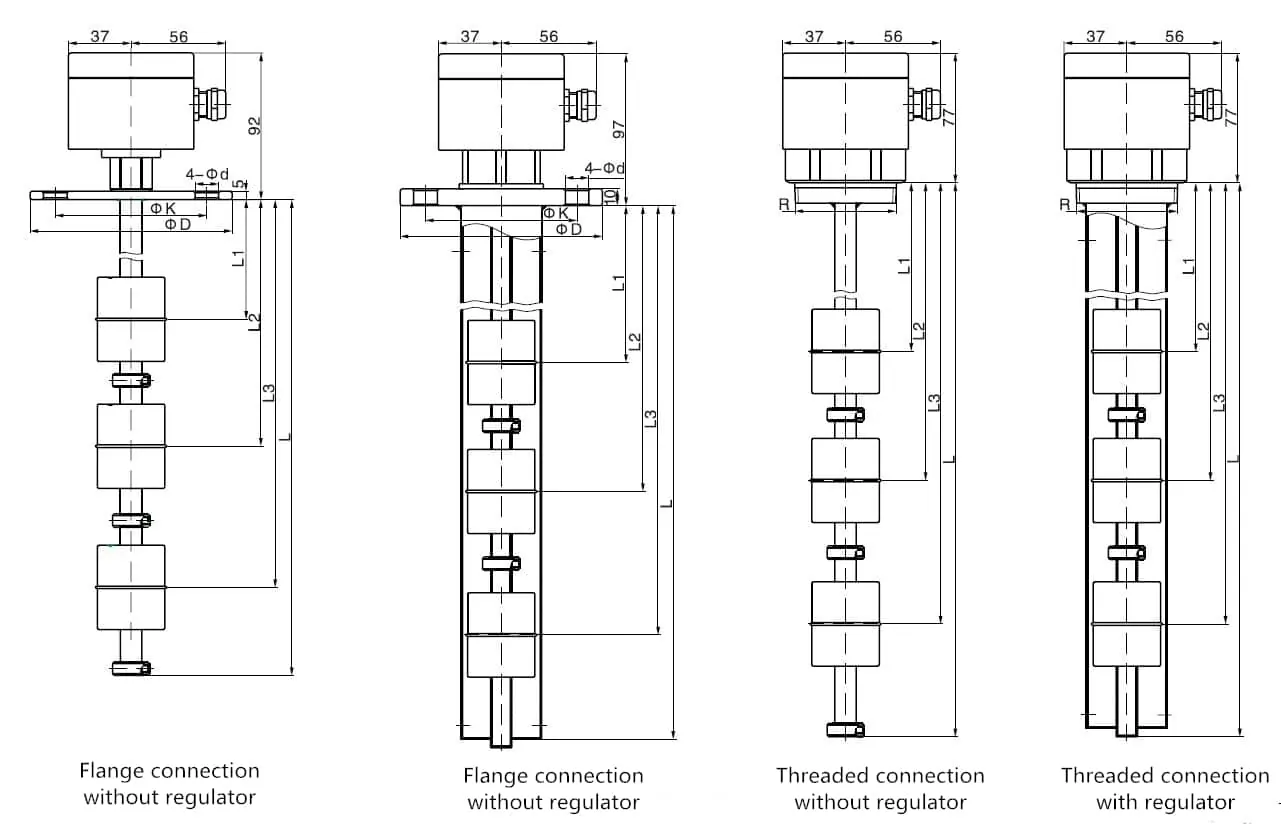 Installation Precautions
Multi-core cables are recommended for wiring. The load of the controlled line must match the contact capacity of the float switch.
The installation position should be far from the water inlet, otherwise the switch will cause malfunction due to the fluctuation of the water inlet.
If the switch device is on the wall of the container, an L-shaped steel bracket can be added.
When the float switch is used in a circuit with an inductive load such as a motor, relay, solenoid coil, etc., it is recommended to protect the circuit in parallel at both ends of the load such as: RC (buffer), rheostat, diode, etc.
After the wiring is completed, please tighten the box cover and fix the connection port to ensure the junction box is waterproof.
The identification numbers on the terminal block of the terminal board correspond to the contacts of the floating balls from top to bottom.
More Featured liquid Level Sensors and Switches
Sino-Inst offers over 10 level transmitters for level measurement.
About 50% of these are liquid level meters, 40% is the tank level sensor.
A wide variety of level meters options are available to you, such as free samples, paid samples.
Sino-Inst is a globally recognized supplier and manufacturer of level measurement instrumentation, located in China.
Request a Quote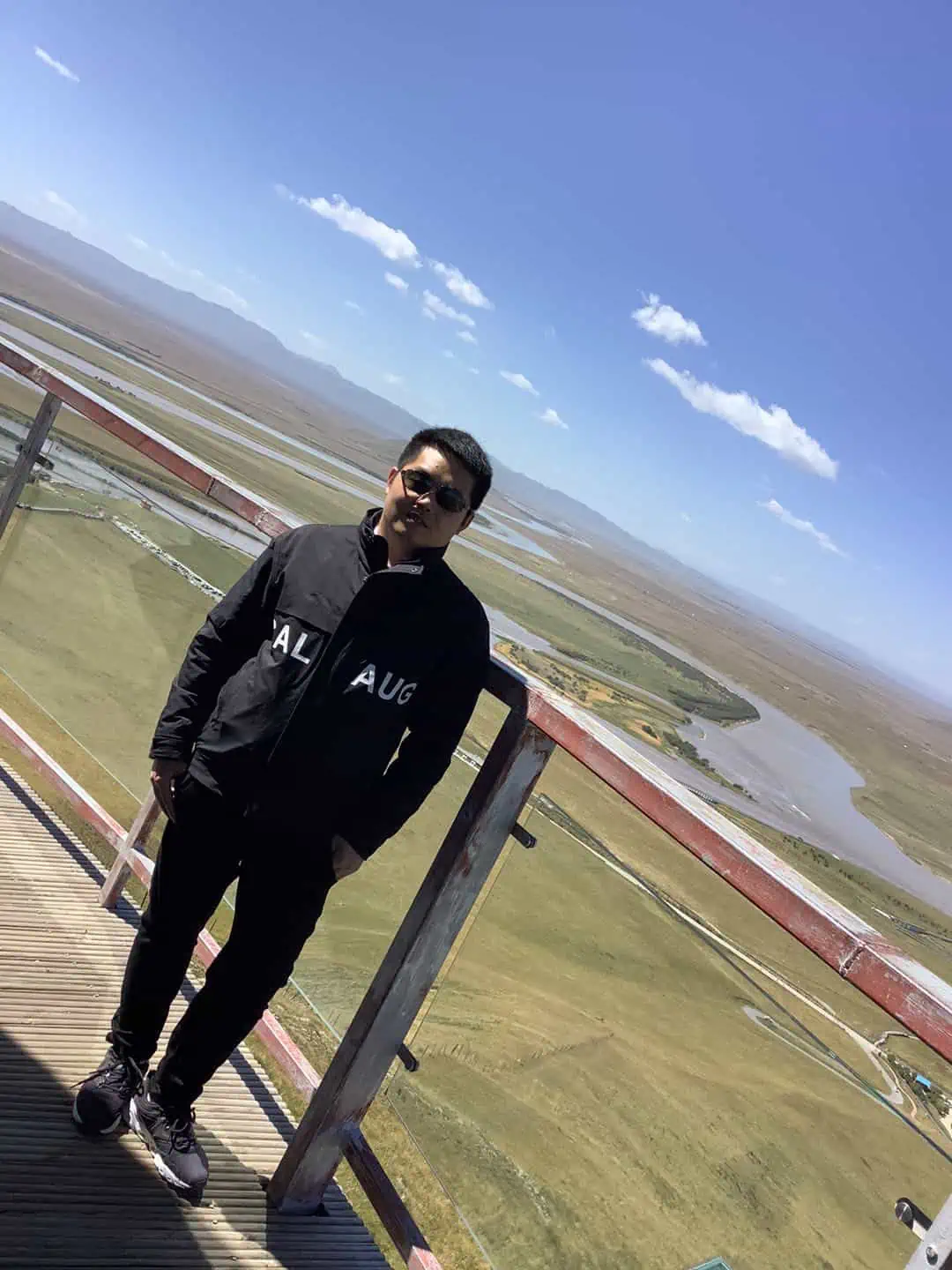 Wu Peng, born in 1980, is a highly respected and accomplished male engineer with extensive experience in the field of automation. With over 20 years of industry experience, Wu has made significant contributions to both academia and engineering projects.
Throughout his career, Wu Peng has participated in numerous national and international engineering projects. Some of his most notable projects include the development of an intelligent control system for oil refineries, the design of a cutting-edge distributed control system for petrochemical plants, and the optimization of control algorithms for natural gas pipelines.
Multi Level Float Switch Customize 1~4 points|Sino-Inst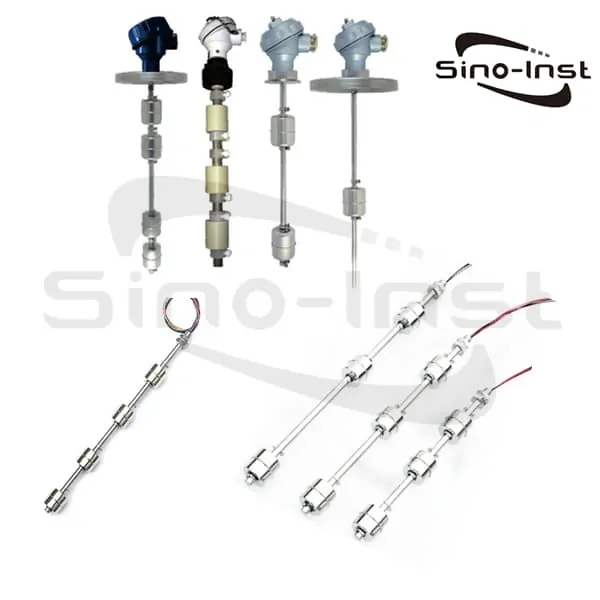 Multi level float switch is also called multi point level switch. Support 1-4 liquid level measurement switch point customization.
Product SKU: SI-U02 Multi Level Float Switch
Product Brand: Sino-Inst
Product Currency: USD
Product Price: 260
Price Valid Until: 2099-09-09
Product In-Stock: InStock