Wireless Pressure Transducer supports remote display and data collection of pressure measurement. Bluetooth pressure sensor can achieve short distance data transmission. The Wireless Pressure Transducer can realize the Long distance data transmission.
Wireless pressure transducer is a low-power battery-powered wireless digital output pressure sensor. It can also be powered by an external power supply. Optional wireless communication protocols such as GPRS and NB-iot. This series of wireless pressure sensors can display the pressure in real time and upload data and alarms. It has the characteristics of high precision, convenient use and good stability. This series of wireless pressure sensors has a built-in MCU and a low power consumption design, which realizes the wireless transmission function of uploading the pipeline pressure on the spot to the cloud.
Sino-Inst offers a variety of Wireless Pressure Transdcuers for industrial pressure measurement. If you have any questions, please contact our sales engineers.
Features of Wireless Pressure Transducer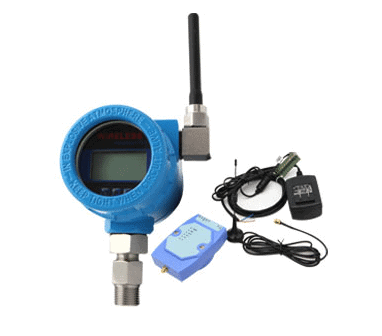 Five-digit LCD screen, white backlight;
Waterproof design, waterproof grade ≥IP66;
GPRS/NB-iot optional, LORA protocol can be customized development;
Cast aluminum explosion-proof shell, durable, beautiful product;
The protocol is self-edited and can be customized, timely transmission and alarm;
Sending interval, the buttons can be adjusted from 1 minute to 24 hours;
Low power consumption design, 3.6V lithium battery power supply, can support more than 15000 times;
Remote parameter configuration (transmission frequency, collection frequency, alarm value, etc.) to reduce maintenance costs.
Specifications of Wireless pressure transducer

Range
Gauge:-100KPa~260MPaAbsolute:0~160kpa
Differential:0~3500kpa(Static pressure <20MPa)
Accuracy
0.25%,0.5%
Power supply
Battery(Built in 3.6V lithium battery )
Standby power
<0.03mA
battery life
Wireless Open :1-2 yearsWireless Off :2-5 years
Output signal
SWSN network
Frequency
430/470MHZ
transmission distance
1000m(open)
data transmition
delayed tx ,1-255 seconds is adjustableSend deviation.
deviation measured values and the last sent value is greater than
the set value is automatically sent
battery life
Data collected once every second, 1 year battery life
at room temperatureData collected once every minute,
10-year battery life at room temperature
Working environment
Temperature:-20~60℃Humidity:<90%
Explosion levels
ExdIICT6(optioal)
Process connection
M20&times;1.5,1/2NPT etc
Wetted parts
SS316L
Dimension
115(W)*235(H)*110(D)mm
Protetion
IP65
Wireless Gateway
Wireless Gateway is to receive SWSN series wireless field data measuring instruments,
and transmit them to third-party data acquisition devices via RS485 interface,
each wireless data gateway can support up to 96 multi-function wireless measuring instrument data and management.
| | |
| --- | --- |
| Item | Parameter |
| network support | SWSN wireless network |
| Modulation Mode | GFSK |
| Frequency | 430/470MHZ |
| Data interface | RS485 |
| communication protocol | Modbus RTU |
| Power supply | 10~28V |
| Working environment | temperature:-20℃~60℃ humidity:<90% |
| Dimension | 75(W)*125(H)*45(D)mm(without Antenna) |
| Installation | 35mm DIN-Rail Mounting |
| wireless receiver | 32units,64units,96units |
Applications of wireless pressure transducer
Pipeling pressure monitoring
Machinery and oil industry
Paper making, pharmaceutical
Electric power, environmental protection and food industry
metallurgical and chemical industry
6 Field or inconvenient power distribution
Wireless differential pressure sensor
Wireless differential pressure sensor is a wireless transmission type differential pressure sensor. Supporting test software, with display, curve recording, data storage and other functions. Mainly used for measuring and monitoring system of gas differential pressure. This product is a wireless product developed mainly for inconvenient wiring environment on site.
This product can also output the RS485 signal of the MODBUS communication protocol and the analog signal of 0~5VDC, which is truly a three-in-one product. It is convenient for on-site customers to use data collection systems in different fields.
Wireless differential pressure sensors are mainly used in:
Pipeline differential pressure long distance transmission
Filter network monitoring
Pipeline differential pressure monitoring
Power station operation inspection
Locomotive brake system
Thermoelectric unit
Building fire pressure monitoring
Industrial process detection and control
Laboratory pressure calibration, etc.
Pressure transducers for sale
Wireless Pressure Transducer Price
Wireless Pressure Transducer Price will cost more than ordinary pressure transmitters.
First of all, the parameters that must be seen when purchasing a pressure transmitter are:
Pressure range. Range. Measurement medium. Installation method-threaded flange clamps, etc. Installation dimensions. Temperature. Whether with display. Whether with HART protocol. Output type. Current output or voltage output. Explosion-proof level, protection level. Accessories. Mounting bracket.
The above parameters will affect the price of the pressure transmitter.
Sino-Inst, as the manufacturer of wireless pressure transmitter, offer you with the best price.
You may like:
Cryogenic pressure transducer for low temperature pressure measurement. -196℃~+125℃、-260℃/-350c(especial). What is Cryogenic pressure transducer? The Cryogenic pressure sensor adopts a stainless steel integrated packaging structure, and the pressure-sensitive diaphragm adopts a special design. This can make the sensor work stably
Read More
Sino-Inst offers 5 wireless pressure transducer products. These are wireless pressure transmitters, wireless differential pressure transmitter, and wireless temperature transmitter.
A wide variety of wireless pressure transducer options are available to you, such as free samples, paid samples. Sino-Inst is wireless pressure transmitter manufacturer, located in China.
Wireless pressure transducer products are most popular in North America, Domestic Market, and South America. You can ensure product safety by selecting from certified suppliers, with ISO9001, and ISO14001 certification.
Request a Quote