Coriolis Mass Flowmeter is suitable for measuring various non-Newtonian fluids, slurries, suspensions, high viscosity fluids and other media.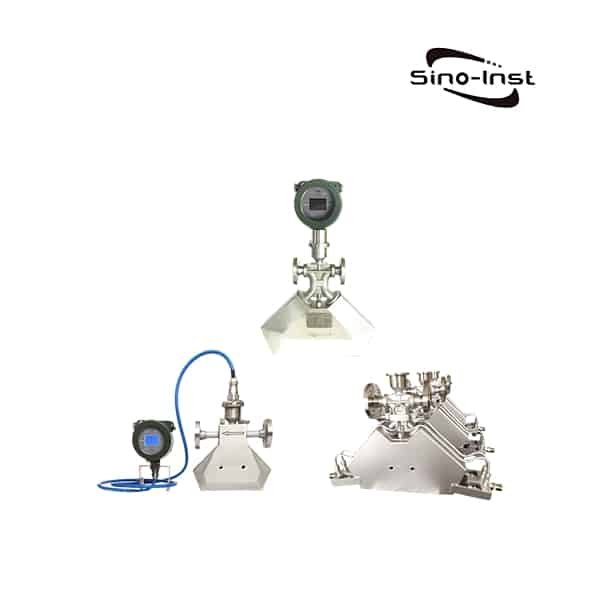 The T-series Triangle Coriolis Mass Flowmeter can directly measure the mass flow rate of the fluid in the closed pipe and the density of the medium. The T series Coriolis mass flowmeter has a triangular sensor structure. The smallest diameter can be DN3. This structure flowmeter is easy to measure when the instantaneous flow is small. The compact triangular shell structure saves installation space. The installation is simple and superior Downstream straight pipe requirements
Sino-Inst offers a variety of Mass flow meters for High Viscosity Liquids flow measurement. If you have any questions, please contact our sales engineers.
Features of T-series Triangle Coriolis Mass Flowmeter
Triangular internal measuring tube design.
It can directly measure the mass flow of fluids. This is of great significance for the measurement and control of production processes such as energy metering and chemical reactions.
High measurement accuracy. The measurement accuracy can be guaranteed between 0.1% and 0.5%.
The measurable ratio is relatively large. Generally, the measurable ratio to ensure the basic accuracy is 10:1 or 20:1.
Wide application range. In addition to normal fluid measurement, it can also measure industrial media that are difficult to measure with general fluid measuring instruments, such as high-viscosity fluids, various slurries, suspensions, etc.
.Completely provide mass flow, volume flow, density, temperature measurement and calculation parameters. Reliable results can be obtained without tedious conversion, and volume tables can be directly replaced.
Compact triangular shell structure. Save installation space and simple installation. No upstream and downstream straight pipe section requirements
Simultaneously measure the instantaneous flow rate, cumulative flow rate, temperature, density
Direct measurement of fluid quality. The measurement accuracy is not affected by temperature, pressure, density, viscosity, without any compensation conversion
No need to re-calibrate when measuring fluid changes
Specifications of T-series Coriolis Mass Flowmeter
Sensor characteristics
Highest process safety: not affected by fluctuations and harsh working conditions. Fewer process measurement points: multivariable measurement (flow, density, temperature). Small installation space required: no front and rear straight pipe length requirements. Mass flow The measurement error: ±0.2%, ±0.10%, ±0.05%. The highest medium temperature is +350 °C (+662 °F). The lowest medium temperature is -250 °C (-486 °F).
The transmitter requires a small installation space: realize all functions in the smallest space. Time-saving on-site operation, DSP touch screen header. Rugged ultra-compact one-piece transmitter housing. High protection level: IP67.
Nominal caliber range
DN 10…25 (1/2..1″)
Material of measuring tube / wetted part:
316L stainless steel, HC276, C4 steel, duplex steel, HB, titanium alloy, spray lined PTFE, etc. Support customer special customized materials
Measured variable
Mass flow, volume flow, density, temperature, percentage concentration
Maximum measurement error
Liquid mass flow, volume flow: ±0.1% (standard), 0.2%, 0.15%, 0.1%, 0.05% (optional)
Gas mass flow, volume flow: ±0.5%
Density (liquid): ±0.002 g/cm³, ±0.001g/cm³
Maximum process pressure
The standard delivery is 1.6MPa, 4MPa, and supports customers' special customized pressure levels. The highest pressure can reach 100MPa
Medium temperature range
Standard: –50…+150 °C (–58…+302 °F)
Optional: -50…+350 °C (-58…+662 °F), -200…+150 °C (-392…+302 °F), -250… +150°C (–482…+302 °F)
Ambient temperature range
Standard: –40…+60 °C (–40…+140 °F)
Optional: –50…+60 °C (–58…+140 °F
Transmitter housing material
One-piece: aluminum alloy
Protection level
Standard: 67
Display/operation
DSP touch screen meter, DX light sensing meter
Output
4…20 mA, 0…10KHz, ModBus 485 communication, HART communication
Power supply
24VDC, 220VAC, 24VDC and 220VAC universal power supply
Extended reading: What Is Difference Between Rotameter And Flow Meter?
Coriolis Mass Flowmeter Working Principle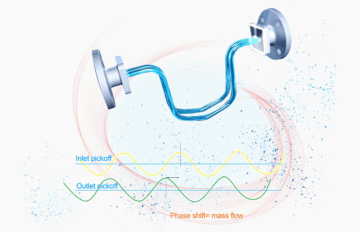 The principle of Coriolis mass flowmeter mass measurement is Newton's second law F=Ma. When the fluid flows in the vibrating tube, it will produce Coriolis force proportional to the mass flow.
When there is no fluid flowing, the vibrating tube will not be twisted, and the signals detected by the electromagnetic signal detectors on both sides of the vibrating tube are in phase.
When fluid passes by, the vibrating tube will be twisted under the action of torque, and there will be a phase difference between the two detectors.
The transmitter measures the lag time between the left and right detection signals. This time difference is multiplied by the flow calibration coefficient to determine the mass flow.
The density measurement principle of Coriolis mass flowmeter is that the vibration frequency is inversely proportional to the square root of the fluid density. The fluid density is determined by measuring the vibration frequency.
Therefore, the mass flow meter can realize the measurement of fluid mass flow and the measurement of fluid density.
How does a T-series Triangle Coriolis Mass Flowmeter measure mass flow and density?
Coriolis mass flow measurement is the MOST ACCURATE FORM for a flow measurement for a wide range of industrial processes. Each Coriolis flowmeter has one or more measuring tubes.
As soon as the fluid starts to flow in the measuring tube, additional twisting is imposed on this oscillation due to the fluid's inertia. Two sensors detect this change of the tube oscillation in time and space as the "phase difference."
Phase difference= mass flow
Oscillation frequency= density
More Featured Flow Meters
You may like:
Sino-Inst, Manufacuturer for Coriolis Mass Flowmeters.
T-series Triangle Coriolis Mass Flowmeter simultaneously measures mass flow, density, temperature and viscosity.
Sino-Inst's T-series Triangle Coriolis Mass Flowmeters, made in China, Having good Quality, With better price. Our flow measurement instruments are widely used in China, India, Pakistan, US, and other countries.
Request a Quote