Ultrasonic water meter is a new small residential water meter. Residential ultrasonic water meters are equipped with line water meters, and wireless water meters can be customized.
T3-1-2-H residential ultrasonic water meter adopts ultrasonic time difference measurement technology. A highly integrated, developed according to ISO4064-1:2005, GB/T778.1-2007 and other standards. A new generation of fully digital water meter with the advantages of high turndown ratio, ultra-low starting flow, and rich communication methods. IP68 protection level.
Sino-Inst offers a variety of Ultrasonic flow meters for flow measurement. If you have any questions, please contact our sales engineers.
Features of Ultrasonic water meter T3-1-2-H
T3-1-2-H ultrasonic water meter has wired type as standard configuration, wireless type need to be customized.
Specifications of Ultrasonic water meter T3-1-2-H
| | |
| --- | --- |
| Performance | Parameters |
| Working Pressure | 2.5MPa |
| Temperature | T30 |
| Working Environment | -25°~55°C, IP68 Protection |
| Pressure Loss | △P63 |
| Display Range | Multi-lines show 9-bit cumulative flow,6-bit instantaneous flow, signal strength flow direction, error, communication status |
| Unit | m3, USG, Liter, cubic foot, Acre Feet |
| Operating Mode | Two capacitive touch keys support sliding operation. |
| Communication Interface | Physically independent RS485 and infrared interface. LORA/ NB-IOT, WIFI, USART are optional. |
| Output | MBUS,MODBUS,ASCII,CJ188 |
| Communication Protocol | 3.6V 4Ah lithium battery (battery life> 10 years), It will operate power save functions when there is no water and flow in pipe. |
| Power Supply | DC12-30V extemal power supply through MBUS interface, data will be permanently saved after power off. |
| Power consumption | <0.1mW |
| Material | Pipe body:copper;others:PEEK |
Flow rate:
Diameter
Turndown ratio
Flow

(

m³/h

)

(mm)
R
Starting flow
Minimum flow Q1
Boundary flow Q2
Common flow Q3
Overload flow Q4
DN15
200
0.003
0.013
0.02
2.5
3.125
DN20
200
0.004
0.016
0.026
3.2
4
DN25
100
0.01
0.04
0.064
4
5
DN32
100
0.016
0.063
0.101
6.3
7.875
DN40
100
0.05
0.2
0.32
20
25
Read more about: How does a residential water meter work?
Ultrasonic water meter working principle
The ultrasonic water meter adopts the time difference method to measure the flow. That is, an ultrasonic transducer is installed at the upstream and downstream of the measuring channel (pipe section) to transmit and receive ultrasonic signals.
Because the ultrasonic signal and the water flow signal are superimposed, the propagation speed of the sound wave is different in the forward and reverse flow. Therefore, the running time of the ultrasonic signal emitted by different transducers in the water is different. The fluid can be calculated by measuring the difference of the time The flow rate. Then it is converted into a flow rate, so as to realize the measurement of the flow rate.
There are two transducers on the top of the flow tube. Transducer A transmits an ultrasonic signal to transducer B (downstream), while transducer B transmits an ultrasonic signal to transducer A (countercurrent). Downstream and The countercurrent ultrasonic signal forms a certain time difference in the transmission process. In the case of the calibrated cross-sectional area of ​​the pipe diameter and the length of the standard measuring pipe, the flow rate of the meter is calculated by the calculation chip on the integrator.
Advantages and disadvantages of ultrasonic water meters
Ultrasonic water meter is a fully electronic water meter manufactured with industrial-grade electronic components using the principle of ultrasonic time difference. Compared with mechanical water meters, it has the characteristics of high accuracy, good reliability, wide range ratio, long service life, no moving parts, no need to set parameters, and installation at any angle.
The ultrasonic water meter has no moving or blocking parts in the tested pipeline, no wear, and low pressure loss. High sensitivity, can detect small changes in flow rate. At the same time, it has almost no requirements for the measured medium, has an extremely wide range ratio, and the ultrasonic water meter has a simple structure and is easy to maintain, which is very suitable for civil and industrial measurement.
But the stability of ultrasonic water meters is low.
Extended Reading: Chilled Water Flow Meter
Ultrasonic water meter Application
Residential water metering and control.
Industrial process measurement and control.
Replace mechanical flow meters to improve measurement reliability.
Replace all kinds of tightly high-performance flow meters.
Ultrasonic water meter clamp-on
Strap on flow meter X3 is a kind of ultrasonic external clamp-on flow meter. Strap on flow meter X3 is easy to install. Suitable for measuring pipe diameter Φ9.53~Φ90.
Strap on flow meter X3 can meet the needs of different pipe materials: stainless steel pipe, carbon steel pipe, copper pipe, plastic pipe, PVC, PVDF, PPH, PPE, etc.
Strap on flow meter X3 almost meets the measurement of different clean fluids: various acids, alcohols, chemical solvents, alcohol, drinking water, Coca-Cola water… etc.
Portable ultrasonic flow meter
Handheld ultrasonic flow meter realizes the non-contact measurement of liquid flow. Also often referred to as Portable Clamp-On Ultrasonic Flow Meter for Liquids.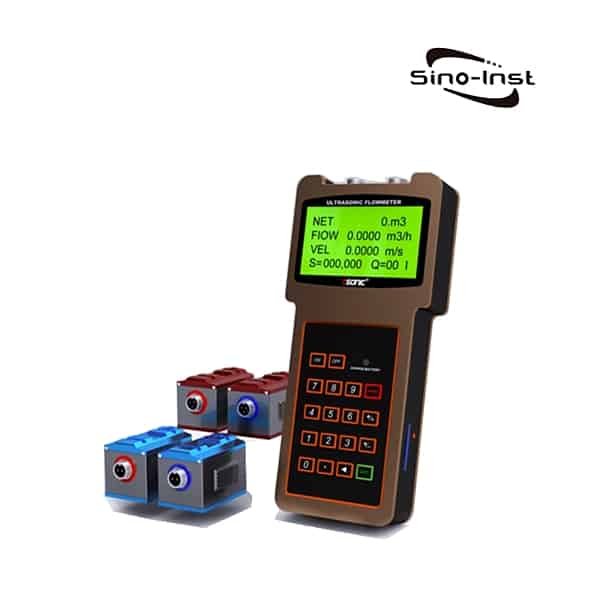 Handheld Ultrasonic Flow Meter ( Model:2000H) has been successfully applied to measurement work in various industries. The measuring range is 20-6000mm (0.5-20 inches). A non-contact measurement method is adopted. Flexible operation and easy to carry. Conductive or non-conductive, corrosive or non-corrosive liquids can be measured. Various fluids: water, pure water, sewage, sea water, chemical fluids, river water, fuel Oil etc. can be measured.
Handheld Ultrasonic Flow Meter Reference price: USD 470.00/pc
Featured Digital water meters foe sale
FAQ
Are ultrasonic flow meters accurate?
The measurement accuracy of the ultrasonic flowmeter is very high. Almost no interference from various parameters of the measured medium. In particular, it can solve the flow measurement problems of strong corrosive, non-conductive, radioactive and flammable and explosive media that other instruments cannot.
So what causes the inaccurate measurement of the ultrasonic flowmeter? The following are the reasons for the inaccurate measurement:
The influence of pipeline parameter equipment on the accuracy of ultrasonic flowmeter measurement.
The influence of upstream and downstream straight pipes on the accuracy of ultrasonic flowmeter measurement.
The influence of couplant on measurement accuracy.
The influence of the installation position of the ultrasonic flowmeter transducer on the measurement accuracy.
What are the different types of ultrasonic flow meter?
Common types of ultrasonic flow meters
①According to the measurement principle. Ultrasonic flowmeters are now the most commonly used methods for measuring flow rates are the propagation velocity difference method ultrasonic flowmeter and the Doppler frequency shift method ultrasonic flowmeter. The propagation velocity difference method can be divided into three types: time difference method, phase difference method and acoustic cycle frequency difference.
②According to the installation method of the transducer. There are two types of ultrasonic flowmeters: fixed ultrasonic flowmeter and portable ultrasonic flowmeter.
The transducer installation methods of the fixed ultrasonic flowmeter can be divided into:
A tube-segment ultrasonic flowmeter integrating transducer and measuring tube;
The external clamp ultrasonic flowmeter with the transducer clamped on the outer wall of the measuring tube;
Plug-in ultrasonic flowmeter in which the transducer passes through the outer wall of the pipe and directly contacts the medium;
The transducer is attached to the inner wall of the large pipeline ultrasonic flowmeter.
③According to the channel of propagation. Ultrasonic flow meters can be divided into single-channel ultrasonic flow meters and multi-channel ultrasonic flow meters. Among them, multi-channel can be divided into two-channel ultrasonic flowmeter, ultrasonic flowmeter, four-channel and eight-channel ultrasonic flowmeter.
You may like:
Sino-Inst, Manufacuturer for Ultrasonic Water Meter for Residential Waters. It can measure a single sound-conducting liquid medium of DN 15—40mm.
Sino-Inst's Ultrasonic Water Meter for Residential Water, made in China, Having good Quality, With better price. Our flow measurement instruments are widely used in China, India, Pakistan, US, and other countries.
Request a Quote
Ultrasonic water meter for residential water | DN15-DN40 |
Ultrasonic water meter is a new small residential water meter. Residential ultrasonic water meters are equipped with line water meters, and wireless water meters can be customized.
Product SKU: Ultrasonic Water Meter for Residential Water
Product Brand: Sino-Inst
Product Currency: USD
Product Price: 70
Price Valid Until: 2099-09-09
Product In-Stock: InStock